Earlier this year, I posted about a great deal: Wynhdam Rewards partners with Cottages.com, and they were offering entire "cottages" for just 15,000 Wyndham Rewards points per night (See: Smoking deal: 9-bedroom villa for 15K per night). Last month, I spent a weekend in the English countryside with some family & friends enjoying the little "cottage" shown above. It turned out to be a great use of my Wyndham points, as the pictures below will show.
Cottages.com partnership
Normally, you can book Cottages.com properties for 15K Wyndham Rewards points per bedroom per night (read more about the partnership here on Wyndham's site). This means that a property with 3 bedrooms normally costs 45,000 points per night. While that's a lot of Wyndham Rewards points, it's not necessarily totally unreasonable if you have a group traveling together and you'd like to stay in the same place.
However, some of the cottages are huge. For example, the one pictured above has 9-bedrooms (and six bathrooms!). That means it would normally cost 135,000 Wyndham Rewards points per night.
The Promo
During the promotion back in February, they instead charged 15,000 points per night no matter the size of the property booked. The promotion was said to be limited to the first 50 bookings. Most likely due to the fact that not many people had both a stash of Wyndham Rewards points and the ability to book a spontaneous group vacation, the promo lasted a few days. I didn't expect that to happen, so I rushed to book something without much of a glance at the available properties. I called and booked based on the reaction of the agent when she came across this property (I told her I was looking for something with 9 or more bedrooms that could be booked for 2 nights as I only had just over 30K Wyndham Rewards points. That immediately narrowed down the available properties). And it seemed like she got me a pretty good value — when they sent my reservation confirmation, it showed the "regular" price, which was pretty steep:
I didn't actually pay thirty-six hundred pounds, but the confirmation made it look like I had. For those who are curious, you couldn't cancel it and use that much value toward a different booking.
Ingoldisthorpe Hall / Mount Amelia
The property I settled on based on her reaction was called Ingoldisthorpe Hall (which appears to also go by the name "Mount Amelia). It's located just outside of Deringham, in Norfolk….about a 2.5 hour drive from London Heathrow according to Google….which turned into about a 5.5 hour adventure in traffic.
On the outskirts of Deringham, we had good company. Just down the road and also on the edge of town is Sandringham House, otherwise known as The Queen's home-away-from-home in Norfolk.
And while our humble abode wasn't quite up to royal standards, it's not every day you get to stay in The Queen's neighborhood. I can't imagine I'll ever make a better redemption of Wyndham Rewards points.
The property
It's important to note that in the pictures that follow, I will not repeat a room….and I am not including pictures of every room. This place was an absolute maze. There were staircases and hallways and hidden doors…it was the perfect place for a murder mystery.
But starting outside, you saw the back of the house at the top of the post. Here's a view from the front and then some pics of the grounds:
Moving inside, the place was a fascinating hodgepodge. Again, none of these rooms are repeated.
Bedrooms
There were 9 bedrooms. These are just a few…
Décor
There was some…..interesting décor around the house. From the artwork:
To the random presence of busts around the house…
Bathrooms
There were a bunch of bathrooms with designs of varying oddity and modernity that seemed incongruent with the rest of the house. Most of the bathrooms were carpeted…
Kitchen
Truth be told, we spent most of our time in the kitchen.
It wasn't quite all complete…there were a few rooms on the bottom level that were kind of a work in progress, like this kitchen-pantry thing.
And the game room, which had a dart board and foosball and board games, etc looked like it had just been everything "fun" that someone owned thrown together in one small space.
However, with as many rooms as there were, I can't imagine the cost in keeping it as on-theme as it is. Overall, Ingoldisthorpe Hall was very well done indeed.
Bottom line
This was a fun use of Wyndham Rewards points. We spent the weekend playing on the lawn and checking out the nearby town. We each had both family and friends who were able to make the trip to England — a couple of them just for the weekend — and we enjoyed a little adventure we never would have were it not for points. One of the things I love most about this hobby is enjoying some experiences I never would have otherwise found or paid for. Ingoldisthorpe Hall certainly fits in that category. While it is a really cool property and totally worthwhile for a large group looking to rent a unique space for the weekend, I can't imagine I'd have ever ended up there if not for Wyndham Rewards points. And now I'll likely never forget it.
On a related note, Wyndham Rewards won me over a bit with this promotion. While I can't imagine we'll ever see a similar promotion from them again, this one certainly convinced me to put some spend on my Wyndham Rewards credit card just to be ready when opportunity knocks in the future. While I certainly won't plan to stockpile Wyndham Rewards points, I think there is great value in diversification. And even if they never run a similar promo again, I wouldn't mind having points for a two or three-bedroom location in Europe at some point in the future. The booking process required a couple of phone calls, but was otherwise smooth, as was my experience with the owner/manager of the property. I'd definitely consider using Wyndham Rewards points for a Cottages.com booking in the future.
I can't imagine I'll ever make a better Wyndham Rewards redemption….but I look forward to the hunt for the next big thing.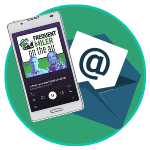 Want to learn more about miles and points?
Subscribe to email updates
 or check out 
our podcast
 on your favorite podcast platform.