I'm generally not a huge fan of bank apps. They're usually not well designed, and often their functionality is so limited that it's easier to just go directly to the website via my mobile browser. In fact, most bank apps actually make airline apps look highly polished and cutting edge, which is not an achievement I'd be particularly proud of if I were a bank.
But recently I've been toying with the Amex app on my iPhone, and I think it's one of the more robust banking apps I've seen. Especially when it comes to Amex Offers, there's features in the app that aren't even available on the American Express website, some of which I've found to be rather useful.
An easier list of Offers.
One of the things I intensely dislike about the most recent update of the main Amex website is the way they've set up Amex Offers. It's an awkward interface that requires you to scroll through the first 8 or 9 Offers, then click on a "View More" button, then scroll through additional Offers in groups of 4 at a time.
But oddly enough, it's actually much easier to scroll through all the Offers via the app. There's no "View More" button or groups of 4 at a time. You just get a list of Offers that you can easily look at all at once.
Keep in mind that if you have the same Offer available on multiple cards, you'll want to use the Multiple Browser Tabs trick on a regular web browser to capture it to all your cards — you can't do it via the app. But if you want to quickly check if you've been targeted for an Offer (or if the Offer you want is only available on one of your cards), then the app is a great way to do it.
I have no idea why Amex decided to make their website interface so much more difficult to navigate. The old site had an Offers layout similar to the app, so it's clearly a choice they made to change it. And a bad one.
Locating Offers via map view.
What's even more useful about Amex Offers via the app is the inclusion of a mapping function. If you choose the Offers button for a particular card, in addition to the list of all Offers available for that card, you have the option to "View Nearby."
If you tap on that choice, you'll get a map of the area you're currently in, along with pins indicating various stores that currently have Amex Offers available. Tap on any pin and the details of that particular Offer will appear at the bottom.
An especially nice feature of this map is that it's movable and customizable like any regular smartphone map by pinching and dragging, so you can choose any area you'd like. Just set your area and then tap the refresh icon at the upper right of the screen to load Offers for the new area.
Adding Offers to a non-targeted card?
One interesting twist is that while I've been exploring Amex Offers on the app, I've noticed that sometimes I've seen Offers available on a card that aren't available when I look at that same card via the normal Amex website. Clearly this is a glitch, and even though I've been able to get as far as adding an Offer to a non-targeted card this way, it doesn't seem to stick. I get a confirmation screen that the Offer was added, but when I go back and look at my list of added Offers, it isn't there. I suspect it isn't actually possible to add a non-targeted Offer, but if any Frequent Miler readers do have luck getting it to work, please let us know the magical steps!
Finally, I would be remiss if I didn't note the most valuable function of Amex Offers via the Amex app. If you've read my Devil's Advocate columns over at Travel Codex, you might remember my Amex Offers adventure entitled "The Devil's Advocate and the Gift Card Crusade of Doom" in which I managed to waste an entire afternoon chasing an Amex Offer that didn't exist. I am pleased to say that the Amex app will prevent that from ever happening to me again, as I can use the app to check which Offers I have correctly added to my various Amex cards and which ones I have already redeemed before making any purchases.
Which is great, because when it comes to handing out trophies, I'd definitely win the one for Most Disorganized. Though I'd probably miss the award ceremony after forgetting to write it in my calendar.

Loading ...
Other Recent Posts From The "Bet You Didn't Know" Series:
Citibank's New Online Bonus Spend Tracker
Avoid Getting Suckered by International ATM's
Amex Business Card Apps Without a 12 Month Wait
Find all the "Bet You Didn't Know" posts here.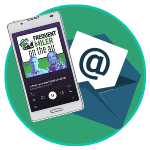 Want to learn more about miles and points?
Subscribe to email updates
 or check out 
our podcast
 on your favorite podcast platform.