The last time I made significant updates to my Curve Card review, an amazing trick dawned on me.  The Curve Card, which passes along charges to any number of other credit cards you have, has a killer feature: Go Back in Time.  This lets you reassign any charge placed in the past 30 days to another credit card and it resets the date of purchase to the current date.  The Bilt Card also has a killer feature: double points on Rent Day (the first of each month).  The two features taken together appeared to be too good to be true.  It seemed to me that you could use your Curve card every day, all month, and then on the first of each month "Go Back in Time" to move all of the charges to your Bilt card so that all charges post on Rent Day.  Wow!  I figured that this combination of cards meant that you could earn double points (6x dining, 4x travel, 2x everywhere else) for up to 10K bonus points with all of your spend!
It turns out that there's one fatal flaw to this plan: the Bilt card does not earn points for charges that flow through Curve.  Ouch!
Over the past month I tested using Bilt within Curve a few times and I discovered something surprising: I didn't earn points for purchases that went through Curve.  At first I thought that they had somehow blocked point earnings for charges that were time-shifted with Curve's Go Back in Time feature, but now I've tested it with a regular charge as well and had the same result: no Bilt points earned.  I checked with our Bilt contact and confirmed that this is intentional on their part.
Just like every other card issuer, Bilt has rewards terms that allow them to withhold rewards for just about any type of charge.  So, it's entirely in their right to choose not to award points for purchases that go through Curve.  The following Bilt Rewards terms disallow earning points with Curve:
Members may not earn Points by using third party wallets, cards or other products to switch the method of payment to or from their Bilt account following the completion of a purchase.
I'm not saying that I like it, just that Bilt has the right to do it.  Further, I think that's a better solution than what I had previously assumed the Bilt would do.  I had previously assumed that Bilt would shut down accounts where Curve was used heavily on the first of the month.  In fact, that's why I didn't write about this idea sooner: I thought that a spotlight on this trick would make Bilt more likely and eager to shut down accounts.  Now I know that won't happen.  People who use Bilt through Curve are great for Bilt since Bilt doesn't pay out rewards on these charges at all.
Summary: Bilt does not award points on charges that flow through the Curve card.  Don't use the two together.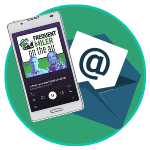 Want to learn more about miles and points?
Subscribe to email updates
 or check out 
our podcast
 on your favorite podcast platform.