Shortly after Nick and I recorded our latest podcast, Citi's awesome rewards program, it occurred to me that I should have explained how Citi's card line-up fits into my overall point earning strategy.  At a high level, it goes basically like this: I earn Citi ThankYou points from regular day to day spend and I earn most other points (Chase Ultimate Rewards, Amex Membership Rewards, hotel points, airline miles, etc.) from welcome bonuses, retention bonuses, refer-a-friend bonuses, and miscellaneous promotions.  Ironically, earning travel rewards from actual travel is such a small percentage of my point earnings that it's basically irrelevant.
Welcome Bonuses
Points earned from new-card bonuses dominate my point earning strategy.  I manage the card sign-up process for myself, my wife, and our adult son.  There are literally millions of points available through welcome bonuses at any given time (over 8 million on our Best Offers page at last count!).  And even though many cards have restrictions on whether you can get them again (or how long you have to wait before you can), I find that there are always great offers we can sign up for.
To meet the minimum spend requirements for these offers, I don't use these cards for my day-to-day spend.  I find it too difficult to keep track of that spend.  Instead, I use these new cards to pay occasional large bills, including taxes, and I use various other techniques for increasing credit card spend.
Retention Bonuses
If you contact your card issuer to cancel a card, it's common for them to try to keep your business through retention offers.  Offers often come in the form of either cash back (often to match the annual fee), lump-sum points (usually with a certain amount of spend required), or bonus points for spend.  After the agent gives me details about a retention offer, if any, I always ask if there are any other offers available.  It's very common for the computer system to serve up a number of offers that you can choose from and they often offer very different value.  Additionally, if I have other cards with the same issuer, I'll ask the retention specialist to check those other cards for retention offers.  It's common for me to walk away with two or three retention offers from a single phone call.
Refer-A-Friend Offers
When working together with a family member or friend, it's possible to earn many more points through refer-a-friend offers.  Amex lets you earn points on one card type even when referring someone to a completely different card (details here).  Your friend earns the standard welcome bonus and you earn a referral bonus.  Similarly Chase sometimes allows this within card families.  For example, if you have a Southwest card, you can refer friends to that Southwest card or a different one.  Or, if you have a Chase Ink business card you can refer friends to that Ink card or to a different one.  Recently, for example, each of the three of us in my family were approved for the Ink Business Preferred card after referring each other in a round-robin way.  As a result, we can each qualify for 100K points from the welcome bonus AND 40K points from the refer-a-friend bonus.  That's a total of 420,000 bonus points for our family!  Read more about this here: 3 Inks approved again – 420K points "in the bag".
Miscellaneous Promotions & Category Bonus Spend
Every now and then, a rewards program offers a big point-earning promotion that's too good to ignore.  These range from huge portal bonuses to big hotel or airline promos.  When the deal is good enough (like the time when Marriott offered 40K points for any 4-night Homes & Villas booking with no minimum spend required), I'll jump on it.
Additionally, now that I have the Bilt card, I'll take advantage of their monthly Rent Day promos where they offer double rewards for spend, with a max of 10K bonus points.  When I'm not meeting minimum spend on new cards, I'll wait for Rent Day to pay big bills, buy gift cards at my favorite restaurants, and pre-pay for some planned travel.  Unfortunately, I can't use my Curve card's Go Back in Time feature to maximize my Rent Day spend since Bilt doesn't award points for purchases that go through Curve.
Finally, I frequently take advantage of the fact that the Chase Ink card earns 5x for office supply purchases on up to $25K cardmember year spend.  Staples and Office Depot frequently have sales on Visa and Mastercard gift cards so that the activation fee is waived.  Additionally, it's easy to earn 5x by buying merchant gift cards in-store, or online at staples.com or Quill.
Day to Day Spend
This is where Citi comes in.  I have the old no-longer-available Citi Prestige card which offers 5x for dining and airfare, and 3x for hotels and cruises.  I also have many fee-free Citi cards which I use to pump-up my earnings on everyday spend:
I also use these non-Citi cards:
Wyndham Business Earner card: I use this to earn 8x at gas stations.
US Bank Altitude Reserve: I use this card only in Apple Pay in order to earn 3x for mobile wallet payments.
Bilt: In order to earn Bilt points from spend, it's necessary to make at least 5 transactions per month with the card.  My approach is to use the Bilt card for small dining purchases (to earn 3x) but continue to use the Prestige card for larger purchases (to earn 5x).  On the first of each month, though, I'll use the Bilt card for all purchases since they double rewards for "Rent Day" on up to 10K bonus points.
In order to manage all of my Citi cards, I use the Curve card as my go-to card for almost all spend.  Curve "fronts" my Mastercards.  That is, I use the Curve card for purchases and behind the scenes Curve sends these charges to my other credit cards.  With Curve, I've set up rules to send dining spend to my Prestige card (5x), grocery spend to my Custom Cash card (5x), and to default to my Double Cash everywhere else (2x).  This approach has a few awesome benefits:
When traveling internationally, I do not incur foreign transaction fees even though the Double Cash and Custom Cash cards would otherwise charge these fees if I used them directly.  Unfortunately, the Curve card works only sporadically internationally.  In some countries it works perfectly, and in other countries it works sometimes, and in some countries it doesn't work at all (I'm looking at you Macao!).
When I exceed $500 spend on the Custom Cash card in a billing cycle, I can (and do) use Curve's "Go Back in Time" feature to move the excess spend to another Custom Cash card.
Unfortunately, Bilt does not earn points from spend that goes through the Curve card.  So, instead, I keep the Bilt card in my wallet for when I want to use that card.
Wrap Up
I earn the vast majority of my points from welcome bonuses and refer-a-friend offers.  Amex and Chase dominate both of those categories.  But when it comes to earnings from daily spend, that's where Citi shines.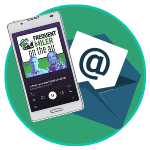 Want to learn more about miles and points?
Subscribe to email updates
 or check out 
our podcast
 on your favorite podcast platform.