Curve is the one card to rule them all.  Or it would be if it supported all common credit cards.  Instead, Curve is the one card to rule your Mastercard and Discover card collection.  And your Diners Club card (wait… you still have one of those?).  Regardless of how many (Mastercard, Discover, Diners Club) credit cards you have, the concept is that you can carry only the Curve card, and behind the scenes it will pass along each charge to whatever credit card you prefer.  You can even set up rules so that restaurant charges automatically go to one card, grocery charges to another, travel charges to another, etc.  That way, you can automatically maximize rewards without thinking about it.  Curve has been around in the U.K. for years, but the U.S. version is fairly new.  In the summer of 2022, I declared that Curve wasn't yet ready for prime time in the United States.  Now, I finally feel confident enough to recommend it… as long as you can live within its biggest limitation: it only works with Mastercard, Discover, and Diners Club.
Curve overview
When you sign up for Curve, you immediately get a virtual Curve account number which can be used until you receive and activate the physical card that will be mailed to you.  Using the Curve app on your iPhone or Android phone, you can then add your credit cards to your Curve Wallet and specify which card should be the default for all purchases.  You can also immediately add Curve to your mobile wallet (e.g. Apple Pay, Google Pay, Samsung Pay) in order to start using Curve for in-person purchases.  When you make a purchase, the Curve app immediately pops up a notice on your phone showing the amount spent and the card that the purchase was charged to.
Overall, I've been very happy with Curve in recent months.  I've used the card, along with it's awesome "Go Back in Time" feature to maximize rewards across multiple Mastercards and a Discover card.  Of course I'd like Curve much better if it also supported Visa and Amex cards, but despite that limitation I've found it to be worth using.  Note, though, that you do need to have a good collection of compatible credit cards to make Curve worth getting.
Here is a summary of Curve's features:
Card Type: Mastercard credit card (Curve does not function as a debit card)
Annual Fee: None
Foreign Transaction Fee: None (this is true even when sending charges to a card that usually does impose foreign transaction fees!).  Update:  Several readers have reported serious issues with using Curve internationally.  It appears that this feature isn't yet ready for prime time.
Welcome Bonus: Earn 1% back on all purchases for the first 6 months. This is in addition to rewards earned with your underlying credit cards.
Refer Friends:  You can earn an additional month of 1% back for each friend you successfully refer, up to a maximum of 3 times.
Temporary virtual card: When you first sign up for Curve, you get a virtual card number right away.  Once you activate the physical card, though, the virtual card stops working.
Curve Cash: The cash back earned from the welcome bonus described above gets deposited into your Curve Cash account.  By default, all purchases draw from Curve Cash whenever your Curve Cash balance can cover a charge.  Fortunately you can turn off this feature so as to avoid losing out on credit card rewards.  Unfortunately, you can't cash out your Curve Cash any other way than by spending it, and so it is necessary to forgo credit card rewards in order to use your Curve Cash.
Curve Cash Crypto: It is possible to earn crypto currency (such as Bitcoin) instead of Curve Cash.  Details about this feature can be found here.
Curve Credit: Curve describes this as "Anti-Embarrassment Protection." The idea is that if your underlying credit card declines a purchase, the purchase will then go to your Curve Credit instead.  There are a couple of problems with this: 1) You won't earn rewards on charges to Curve Credit; and 2) "Go Back in Time" doesn't work for Curve Credit transactions.  I really wish that Curve would instead simply charge a different credit card when the first card is declined, but I get that they have to earn a buck somehow.
Supported credit cards:

Mastercard: Yes
Discover: Yes
Diners Club: Yes
Visa: No
Amex: No
Visa/Mastercard gift cards: No

Default Card: You must have one card in your Curve Wallet selected as your default card.  This is the card that most purchases go to.  The only reason a purchase should go to a different card is if you have Smart Rules set up (see below); or if your default card denies a transaction; or if you use the Go Back in Time feature (see below) to change which card the transaction went to.
Smart Rules: Set up rules to tell Curve which credit card to use for different types of purchases.

Category Rules: Cash (cash withdrawals), Business Services (computer, consulting, car rental), Bills (electricity bills, water bills), Groceries, Food & Drink (pubs, cafes, food deliveries), Transport (train, taxi, rideshares), Health (health & beauty), Shopping (clothing, electronics), Travel (flights, hotels), Entertainment (festivals, events), General (general spend).  [I've bolded the categories I find most useful]
Amount Rules:

Use this card if total amount is greater than or equal to ____
Use this card if total amount is less than or equal to ____

Go Back in Time: Curve lets you select almost any purchase within the past 30 days and change which credit card is charged.  Exception: they don't allow this feature for purchases that went to Curve Credit or Curve Cash.
5/24 Impact?  My Curve card hasn't appeared on my credit report and so it hasn't had any adverse impact on my 5/24 situation.  While that was true for me, I was also an extremely early adopter.  I don't know if this is still true now that Curve has rolled out more broadly.  If you have recent experience one way or another with Curve showing as a new account on your credit report (or not), please let us know.
How to get the card
There are three ways that I know of to sign up for the Curve card in the US.  All three offer six months of 1% Curve Cashback on top of rewards earned from your underlying credit cards.  In each case, you need to download the app and apply through the app.
Direct download from app store. If you need help finding it, you can start on Curve's signup page here.
Click through from Extrabux (here's my Extrabux refer-a-friend link) to earn a few dollars (if you're new to Extrabux you'll also get a $20 bonus).
Sign up through a friend or family member's referral.  Ask a friend who has Curve to refer you, or click through from our Curve Referral link here (we will swap the source of the referral often due to the 3 referral limit).
The good stuff
In the summer of 2022, I declared that Curve wasn't yet ready for prime time in the United States.  Most of the Frequent Miler team were early beta testers, and there were simply too many problems to recommend the card.  We all had issues with charges getting declined (e.g. the anti-embarrassment feature wasn't working and that was quite embarrassing), charges erroneously getting sent to Curve Credit (where we don't earn any rewards and can't Go Back In Time to fix it), not being alerted that we had Curve Credit charges that needed to be paid off before incurring interest, and difficulty figuring out how to pay off Curve Credit.  Due to all of those issues, I gave up on Curve for a while.  Recently, though, I put it back in my wallet.  And, I can happily say that for the past several months none of those issues have returned and I've been a very happy user of the card.
Go Back in Time (killer feature!)
This is the number one reason I love the Curve card.  The driving idea behind this feature is that you may realize after making a purchase that you would earn more rewards with a different card.  For example, my Curve card defaults to charging my Double Cash card so that I'll earn 2x points for all spend.  But I also have cards like Discover It and Freedom Flex which offer 5x rewards on certain categories of spend each quarter.  Suppose then that I make purchases at gas stations while one of those cards is offering 5x at gas stations.  Instead of having to remember to change the Curve default to that card before paying, I can simply wait a few days for the charge to post on the Double Cash card and then "Go Back in Time" to switch the charge to go to my Discover or Freedom Flex card where I'll earn 5x.  Even better, this feature works to time-shift spend.  So, at the beginning of each quarter, when Discover and Freedom Flex offer new category bonuses, I can look to see if I happened to have made any charges that fit into the new 5x categories in the past 30 days.  If so, I can Go Back in Time to switch the charge, and the new charge will post with the current date and so can qualify for 5x rewards.  Similarly, if I sign up for a new Mastercard or Discover card which has a spend requirement for earning a welcome bonus, I can Go Back in Time to put my past 30 days of charges onto the new card as soon as it is activated.
No foreign transaction fees (killer feature)
Update:  Several readers have reported serious issues with using Curve internationally.  It appears that this feature isn't yet ready for prime time.
I know that this doesn't sound like a killer feature, but it really is.  Several of the cards I have linked to Curve impose foreign transaction fees when used outside of the United States.  These include: Citi Double Cash (2x everywhere), Citi Custom Cash (5x on the category I spend most), and Chase Freedom Flex (5x rotating categories).  With the Curve card, though, I can continue earning 2x to 5x when travelling but without paying foreign transaction fees!  For example, I can continue to earn 2x everywhere via my Double Cash card while outside of the U.S. thanks to the Curve card.  When Curve passes along each purchase to the Double Cash card, Citi sees the purchase as coming from the U.S.
Chip & PIN (good feature)
This is one of those things that might never come up, but it's really useful when it does.  There are some places where you need a credit card PIN to make a purchase.  I've seen this a couple of times in Europe with machines for buying train tickets.  With your Curve card, you can set your passcode within the Curve app and you can use that passcode as your PIN for chip and PIN purchases.
Smart Rules (good feature)
I've had great luck using Smart Rules to direct spend as follows:
Groceries -> Citi Custom Cash (earn 5x): The Custom Cash 5x feature is limited to $500 per billing cycle.  I have several Custom Cash cards, so when my statement closes and I see that I'm over $500, I "Go Back in Time" to move some of the charges to another Custom Cash card.
Food & Drink -> Citi Prestige (earn 5x): Unfortunately the Prestige card is no longer available to new applicants.  Other strategies are to use Custom Cash cards as described above, or to use cards like Bilt, Freedom Flex, or Citi Premier for 3x dining rewards.
Health (health & beauty) -> Chase Freedom Flex (3x drugstores): Many charges besides drugstores get sent to this category, but it's easy enough to Go Back in Time to fix them when that happens.
Travel (flights, hotels) -> Citi Prestige (earn 5x flights, 3x hotels): I never actually use my Curve card to pay for airfare (I usually use my Sapphire Reserve directly in order to get best-in-class travel protections), but sometimes charges at restaurants connected to hotels are classified as hotel purchases and so I use this feature to ensure getting 3x.  You can similarly use the Citi Premier for 3x or Bilt for 2x.
One of the things I like the most about Smart Rules is that the system knows the right category.  Sometimes small shops categorize as something you wouldn't expect, such as a retail store that categorizes as a restaurant.  Curve automatically detects this and sends the charge to the right card.
Smart Rules aren't perfect.  For example, I find it very strange that Curve doesn't offer a Gas Station category with their smart rules (but I wouldn't use it anyway since I have the Wyndham Business Earner Visa card which earns 8x at gas stations).  They also don't offer rules for specific merchants.  For example, it's common for cards with rotating categories like Discover It and Freedom Flex to offer 5x for specific merchants like Amazon.com or Target.  With Curve, there's no way to automate which cards are used for specific merchants like those.  That said, I'm not entirely sure that you would earn 5x on those purchases anyway: Curve does pass through the merchant category code to the underlying credit card, but I'm not sure that the underlying card would recognize a specific merchant.  On your credit card statement, charges that go through Curve have the letters "CRV*" before the merchant name.  For example, instead of a charge showing that it was from "Target" it shows up as being from "CRV*Target".  Will card issuers like Chase or Discover treat that charge as having come from Target?  I don't know (yes, I should have tested this, but this potential issue just occurred to me while writing this review!).
Curve Cash
It's possible to earn Curve Cash both from the initial welcome bonus (6 months of 1% cash back) and from referring friends (for each friend you get an additional month of 1% back).  That's pretty cool when you consider that these rewards are on top of the rewards that you'll earn with your underlying credit card.  So, for example, if you have Curve default to sending charges to your Discover It Miles account during the first year of your Discover card membership (when Discover doubles all rewards) and during the first six months of your Curve membership, you would earn 3% from Discover plus 1% from Curve for a combined 4% back on all spend.
Unfortunately, the only way to use Curve Cash is through Curve credit card spend.  If you accept the default behavior, anytime you have enough Curve Cash to cover a charge, that charge will be automatically paid from your Curve Cash.  If that happens, you won't earn credit card rewards and you cannot "Go Back in Time" to change which card is charged.  I don't like this because I don't want purchases that could be earning as much as 5x rewards getting routed to my Curve Cash balance where they don't earn any rewards.  So, I turned off the default behavior.  Now, when I want to use my Curve cash, I temporarily set Curve Cash as my default, make a purchase, and then change the default back to my Double Cash card.  That's a hassle.  I might just go back to the default settings.  At the moment I have about $100 in Curve Cash remaining, so at worst I'll lose out on 100 x 5 = 500 rewards points.  That's not so bad.
The bad stuff
Not everything is perfect in Curve world…
No Amex or Visa cards
Many of the most rewarding cards in the market are Amex or Visa cards.  Curve will never be "all that" until they support all common card types.
Purchase protections and travel protections uncertain
Many credit cards offer automatic purchase and travel protections.  Purchase protections include things like extended warranties, or compensation when new purchases are lost or damaged.  Travel protections include things like rental car coverage, trip cancellation or interruption insurance, lost bag insurance, etc.  If you use Curve to pay and if the charge goes to a card that has these protections, it's unclear whether you'll really be protected.  My guess is that the answer will vary depending on whether the person handling your claim notices or cares (for example) that a charge is listed as "CRV*Delta Airlines" instead of simply "Delta Airlines."
Risk of account closure
Certain spending patterns (such as buying lots of gift cards) are likely to lead to Curve shutting down your account.  Worse, I'd be willing to bet that overuse of some of Curve's features (such as "Go Back in Time") could lead to your credit card company shutting down your account.  For example, suppose your credit card offers a short term spending bonus and all of a sudden your account has dozens of charges that all begin with "CRV*."  If someone at the bank sees that, they're likely to become suspicious.  And banks often close down suspicious accounts rather than investigating them thoroughly.  So, even though you wouldn't necessarily be breaking any rules, there's a chance that extreme use of Curve could lead to that unfortunate result.  To be clear, I don't think that using the card for everyday spend and occasionally switching cards via "Go Back in Time" is likely to be a problem.  I'm more concerned about unusual uses of Curve.
Best cards to use with Curve
Below is a list of cards that I think are particularly rewarding for use with Curve.  All of the following are Mastercards except those specifically labelled as Discover:
Default Card (great rewards for all spend)
Bonus Category Cards
The following cards offer great rewards within various categories of spend.
Welcome Bonuses
If you're interested primarily in welcome bonuses that can stack with Curve, this page shows the best Mastercard offers sorted by estimated first year value: Best Mastercard Offers
Frequently Asked Questions
The following FAQ is specific to the US version of Curve…
Is Curve a credit or debit card?
It is a credit card.  You cannot use Curve for debit transactions.
What does Curve cost?
Curve is free.
Can I use Curve to withdraw cash from ATMs?
No
Can I use Curve to pay at terminals that require chip & PIN?
Yes.  Use your Curve passcode as the PIN.
Which credit cards work with Curve?
Mastercard, Discover, and Diners Club cards work with Curve.  You cannot use American Express or Visa cards with Curve.
Can I add Mastercard gift cards to my Curve wallet?
Probably not.  When I've tried to load gift cards, the app says that they don't support this card type.
Can I add my bank debit card to Curve?
Yes, if your bank debit card is a Mastercard, Discover card, or Diners Club card you can add it to your Curve wallet.  Note though that all charges sent to that card will be handled as credit rather than debit transactions.
If my underlying card offers travel or purchase protection, will I be protected on purchases that go through Curve?
Unknown.  It depends upon the people who review the claim and whether they would accept that charge as one that qualifies for coverage.  If you're making a purchase where you think you're might need your credit card's purchase protections or travel protections, I recommend using that credit card directly.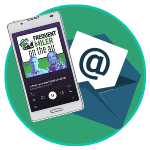 Want to learn more about miles and points?
Subscribe to email updates
 or check out 
our podcast
 on your favorite podcast platform.