I know, I know. Enough about Bluebird already. I'll make this quick…
Background
If you're not already familiar with Bluebird, please see the following posts:
Bill Pay
One of Bluebird's best features is it's free bill pay service. Log into your account, select "pay bills" and search for your biller. If they're there, the biller will be paid electronically. If they aren't in the list, you can add them manually and a check will be sent. Here are a few things we've learned in the past week and a half:
You must enter the biller's zip code, not your own. If you put in the wrong zip code you may get an error message that makes it look like you put in the wrong account number. Fix the zip code and you should be good to go. If possible, put in the 9 digit zip code without any spaces or dashes.
Bill Pay works. Many people (including myself) have had success with paying bills electronically and by check.
Direct Deposit
After November 4th, Bluebird ATM use will be free only if you establish direct deposit and use a MoneyPass ATM. To get free ATM use, at least one direct deposit payment must have been made in the thirty(30) days before the ATM transaction. Not everyone has an easy way to get employer direct deposits, so I tried two alternatives:
PayPal: Within my PayPal account I linked Bluebird as if it were a checking account. In order to verify my account, PayPal made two small deposits. In both cases, I received emails from servicing@bluebird.com with the subject heading "Direct Deposit Load Complete." This is very encouraging. Theoretically I can now transfer a small amount of money each month from PayPal to Bluebird in order to keep MoneyPass ATM use free.
TopCashBack: If you have money due from TopCashBack, you can have it sent to you via PayPal or directly to your bank account via an ACH transfer. I chose the latter and setup Bluebird as the target for the funds. The funds were successfully deposited to my Bluebird account and just as with PayPal, I received an email acknowledgment from BlueBird with the heading "Direct Deposit Load Complete."
After November 4th, it should be possible to test whether deposits like the ones mentioned above really result in free ATM use.
Note that some direct deposits are not allowed. The following is taken directly from the Bluebird Member Agreement:
Payments by the U.S. government may not currently be direct deposited to your Account. This includes Federal wages, salaries and retirement benefits and Federal benefits such as Social Security, SSI, Civil Service Retirement, Veterans Affairs compensation and pension, Federal worker's compensation, etc. If you try to set up direct deposit for these payments, we will be required to reject them, resulting in likely delay in your receipt of funds. (Payments by the U.S. Government in the form of paper checks may be added to an Account though the Member's use of Bluebird's Remote Check Capture service, as further described in Section 10.)
Debit Card Use
When I first talked with an American Express representative about Bluebird, he indicated that it would be possible to use Bluebird for PIN based debit transactions. So far, I have not had success with this. MasterCard and Visa cards have 16 digit account numbers whereas American Express cards have only 15 (maybe this is why Amex has an extra digit in the security code? Amex wanted to catch up?). In the few places I've tried to use Bluebird as a debit card, I was unsuccessful. I suspect it is primarily because most places are hard coded to expect 16 digits. Has anyone had success using Bluebird as a debit card? Please let me know.
Slow Account Updates
A few people have reported an issue where credit transactions take several days to appear on your Bluebird online account. This can make it very difficult to know how much money you really have available at any given time. Has this happened to you? Have you found a good work-around?
More Places to Buy Vanilla
Office Depot continues to be the go-to place to buy Vanilla Reload cards for most of us, but for those who don't live near a well stocked Office Depot, there are alternatives. Several weeks ago, I personally succeeded at the third local Walgreens I tried (the first two wouldn't take credit cards). See a list of other stores that may carry Vanilla in this recent post by Million Mile Secrets.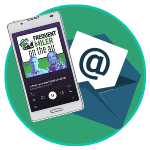 Want to learn more about miles and points?
Subscribe to email updates
 or check out 
our podcast
 on your favorite podcast platform.