Google Wallet currently takes two forms: it is an Android mobile app that allows Android phone owners to pay with their phone at some retail locations; and it is an online service, somewhat like PayPal, that makes it easy to pay online at websites that support Google Checkout.
Soon, Google Wallet will take a new form. It will be a physical card that can be used as a credit card anywhere. Androidpolice broke the news on Thursday based on an insider tip.
Why do we care?

Fewer cards in our wallet
Google Wallet lets you link multiple credit cards and debit cards to your account as funding sources. If nothing else, this new card could make juggling dozens of rewards credit cards much easier. The idea is that you can keep all of your credit cards at home and bring along just the Google Wallet card for all your purchases. If you want to change which credit card will be charged, just open the Google Wallet app on your phone, or browse to the Google Wallet web site to change the default card.
MasterCard accepted everywhere
It seems likely that the Google Wallet card will appear to the world to be a MasterCard (because Google Wallet already uses MasterCard as its payment network). If so, it will be readily accepted everywhere (except Costco). So, this could be a great way to increase spend on American Express cards. I know people have been frustrated with services like ChargeSmart that do not accept American Express. This could be a way around that problem. Further, if you want to use your American Express card to pay taxes, you would normally incur higher fees with Amex than with Visa or MasterCard. Again, this may be a great alternative.
A debit card? We can only hope
Wouldn't it be cool if this card worked as a true debit card (with PIN based transactions)? Then, we could use this card to pay Federal taxes for a small flat fee (less than $4) while running up spend on our points earning credit cards! Or, we could use this card at Walmart to load up our Bluebird card! The possibilities are endless. Unfortunately, my guess is that this will not be usable as a true debit card. We'll see once this card is officially introduced.
A way around cash advance fees?
Some banks charge cash advance fees when you use their credit card to buy certain "cash equivalents" like gift cards when purchased online (I'm looking at you, Citi). By adding this layer of indirection, maybe we won't be charged those fees? On the other hand, Google has Citibank as its issuing bank so maybe we won't be so lucky.
A way to deal with lots of gift cards?
I haven't used Google Wallet enough to say, but it might be possible to use it as a unifying "front end" for your visa/mc/amex gift cards. This could make gift cards much, much easier to deal with.
Sign Up Now
If you're interested in getting this new Google Wallet card as soon as possible, you can sign up here for the waiting list.
Hat tip to many readers who emailed me about Google Wallet!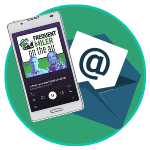 Want to learn more about miles and points?
Subscribe to email updates
 or check out 
our podcast
 on your favorite podcast platform.