My wife and I recently spent 10 nights in Asheville, NC. We'd originally booked a stay at the Four Points by Sheraton Downtown as we'd found a great paid rate, but ended up having to push back our stay dates by a few days and that property was more expensive when rebooking.
When looking at our alternative options, I noticed a great award redemption opportunity at the Candlewood Suites Asheville Downtown, so we booked a stay there instead. We've spent almost 150 nights in more than a dozen different Candlewood Suites properties over the last few years and I'd say that this property in downtown Asheville is the nicest one we've stayed at. While our stay wasn't perfect, I'd still recommend it as a great option if you'd like to stay somewhere with a full kitchen.
Candlewood Suites Asheville Downtown Bottom Line Review
In case you're not familiar with the Candlewood Suites brand, it's an all-suite hotel that's one of IHG's brands. Every room has a kitchen with a full-sized fridge-freezer, stove top, dishwasher and microwave, along with plates, dishes, cookware, cooking utensils, etc. Most rooms are studio suites, but they do have some one bedroom suites; there might be two bedroom suites at select properties, but I don't remember seeing that as an option at properties we've stayed at.
The property in downtown Asheville is nice and new, having been built in 2021. While it has some of the same features as other Candlewood Suites we've stayed at – free guest laundry, an outdoor gazebo with grills, etc. – it also had some features not usually found at their older properties. That includes a small working area in the lobby and an indoor swimming pool and whirlpool. Perhaps its most interesting feature is an enormous rooftop terrace available for all guests to use.
The hotel wasn't absolutely perfect. They disappointingly only had two place settings in the room which means you'd have to run the dishwasher after every meal even if it was mostly empty unless you want to do the dishes by hand. (n.b. That's often the case at Candlewood Suites locations, although we have had some which provide four place settings.) The water pressure in the shower was poor considering it's a brand new property. A front desk staff member working overnight played ridiculously loud TikTok videos for hours on end.
The room layout was strange too. The microwave had a vent fan and a sign asking you to turn it on when cooking, but they installed it above the sink rather than above the stove top so the vent fan had very limited utility. There was a desk, but it had an armchair that sat low to the ground compared to an office chair. There was then a reclining armchair which faced the opposite direction of the TV, so you effectively need to be in bed if you want to watch TV comfortably unless you move the armchair so that it's sitting in the middle of the living/bedroom area.
Another thing to note is the hotel's location. It's listed as being downtown but it's not as close to downtown as I'd thought it would be. That's because it's on the other side of the tunnel from downtown, so it's 1.5 miles or so from the action. That's not very far and it does have a wealth of restaurants nearby and a grocery store next door, but it's something to bear in mind if location is of the utmost importance.
All that said, we had a great stay overall, it's a very nice property and can be excellent value when booked with points, especially if you have any IHG credit cards which reduce your reward cost.
Points Price: IHG has fully dynamic pricing, so there's no set award night cost. When we stayed at the end of February/beginning of March, award nights ranged from 15,000-27,000 points per night. I have the IHG Premier credit card which offers every 4th night free on award stays. With us staying 10 nights, that meant we got both the 4th and 8th nights free. I also have the old IHG Select credit card which gives a 10% points rebate on award stays. That made our net cost 13,230 points per night. We bought those IHG points for 0.5cpp (cents per point) which meant we effectively paid $66.15 per night which was excellent value for a room with a full kitchen in downtown Asheville.
Cash Price: The cash price can vary, but during our dates they were charging $116.11 per night including tax. That's actually a very reasonable price, although I imagine it gets much more expensive in the summer and fall.
Points Value: Very good. Even if we hadn't gotten every 4th night free and a 10% points rebate, the cost would've been ~19,000 points per night. Those IHG One Rewards points could be bought for $95 when on sale for half a cent each, so booking with points should often be better than paying cash, although that doesn't take into account cashback earned by booking a paid stay through a shopping portal, bonus points earned on paid stays during promotions, etc.
Resort or Destination Fee: None.
Parking: Free for all guests. There's plenty of parking spaces both at the front of the property and the back
Shuttle: None.
Room: Our queen studio suite was a fairly good size. As mentioned earlier, it had a few strange design elements such as the vent fan above the kitchen sink rather than the stove top and the only seating with its back to the TV. Having a full kitchen is always useful though, especially if you're trying to limit your spending on eating out. The queen bed was comfortable and the blackout curtains worked well.
Housekeeping: We declined housekeeping throughout our stay, although we did grab fresh towels, dishwasher tablets, etc. from housekeeping when we saw them in the hallway or from the front desk.
Turndown service: No.
Internet: This is complimentary for all guests and the speed was good.
Dining: Something worth noting if you've never stayed at a Candlewood Suites property is that they don't offer breakfast. Instead, they have what they call the Candlewood Cupboard which has drinks, snacks, packaged breakfast items, etc. There are all kinds of restaurant options within walking distance too.
Spa: No.
Fitness Room: Yes. The fitness room wasn't the best equipped hotel gym I've ever seen based on how much equipment there was, but it seemed sufficient as I was the only person who ever seemed to work out in there during our stay.
Pool: Yes. This is unusual for Candlewood Suites as they don't normally have a pool. There was an indoor swimming pool which was a good temperature as well as a whirlpool.
Welcome Amenities: We didn't receive any welcome gifts at check-in.
Service: There's not much to mention about service during our stay because we declined housekeeping and had few interactions with the front desk other than when checking in and out and occasionally getting things for our room like dishwasher tablets. One negative aspect was the employee who worked overnight. I worked down in the lobby until about 3am-4am each night and most nights the front desk worker blasted out videos incredibly loudly. So loud in fact that I could hear them even though I had Bose noise-cancelling headphones on and my music turned up.
Pet Policy: The Candlewood Suites Asheville Downtown is a pet-friendly property. Their website lists the pet fee as $50 per night which isn't completely awful on a one night stay compared to how much some other hotels charge, but is ridiculous for longer stays. I called ahead of time to find out if that was correct and they said for a 10 night stay we'd be charged $275. While I'd prefer not paying an average of $27.50 per night, it was still a better priced option when taking into account the low cost of the points for the stay itself. In the end they only charged us a $250 pet fee, although the tax added on for that did end up making it closer to $275.
Location: I have mixed feelings about the location, although that's my fault. We'd not visited Asheville before, so I didn't really know the layout of the city. I'd been hoping we'd be within walking distance to everything downtown, but it's about 1.5 miles from there. While that's not a particularly long walk, the walk back to the hotel is up a fairly steep hill which isn't ideal if you're wanting to walk back after visiting breweries or bars downtown.
That said, it's not a bad location either. Taking an Uber isn't expensive due to the short distance if you want a designated driver. The hotel is right next to an Ingles grocery store, as well as being within walking distance of 20+ restaurants, from fast food restaurants to sit-down chains to local joints.
Elite Benefits: I have Diamond status with IHG One Rewards. Due to the nature of the Candlewood Suites brand, there's not much that you'll get with status. There's no breakfast available and no club lounge. We were eligible for a room upgrade, but the hotel was out of one bedroom suites during our stay and so there was no room we could be upgraded to.
Would I stay again? I wouldn't be against it. If we stay in Asheville again I'd prefer to stay in downtown proper and so would likely pick the Four Points if it was cheap enough, despite the fact that the Four Points doesn't seem to have great reviews. However, for an extended stay I'd be inclined to pick the Candlewood Suites again so that we'd have a full kitchen and we've already had a good experience there overall, especially if it continues being great value when booked with points.
Pros & Cons
Pros
Points Value – We got almost 0.9cpp of value versus the 0.5cpp we paid for the points.
Kitchen – Having a full kitchen when you're staying somewhere for 10 nights can save you a lot of money on eating out, as well as making it easier to cook healthier meals rather than having to rely on microwave meals.
Rooftop Terrace – We didn't take advantage of the rooftop terrace during our stay, but it's an excellent feature of the hotel when the weather's nice.
Cons
Room Design – The room itself wasn't bad, it just had some curious design elements.
Location – The location isn't bad either, it's just not as close to downtown as I thought it was.
Image Gallery
Queen Studio Suite
Hotel Amenities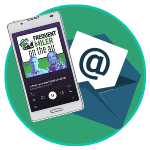 Want to learn more about miles and points?
Subscribe to email updates
 or check out 
our podcast
 on your favorite podcast platform.