Over the past few days, I've published a few posts on benefits during my recent trip to Las Vegas thanks to some status matching shenanigans. The other night, I posted about using the Caesars Diamond "Celebration Dinner" benefit (a free $100 dining credit). A few readers inquired about the other key benefit of matching to Caesars Diamond: 2 free show tickets every month. I made the lamest possible use of this benefit, but it's worth mentioning as many readers will do better than I did.
What shows can you see with the Caesars Diamond show ticket benefit?
Caesars Diamond members can get 2 free show tickets every month at Caesars properties. That's 2 tickets per Diamond member — if you have two people in your household with a hotel status like Hilton Gold or IHG Platinum, see this post for how you can easily get Caesars Diamond: From zero to hero on the status match-go-round.
The shows are of course limited to the selection Caesars is offering at any given time. In Las Vegas, the most famous names on the list are Penn & Teller and Wayne Newton. I've seen Penn & Teller's show before and it's a lot of fun. I'd definitely recommend it. Here is the list of shows as of May 2019:
I was kind of interested in the Bronx Wanderers, if only because I stumbled on Human Nature at the then-Imperial Palace (now the LINQ) years ago for cheap and the show was awesome. They play at Venetian these days, but their show was such a pleasant surprise that I actually bought their CD. I have no idea if Bronx Wanderers or any of the other shows are all that good, but I'd be willing to check them out for free.
A few notable things about the shows:
See the age restrictions in parenthesis next to each show if you're traveling with kids.
Note that Diamond and Seven Stars (top-tier) members also have some options at Brooklyn Bowl (those shows will vary depending on your dates). Available shows for May are listed in the picture above.
You can get one benefit redemption per calendar month and can only book it for the current calendar month.
Once you go to redeem the benefit at a Caesars Rewards desk, you receive a voucher that must be used within 3 days or by the end of the month (whichever comes first).
This benefit should also be available at Caesars properties outside of Las Vegas (check with the Caesars Rewards desk at your chosen casino).
How to redeem Caesars Diamond free show tickets
Redeeming the free show ticket benefit is just about as easy as the Diamond Celebration dinner. Simply visit any Caesars Rewards desk and tell them that you would like to redeem your Caesars Diamond show ticket benefit. They will print a voucher like this that you then bring directly to the venue / box office for the show you'd like to see.
Here's one mistake I made: I told the agent at the Caesars Rewards desk which show I wanted to see and then assumed (without really looking at the voucher until later when I was going through my pictures) that they printed a show-specific voucher. In hindsight, I see it is just a voucher that could have been used at any of the eligible shows (in other words, I probably just needed to redeem the voucher and didn't even need to say which show I wanted to see). In our case, we had one extra voucher beyond the number of people in our group. I assumed it could only be used for the show we chose, so I had the ticket agent at the venue keep it and redeem for another ticket to give away to the next guest. I now realize that I could have taken that second voucher to a different show and gotten a free ticket. In my case, that wouldn't have made much sense — but it's worth noting that I'm pretty sure you could see two separate shows with your two free tickets. That actually might come in handy if you're just in Vegas for a conference or something and looking for some entertainment on your own.
As you can see on the voucher, it expires 3 days from the date it is printed or the end of the month, whichever comes first.
If you're visiting Las Vegas at the end of a month, this could really be useful as you could pick up 2 free show tickets two times. Traveling as a couple in 2-player mode, you could potentially see 4 free shows as long as you redeem the first couple by the end of the month and the next two at the beginning of the next month.
Which show did I see?
Since we were traveling with our 1-year-old son, we only had a few options. One of those options was a show I've always wanted to see — the Mac King Comedy show. Unfortunately, I got out-voted on that and we went to the least showy show on the list: the Real Bodies exhibit at Bally's. As it turns out, it was the right call — Baby Rey was getting restless and I ended up powering through most of the exhibit and walking him into Paris along the cobblestone streets until he passed out.
The benefit for me is that my wife has wanted to go to one of these exhibits for years and thanks to status matching, I didn't have to pay for it. #Winning. Don't get me wrong, I like science and all. And I'm not totally grossed out by cut up cross sections of human beings…but neither have I ever been all that interested.
So, yeah. I didn't really see a "show" with this benefit. C'est la vie. Hopefully I'll get a chance to hit up another Caesars property before the end of the year when I can actually see a show.
Bottom line
The Caesars Diamond free show ticket benefit, like the Caesars Diamond Celebration Dinner, is very easy to redeem and well worth the status match if you're going to be visiting a Caesars casino. Two free show tickets every month seems pretty generous, and that's even better if you're playing in 2-player mode. I'm pretty sure your 2 free tickets can even be used for different shows if you're visiting Las Vegas on your own and want to catch more than one show. In our case, one member of our party opened the Hilton Honors Surpass card specifically for Hilton Gold status in order to run the match on this trip, which ended up getting her a discount on her room, no resort fee, a $100 Diamond celebration dinner, and two free show tickets — all totally unrelated to that card and in addition to the welcome bonus she'll earn. She didn't gamble a cent in Las Vegas, but walked away a winner for sure.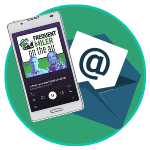 Want to learn more about miles and points?
Subscribe to email updates
 or check out 
our podcast
 on your favorite podcast platform.