This morning, I published a post about some Las Vegas Easy Wins. In that post and in my recent post about status matching to Wyndham and then Caesars Diamond, I noted that you can enjoy a $100 "Diamond Celebration Dinner". I know some readers were curious about how it worked (as was I) and it turned out to be a simple and smooth process. If you're going to visit any location with a Caesars property this year, it is probably worth setting the match in motion on this one.
The matching process
I covered the matching process in that previous post (See; From zero to hero on the status match-go-round). See that post for full details, but the gist of it is this: several hotel statuses can be matched to Wyndham Diamond status. Once you have Wyndham Diamond (and even though that match is only temporary), you can match to Caesars Diamond. However, note that the entire process takes about 10 days (about 3-4 days for the Wyndham match and then 5-6 days for the Caesars match), so don't wait until the night before your trip to set it in motion.
Diamond celebration dinner posted right away
There had been some confusion, especially in light of a recent Jeffsetter Travel blog post, about whether or not the Diamond Celebration Dinner would be available in your account immediately after matching, with some folks suggesting it would take an additional week beyond the Caesars match date and/or a week after arrival in Las Vegas for the Diamond Celebration dinner to load to your Caesars account. I'm happy to report that this wasn't the case for us: in fact, one of my family members had her match to diamond status update the day before our arrival in Las Vegas and when she picked up her Diamond card 2 days later the agent was able to confirm that the Diamond celebration dinner was loaded to her account.
Also of note, if you open your Caesars Rewards account online (rather than in the casino), the signup process suggests that you'll need to show your ID in a casino in order to complete account registration. That's surely due to some sort of gambling regulations / age restrictions. I had initially wondered whether this might block a brand new Caesars Rewards member (i.e. someone signing up from home before arrival in Las Vegas) from completing the status match and/or getting the Diamond celebration dinner loaded promptly. Again, that was not an issue. You'll obviously need to show ID in at a Caesars casino to pick up your Caesars Rewards Diamond membership card, but you can complete a new signup and status match online — the ID verification will not slow down the process. You can pick up your Caesars Diamond card at any Caesars property and the Diamond Celebration dinner should automatically be loaded to it (but see below for how to redeem).
Which Las Vegas restaurants can you visit for the Caesars Diamond celebration dinner?
The Caesars Rewards desk has a printed list of eligible restaurants sorted by property. If they don't hand it to you when printing your card, just ask (my wife didn't have to ask, they just gave it to her — I had to ask for it, but they had a stack of the printed behind the desk).
Here was the list we were given in May 2019:
Note that the agent highlighted Bally's and Paris on my wife's sheet. That's because you'll need a voucher to redeem for restaurants at those properties (more on that below).
How do you redeem the Caesars Diamond celebration dinner?
The process for taking advantage of the dinner is really easy: at most locations, simply visit one of the participating restaurants, present your Caesars Diamond card and tell the server that you'd like to redeem your Diamond celebration dinner.
If you intend to redeem at the restaurants and Paris or Bally's, you'll need to get a voucher from the Caesars Rewards desk. We decided to visit a restaurant at Paris and as such we did need to visit a Caesars Rewards desk to print the voucher. Again, you can do this at any Caesars property. Though we were dining at Paris, we picked up the necessary vouchers at Bally's.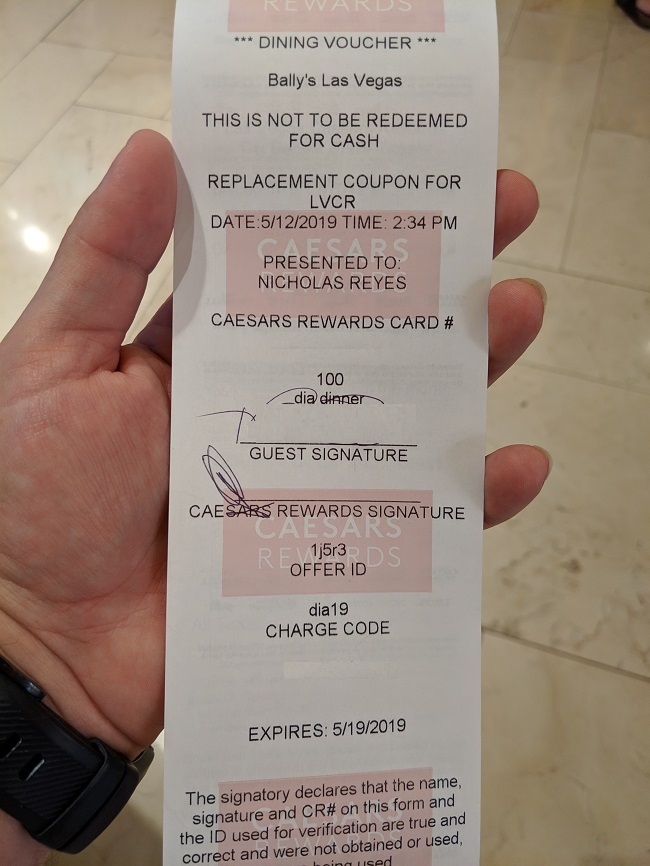 Interestingly, we had several Diamond members dining together in our party and we were all able to use our Diamond Celebration dinners at the same time. If you're playing this game in 2-player mode and both you and your Player 2 have a status you can match to Caesar's, you could get yourselves a $200 dinner.
My experience using the Caesars Diamond celebration dinner
We chose to dine at Gordon Ramsay Steak in Paris Las Vegas. In terms of using the credit itself, it was really easy. When the bill arrived at the end of the meal, each of us slipped our vouchers in with the bill when we went to pay. At that point, I mentioned to the server that we had several Diamond members using our celebration dinners and it was no problem at all for us to use multiple Diamond celebration dinners at the same time. I had half wondered if we would meet any pushback on this despite having checked with friends who knew more about how this worked. We didn't receive any pushback at all and that was nice — the benefit worked as easily and seamlessly as one would hope. I have to assume the redemption part of the experience would be the same at any of the Caesars restaurants, which makes this benefit as good as advertised.
That said, it's also as good as your restaurant selection. From here, I'll review our choice of restaurant, which has nothing to do with using the benefit itself, but I figured I'd include a review of the restaurant and our dinner for those curious. Feel free to skip to "bottom line" if you're not particularly interested in Gordon Ramsay Steak at Paris Las Vegas.
I was in Las Vegas with family members. Anyone who has ever traveled with a group knows that making group dining decisions requires some compromise. We settled on Gordon Ramsay Steak at Paris. Truth be told, I don't watch TV and couldn't tell you anything about Gordon Ramsay apart from the fact that I know he's a celebrity chef. Gordon Ramsay Steak wouldn't have been my top pick on the list, but for a nearly "free" meal, I was happy to go with the flow.
From a restaurant standpoint, I don't think I'd recommend Gordon Ramsay steak. That's not to say it's a bad restaurant; it's definitely not a bad restaurant. The ambiance is quite nice in fact.
And service was a solid "pretty good". I was impressed at the lack of hard upsell. For example, my wife inquired about a sauce for her steak (they have several options for an additional $7). Our waitress told her that the steak came with a light demi-glace and that she could add another sauce, but suggested tasting the steak first to know if she even needed the sauce since it would only take the waitress 30 seconds to go grab one after the steak arrived if we needed it. She repeated the fact that it takes 30 seconds several times. She then came to check on us as soon as our steaks arrived, but before anyone at the table had even tried their meal. I told her that we hadn't had a chance to try it yet and assumed she would come back. My wife was about halfway through a 24oz steak (i.e. it was quite a long while) before she was finally able to order the sauce she wanted. Obviously we could have gone looking for the waitress if it were a big deal, but I mention it because I thought they fell a little short in attentiveness considering the fact that we had a decent-sized group. On the flip side, my wife ordered from a prix fixe menu (see below) and asked nicely if she could substitute one of the other desserts. Despite being told there were no substitutions, they ended up bringing her the dessert she wanted, which was very nice (and goes to show that it never hurts to ask nicely).
But the main reason I wouldn't really recommend Gordon Ramsay Steak is because I wasn't particularly impressed with the steaks. They do bring a cart to the table showing the various cuts/quality they offer, which looks pretty impressive.
You can see the menu online here.
The Japanese graded Wagyu of course is not on the cart (as Japan only exports a limited quantity and one wouldn't really waste one of those steaks for display purposes). "American Wagyu" made me very skeptical (though glad to see it being marketed as such instead of just as "Wagyu beef"). For those who aren't beef connoisseurs, the short version of the story is this: while you'll sometimes see "Wagyu" on menus in the US, chances are very high that you're seeing beef that comes from the United States and is raised in the Wagyu style rather than actually being from Japan. There is a very limited number of cattle in Japan that are graded A1-A5 and and even more limited amount that actually gets exported. If you are getting the real deal (graded Japanese Wagyu), the restaurant should be able to produce its certificate. The term Wagyu gets thrown around more as marketing here than anything else. As someone who has had graded Kobe Wagyu in Kobe Japan (and was highly skeptical that it would taste any different than any other steak), I can unequivocally say that there is a difference. My wife doesn't even really care for steak and I think she would put the steak in Kobe as a top 5 meal lifetime.
I wasn't interested in paying $40 per ounce for the Japanese Wagyu (after all, you can apparently get it from Costco for just over a hundred bucks a pound — I'm in for a pound if anyone is interested in placing an order). So I went with the American Wagyu Eye steak. I ordered it medium (as was recommended). It was decent, but it wasn't amazing. Maybe I'm selling that short: it was good. It definitely wasn't tough and it had better marbling than the average steak you'd get at an average restaurant — but I would of course expect that in a $67 steak. It definitely didn't exceed expectations and its failure to really have any "wow" flavor kind of led to it disappointing even if it wasn't a disappointing steak. Others in my group at the US Prime filet and Beef Wellington. Everyone said their meal was good; nobody raved about how good.
My wife ordered off of a special "Mother's Day Menu", which looked very much like the prix fixe show menu found on the restaurant's website.
That was actually a pretty good value provided you ordered the steak since that cut by itself was $72 on the menu. Adding a salad and dessert for $95 total was a decent enough deal considering ala carte prices. I think we would both say that her steak wasn't quite as good as mine, but it wasn't bad at all and mine wasn't enough better to write home about the difference (and her 24oz steak was much larger than my 8oz steak — we shared both). If you're doing the Diamond celebration dinner, the prix fixe menu is a pretty decent choice.
Side dishes were solidly good. We had loaded baked potato, asparagus, Brussel sprouts, fingerling potatoes, and mac and cheese. I thought the bechamel sauce on the loaded baked potato was fantastic – I just wished there were more of it.
I didn't peruse the wine list for long, though I did order a glass. Reds by the glass were in the $19-$25 range. I'm not much of a drinker, but I've come to enjoy a glass of good wine with dinner a few times a year (after being spoiled on so many business and first class flights thanks to miles and points). I would ordinarily order a Malbec, but this time I went with Rioja. When I first tried it, I thought it tasted excellent. And it did taste quite good — though I unfortunately realized after a few more sips that it was awfully light for a place specializing in steak and that it likely wouldn't hold up that well to the steak. I wasn't wrong. Again, it wasn't a big deal, but wasn't a home run (perhaps my fault for not ordering the Malbec).
I skipped dessert, but others in my party didn't and enjoyed it and its elegant presentation.
Altogether, my dinner came to $102 plus tax and tip ($67 + $13 for a side dish + $22 for the wine). With tax and tip and after my Diamond celebration $100 credit, it cost me around thirty bucks. While I wasn't wowed by the steak and didn't love the wine with it, I definitely think that it was worth the ~$30 net cost (again, nothing was bad). My wife went a bit father over the celebration dining credit since her set menu was $95 and she also had a glass of wine and shared a couple of side dishes. That said, altogether we were in it for less than the cost of an average dinner out and I would admit that the ambiance and presentation were certainly above average.
The ease of redemption made the deal well worth using and something I would do again if able to match to Caesars again in a future year. While I didn't love Gordon Ramsay Steak, I certainly can't complain about the net cost and would be happy to take another swing at a better choice next time.
Bottom line
The Caesars Diamond Celebration dinner is a great perk of Caesars Diamond status. It enables you to enjoy a nice meal out at one of many restaurants in Las Vegas. It posts to the account quickly and is a cinch to use, though you'll need to grab a voucher from the Caesars Rewards desk before heading to the restaurant in some cases. The real value play here is if you have more than one Diamond member in your party — though keep in mind this benefit only applies once per year, so it's a one-and-done unless you're able to stay on the status match go round next year.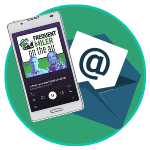 Want to learn more about miles and points?
Subscribe to email updates
 or check out 
our podcast
 on your favorite podcast platform.