Arguably the most valuable benefit of the Bank of America Alaska Airlines Visa cards is the annual companion fare. This discount code allows the cardholder to add a companion to a reservation for just $99 + taxes/fees (starting from $121 total). Practically any Alaska Airlines itinerary seems to qualify — one-way, round trip, open-jaws, etc. The merger with Virgin America has only enhanced this benefit as cardholders can now book travel with either Alaska or Virgin America — or an itinerary including both — and add a companion using this discount code. We wrote about that development last week.
In response to a post introducing our complete guide to companion benefits, reader Larry commented to ask the following:
Larry's question led us to do a little research about the ins and outs of paying for your Alaska companion fare tickets.
Who can pay for the ticket?
According to the rules of the companion fare, the cardholder who receives the companion fare must be one of the travelers on the reservation 
or
he or she must pay with a credit card in his/her name. From
Alaska's companion code FAQs
:
Who can use my companion fare discount code?

The Mileage Plan™ member who owns the companion fare discount code must either be one of the travelers or the purchaser of the reservation. If the member is allowing two travelers to use his or her companion fare discount code, then the member's name must match the name on the credit card used to purchase the reservation.
So this much is very clear: You can pay with any card in the companion fare holder's name.  Larry could definitely use his Citi Prestige card to pay for the entire itinerary to which he is applying his companion fare code, and he would receive his $250 annual Citi Prestige air credit. As long as Larry is traveling on the itinerary, per those terms, his wife could pay for the ticket on her Prestige card to receive her annual $250 travel credit.  But Larry wanted to be able to use both his Prestige card and his wife's. Alaska doesn't have a way to split tender between two credit cards online and the Alaska rep with whom I spoke on the phone told me that the companion fare can only be booked online. However, I had a solution in mind…….
Alaska MyWallet Solution
Alaska is known for having a very generous change and cancellation policy. Changes are free 60 days or more before departure even with no elite status, and cancellations can be deposited into your Alaska Airlines "My Wallet" account. Essentially, if you book a flight and cancel more than 60 days in advance, you receive airline credit that is good for a year from the date booked.  Travel Codex has
a great post on this
from a couple of years ago. My first thought was that maybe it would be possible for Larry to book a dummy ticket using his account but paying with his wife's Prestige card. I thought he could then cancel it and receive a credit that he could use to pay for the companion flight.
Update: Reader Elizabeth provides a data point that purchasing Alaska Airlines gift certificates did 
not
trigger the Citi Prestige travel credit. This is consistent with another data point I then discovered here. At this point, the method above looks like the way to go, but we will provide another update after testing it.
Of course, Greg immediately thought of a much easier, less convoluted method: How about if Larry just added credit directly to his My Wallet somehow?  Could he use those funds to pay for a companion fare?  If he could, this would mean that Larry's wife could theoretically buy a $250 Alaska Airlines gift card and give it to Larry to apply towards the companion fare. Larry could then pay the remainder on his Prestige card and end up with $500 in Citi travel credits to cover a significant portion of his desired flights.
To test this theory, I purchased an Alaska Airlines gift card. Alaska is the selected airline on one of my Business Platinum cards, so I used that card and received a statement credit for my $50 e-gift card purchase. While I didn't have travel credit left to use on my Citi Prestige card (already used it for 2017), I am confident that it would automatically trigger the travel credit on that card.
Alaska Airlines e-Gift cards take 24 hours to become active, so I was not able to add the gift card to My Wallet immediately (I tried, but it gave me an error message telling me that the gift card would not be active until XX:XX the next day, exactly 24 hours from purchase). Once the card became active, I added it to my Alaska Airlines My Wallet.
The next question was whether or not those funds could be used to pay for a companion fare ticket. I was pleasantly surprised to find out that My Wallet funds can be used to pay for all or part of a ticket, as you can see here:
However, that round trip wasn't the first itinerary I searched. Alaska had just announced the ability to book Virgin America flights with this benefit, so I first searched an itinerary mixing both carriers. I was surprised at the result (maybe I shouldn't have been):
You'll notice that the "Use My Wallet funds" check box is greyed out/not available for selection. I discovered that My Wallet funds can not be used for an itinerary that includes Virgin America. I was somewhat surprised by this since Alaska added the ability to use the companion fare in conjunction with Virgin America flights. However, once I read the "My Wallet" terms and conditions, I found this:
My wallet credits may be redeemed at alaskaair.com for air travel on flights operated by Alaska Airlines flights 1-999, 2000-2999, and 3300-3499.
According to those terms, you can not use MyWallet funds (including gift cards added to MyWallet) to pay for any Virgin America flights, whether with or without a companion fare code.
The takeaway
Larry asked a good question that led us to determine that you can use gift cards as a way to split payment for a companion fare over more than one credit card, but you can not pay for itineraries that include flights operated by Virgin America. Still, a good trick to have in the back pocket for a situations like this. One additional question that came to mind was how Citi Prestige travel protection benefits would be affected. According to my understanding of what I've read and this One Mile at a Time post, I believe you can still receive the full trip delay protection benefit when only paying part of the fare on your Prestige card (as Larry would be doing in this case), but trip cancellation would only apply up to the amount charged to your card (i.e. not the full benefit since $250 of the fare was paid with a gift card). I would encourage you to do your own due diligence if this is a concern for you and consider putting the entire trip on one card if full coverage is of key concern for you.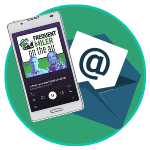 Want to learn more about miles and points?
Subscribe to email updates
 or check out 
our podcast
 on your favorite podcast platform.