I often write about ways to extreme stack deals for huge rewards or savings.  In this post I'll document one approach that I use regularly to treat my family to great steaks, seafood, treats, and more.  First, here are some real world examples of what is possible…

Stock Yards sells four 6 ounce Filet Mignon cuts for $99.99.  After stacking, I would pay $30.46 (or less), delivered.
Harry & David sells their Maine Shore Seafood Bake for $99.99.  After stacking, I pay $30.46 (or less), delivered.  I've ordered this one several times.  The seafood comes in a tinfoil container which can be put directly into the oven.  We found that there was plenty of food to feed 3 of us.  And, it was delicious.
Harry & David sells their Wild Alaskan Smoked Salmon Trio for $49.99. After stacking, I would pay $15.23 (or less), delivered.
Wolferman's sells 10 bagels for $24.99. After stacking, I would pay $7.62 (or less), delivered.
At the time of this writing, Wolferman's has their Dark Chocolate Peppermint Cheesecake on sale for $14.99 (Usually $29.99). After stacking, I would pay $4.56 (or less), delivered.
How to, Step By Step
Here are the steps for recreating the savings shown above…
1) Get multiple Amex cards
Amex business cards are best, but personal cards are good too.  To get more than one, you can sign up for new cards, or you can request free authorized user cards.  My wife and I have more than 20 Amex cards when you count our primary and authorized user cards.
2) Enroll your Amex cards in the latest 1800Flowers Offer
The key to this Extreme Stack is the regularly recurring Amex Offer for 1800Flowers.com: Spend $50 or more, get $15 back.
You can add this offer to multiple Amex cards by using the multi-tab technique.  For details, see: Complete Guide to Amex Offers.  If this offer doesn't show up on your account, try tweeting #Amex1800Flowers to enroll in the offer.  Refer to the Complete Guide to Amex Offers to learn how to sync multiple cards with Twitter.
Unfortunately the latest Amex Offer is about to expire (3/31/2017), so hurry if you're already enrolled in this offer!
3) Enroll in Celebration Rewards
Celebration Rewards is the 1800Flowers rewards program.  It is free to join and definitely worth doing.
4) Enroll in ShopRunner
Anyone with an Amex card can enroll in ShopRunner for free (here).  As long as you do not use a promo code when checking out, ShopRunner will give you free shipping and handling for almost anything available through 1800Flowers and its associated brands.  If you want to use promo codes, you'll have to pay for an annual subscription to Celebrations Passport ($29.99) in order to get free shipping.  Note though that using promo codes also invalidates portal rewards, and are not available for all items, so for the purpose of the extreme stacks shown in this post, I recommend against using promo codes.
5) Find the best cash back portal opportunity
Use CashBackMonitor to find the best current cash back rates.  1800Flowers is almost always available for 15% cash back, but it is not unusual to see 20% or more.  You can also check 1800Baskets and Cheryl's to see if they have better rates (since they are really part of the same company)
6) Go through a portal to buy by-mail gift cards
Use each Amex card that is registered with the 1800Flowers Amex Offer to buy physical, by-mail, gift cards from 1800Flowers.  First click through the cash back portal each time, then use your Amex card to buy a $50 gift card.  You can buy one $50 gift card with each Amex card that you have registered to the offer.
One automatic bonus is that if you use Amex Business cards, you automatically get 5% cash back from 1800Flowers purchases!  Also, you'll earn Celebration Rewards points when you purchase gift cards, but not when you use them.
7) Go through portal to 1800Flowers to buy stuff from Harry & David, Wolferman's, Stock Yards, etc.
Once again, use CashBackMonitor to find the best current cash back rates at 1800Flowers, 1800Baskets, or Cheryl's and then click through.  Once there, you can switch tabs to other brands.  Note that if you started at 1800Flowers, the beginning of the URL remains 1800Flowers.com.  That's a good thing for ensuring you earn portal rewards.
Many of the brands have a sale section so that you can see products that are discounted at the moment.  That's a great way to stack savings further, as shown above with the Dark Chocolate Peppermint Cheesecake example.  But, even when things aren't on sale, savings through extreme stacking make most of the prices quite reasonable.
8) Pay with gift cards
1800Flowers will let you use up to 2 gift cards per purchase, so its best to keep your shopping cart down to $100 or less so that you can pay entirely with gift cards and/or Celebrations Rewards certificates.  Make sure to sign into ShopRunner on the shopping cart screen so that you'll get free shipping.
Depending on what you buy and what state you ship to, you may or may not have to pay sales tax.
Using two gift cards is not well supported. Make sure to keep track of gift cards that you think are fully spent (they might not be).  For full details, see: 1800Flowers: How to apply 2 gift cards per order, and a big bug to watch out for.
The Math  (69.54% off everything)
Suppose you buy $200 worth of gift cards using the above steps, then you use those gift cards and your earned Celebration Rewards certificate to buy stuff such as the things shown above.  Here's how the math works out:
A) Buy $200 worth of gift cards ($50 at a time)…
Amex Offer (Spend $50, Get $15) x 4 = $60 back
Amex Business OPEN Savings 5% = 5% of $200 = $10 back
Portal Cash Back at 15% = 15% of $200 = $30 back
Celebration Rewards: Spend $200, Get a $20 certificate back
We now have $220 worth of 1800Flowers credit ($200 in gift cards + $20 in Celebration Rewards).
Our net cost is $100 ($200 – $60 – $10 – $30).
B) Buy $220 worth of stuff with 1800Flowers credit (up to 2 gift cards at a time)
Via 15% Cash Back Portal: Spend $220, Get $33
Total out of pocket spend: $100 – $33 = $67.
Out of pocket cost = 30.46% of the retail price ($67 / $220).
You may do better than this if you happen upon better than 15% portal cash back, or slightly worse if you do not have Amex Business cards to use.
Cautions and Notes
Please read these important cautions and notes:
Amex Offers for 1800Flowers (and associated brands) come and go regularly, but there's no guarantee that they will return.
In my experience, you can earn portal rewards both when buying and using 1800Flowers by-mail gift cards, but that can change at any time.
1800Flowers e-gift cards will not work with the above steps.
Even though 15% or better portal rewards has been standard for 1800Flowers for a long time, it is always possible that the best rate will drop.
I recommend subscribing to Frequent Miler's Portal Alerts so that you can see when portal rates go up.  Found here.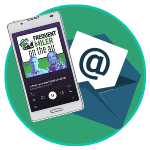 Want to learn more about miles and points?
Subscribe to email updates
 or check out 
our podcast
 on your favorite podcast platform.