Capital One has two very different shopping portal programs. Capital One Shopping is a public shopping portal that anyone can use, no Capital One card required. However, Capital One also has Capital One Offers, which are only found within your Capital One account. You can sort of think of these like Amex Offers or Chase Offers except not really at all like those :-). Capital One Offers are found within your Capital One account and work like a shopping portal rather than being card-linked. If you are a Capital One cardholder, it can be worth taking a look.
I've written about these Capital One offers in the past. During the pandemic, offers mostly tried up, at one point leaving maybe a couple dozen stores available on the featured deals. Today I counted 408 retailers in the visual boxes pictured above under "Newest Deals and Offers". You can find these within your card account immediately below your balance information.
This is notable because in some cases, Capital One includes retailers that you won't find elsewhere or Capital One has higher rates at times. That's certainly not true across the board, but for example they are currently offering 5% back at VRBO and 10% back at Viator (I've seen Viator go as high as 18% back, though I'm not much of a fan).
Note of course that many payouts aren't better than what you can find elsewhere, so use Cashbackmonitor.com to check rates.
Until about 30 seconds before writing this sentence, I didn't think that Capital One provided any way to sort offers. Stupidly, I had just been scrolling the entire list rather than using the search box at the top. I recommend making use of that box as there are retailers there that are not listed below it.
Personally, I was looking at vacation rentals last night and checked this out specifically because I knew they had Vrbo and most portals don't. Scrolling the list, it looked like there were enough retailers that might be of interest to make it worth sharing this again.
My initial experiences with Capital One Offers weren't great. I had tested using a non-Capital One card (terms indicate that you must click through and use your Capital One card and earnings will post as a statement credit) and I did not earn any cash back. Then I also tried clicking through and using a Capital One card on a couple of small purchases and I never got cash back (I didn't follow up). Then, like the glutton for punishment that I am, I used it again when booking Viator activities for our trip to the UAE and the Maldives last fall and sure enough it finally posted cash back on that purchase. I therefore recommend some patience and caution with these offers, but they could be worth a look.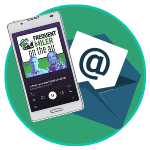 Want to learn more about miles and points?
Subscribe to email updates
 or check out 
our podcast
 on your favorite podcast platform.