This past weekend I went to D.C. for the Freddie Awards, the Travel Executive Summit, and Frequent Traveler University (FTU). As always, I had an awesome time making new friends and catching up with old ones. Activities and hallway conversations ran non-stop all weekend and I barely had enough time to kill a deal or two let alone write up any new content for this blog.
So, today I'll simply spit out a number of miscellaneous items…
FTU Presentation past and future
I gave a presentation at FTU titled something like "You can still earn 5X everywhere". I'm not one to give the same presentation twice so this was very different from the presentations I gave last year at FTU LA, and at the Chicago Seminars. I thought it went well. People laughed at the right moments and seemed engaged throughout. It was fun!

Photo courtesy of Kadence @ Iluvtravelfotos
Mileage Update generously tweeted:
@FrequentMiler Who knew you had a stand up routine as well?? Great speech at the #FTUDC
I'll run a few posts in the near future to give readers an overview of my talk. For those who'd like to meet up in person, I'll also be at the Ann Arbor Art Fair DO in July (wait listed), at FTU Tampa in September (maybe speaking there – don't know yet), and at the next Chicago Seminars (definitely speaking there) in October.
Staples: Save $15 when you buy $150 or more in MasterCard® gift cards after easy rebate
Valid through Saturday, May 4
You have to go into the store for this one. Buy $150 or more of MasterCard gift cards (not Visa gift cards!) and you should qualify for a $15 Easy Rebate. The rebate should print automatically along with your receipt.
Limit 1 rebate per household (no, I don't know if this limit is easy to circumvent)
It should be possible to set PINs on these gift cards to use at Walmart, but I haven't tried these yet and some people have reported issues with MasterCard gift cards and PINs, so as always, it may or may not work for you.
Hat Tip: Joshua
Staples: $10 off coupon
Valid through Saturday, May 4
UPDATE: The coupon is no longer working for gift card orders
This one is online only. $10 off any order of $100 or more. Seems to work with some items that you wouldn't expect (see photo above for an idea of a related product). Limited to one order per household. Use coupon code 43994 at checkout. Start your session from uPromise to possibly get 5% cash back. Pay with a card that gets 5X at office supply stores (see "Best Category Bonuses").
Here's an example checkout receipt:
Hat Tip: Grant
Venmo ups limit to $3K
Hat Tip to Travelomania on FlyerTalk. This may be exciting news to those who have a debit card that earns rewards. A friend reminded me that Venmo does not like people to swap payment sources too often so this is not a good option for draining gift cards. I don't use Venmo, nor do I have a rewards debit card (details coming in a future post) so I can't really help you with details.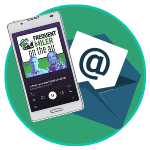 Want to learn more about miles and points?
Subscribe to email updates
 or check out 
our podcast
 on your favorite podcast platform.