At FTU in DC last weekend, I presented "You can still earn 5X everywhere." Many of the tips I presented involved reload cards, gift cards, and Bluebird cards, but I also showed how you can earn 5X almost everywhere without gift cards. In this three part series, I'll show you how.
The cards shown above on the left earn Chase's Ultimate Rewards points. The cards on the right earn Citibank's Thankyou points. In this post, I'll focus on Ultimate Rewards. The next post will cover the ThankYou cards and I'll finish up with a post about what to do with charges that don't fit into the above buckets.
Ultimate Rewards
Ultimate Rewards points are my favorite form of currency. Really. All you need is one of Chase's premium cards (e.g. Sapphire Preferred, Ink Bold, Ink Plus) to unlock Ultimate Rewards full potential. For a frequent traveler, the points are better than cash. If you want or need cash, fine. Ultimate Rewards points can be exchanged for cash with a value of 1 cent per point. Or, book travel through the Ultimate Rewards website and get 1.25 cents per point value. Better yet, transfer points to any of numerous partners and you can often get far more value.
Additional transfer partners not shown above include Marriott and Priority Club.
Some of the best redemption options for Ultimate Rewards points are via partners. Here are a few examples:
Transfer to United Airlines and redeem for international business or first class travel on Star Alliance flights. Redemption value varies widely but you can usually expect to get at least 3 cents per point value and often much more (if you find saver level availability).
Transfer to Southwest Airlines and redeem for "Wanna Getaway" fares. For these fares, you'll get 1.67 cents per point value.
Transfer to Hyatt for luxury stays. Hyatt's award chart tops out at only 22,000 points per night for their most expensive properties. When redeeming for expensive hotel nights (think $500 and up) you can expect to get over 2 cents per point value.
Transfer to British Airways and redeem for short non-stop flights on BA partner airlines (American, Alaska, Aer Lingus, LAN, etc.). One great example that I've taken advantage of is to use BA Avios to book American Airlines non stop from Detroit to NYC. Non-stop round-trip flights are usually $700 and up for weekday travel, but I was able to book the same for only 9000 points. That's a value of over 7.7 cents per point!
Transfer to Amtrak and redeem for bedrooms or special routes. With Amtrak's special routes, they charge only 1500 points each way. I've used this deal several times to ride the Wolverine train from Ann Arbor to Chicago. Prices fluctuate widely, but in my experience I usually get over 3.5 cents per point value. You can also do well by using points to book otherwise very expensive bedrooms for long-haul routes.
Sure, Starwood points are arguably more valuable per-point than Ultimate Rewards, but Ultimate Rewards points are much easier to earn and faster to transfer to partners.
5X almost everywhere
By filling your wallet with the right assortment of cards, you can earn 5 points per dollar almost everywhere you shop day to day. Here are the Chase Ultimate Rewards cards that will help you get there:
Chase Ink 5X
I've said many times that the Chase Ink Bold (and its twin the Ink Plus) is my favorite card. I even wrote a secure message to Chase to profess my love. My feelings haven't changed.
Chase Ink cards offer 5 points per dollar for office supply purchases, cell phone, landline, and cable. Just by using an Ink card to pay your cell phone, landline, and cable bills you'll rack up thousands of points. And, of course, don't forget to use the card whenever you shop at an office supply store. Since Staples, OfficeMax, and Office Depot regularly offer specials that I blog about (such as Free after Rebate items and other lucrative discounts), the Ink card provides many ways to rack up points!
There are multiple versions of Ink cards: Ink Bold, Ink Plus, Ink Cash, and Ink Classic. The Ink Bold and Ink Plus cards are premium cards with high signup bonuses (50K!) and $95 annual fees that kick in after the first year. These premium cards award 5X for up to $50K per year of spend. The Ink Cash and Ink Classic are no-fee cards with smaller sign-up bonuses. These cards award 5X for up to $25K per year of spend. For details of how these cards differ, please see "Preparing for Miles".
All of the Ink cards are business cards. Yes, you do need a business to qualify. If you have a new business (rental property, buy/sell things, consultant, blog author, whatever…) you do not need to lie about your business income, even if your income to-date is zero. Hopefully you have other income or assets that you can also list to help assure Chase that you're credit-worthy! For more information, please see "How to sign up for the Ink Bold (or Ink Plus)." If you have multiple businesses, you can get multiple Ink cards and you should get the signup bonus for each one (at least, that was my experience).
Chase Sapphire Preferred 4.28X
If you had to settle for just one rewards credit card, for most frequent travelers I recommend the Sapphire Preferred. While it doesn't offer any 5X categories, it does offer 2X for all restaurant and travel purchases, and it offers a 7% annual dividend on all points earned. So, regular earnings are really 1.07X, and 2X earnings are really 2.14X. With no foreign transaction fees, this is a great card to have in your wallet when dining or travelling (although it does lack a PIN at the time of this writing). Of course, the card offers a terrific 40K sign-up bonus, so that doesn't hurt either!
The trick for getting nearly 5X when using the card for travel expenses is to take advantage of the Ultimate Rewards Mall. By initiating your online shopping through Chase's Ultimate Rewards Mall, you can earn extra points above and beyond those earned by your credit card. So, when booking travel, go through the Ultimate Rewards Mall to a site like Travelocity (which currently offers 2 bonus points per dollar) and pay for your travel with your Sapphire Preferred card. With 2 bonus points from the Ultimate Rewards Mall and 2X earnings for travel with the Sapphire Preferred, you will earn 4 points per dollar. Then, if you factor in the Sapphire Preferred card's annual 7% dividend, you would earn 4.28 points per dollar. It's not 5X, but its awfully close!
Chase Freedom 5X to 5.5X
The final piece of the puzzle is the no-fee Chase Freedom card which offers 5X in rotating categories each quarter. For example, this quarter, from April through June, the Freedom card offers 5X for restaurants, movie theaters, and Lowe's. Note that 5X earnings are limited to $1500 in spend each quarter.
If you have a Chase checking account, you will also qualify for a 10% annual bonus on points earned (see "The new king of the Ultimate Rewards Mall"). This means that regular spend earns 1.1X, and 5X spend becomes 5.5X!
Wrap Up
The cards detailed above give multiple opportunities to earn 5 very valuable Ultimate Rewards points per dollar across many types of transactions: office supplies, cell phone, landline, cable, travel, and rotating categories. In general, if you have competing cards that earn 5X for the same categories, I'd recommend going with the card that earns Ultimate Rewards points whenever feasible.
In the next post in this series I'll show how it's possible to earn 5X ThankYou points across many other categories of spend. And, I'll show you how to make the most of those points.
More details about the cards shown above,and signup links for each, can be found on either of these pages:
Caution
The purpose of this series of posts is to show how it may be possible to earn 5 points per dollar almost everywhere, but that does not mean that you should. Not everyone can (or should) get all of the cards I've listed. While it is true that between my wife and I we have all of the listed cards, this is not meant to be personalized advice for you. Is this right for you? Only you can decide. And, as always, I do not recommend signing up for rewards credit cards unless you always pay your balance in full every month. Otherwise the cost of the interest payments will far exceed the benefit of points earned.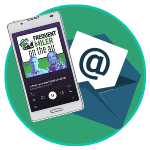 Want to learn more about miles and points?
Subscribe to email updates
 or check out 
our podcast
 on your favorite podcast platform.