Update 12/10/22
: I'm seeing more recent reports of people receiving a $150 statement credit as a retention offer on both the Chase Sapphire Reserve and the Chase Ritz-Carlton Visa. I noticed some
reports at Slickdeals
over the last day or two and then also found matching
data points at Flyertalk
. Remember that if you have Chase cards come up for renewal and you're not sure you'd like to keep them, it can be well worth calling to see if you have any offers. Note that these offers aren't totally new (we originally published this post two years ago), but I thought the offers had mostly dried up for a while — apparently many (but certainly not all) cardholders are getting them again.
Update: Reader Jimmy reports getting a $150 credit on the Ritz card, so it may also be worth calling on that card if you have it. A reader in our Frequent Miler Insiders reported getting the $150 offer on both a CSR and the Ritz — and their Ritz annual fee posted in June.
Doctor of Credit is reporting a sweet retention offer given to many who are calling about their Chase Sapphire Reserve credit cards: many people are being given $150 or even $250 in retention offers. My wife called and got no offer, but given the volume of positive data points and short call time reports, I'd definitely recommend calling if your annual fee has been paid recently or is due and you've considered canceling.
Doctor of Credit reports this offer possibly being for those whose annual fee posted possibly between October 1 and either November 1 or December 1, but at least a couple of commenters on their post mentioned having paid their fees in August and September. My wife paid her annual fee in late September and called to see if she had any offers. The agent who answered checked the computer system for an offer and said that there was none (I listened in and it sounded as though she indeed checked and the computer just came up empty).
As noted above, most people seem to be getting $150 but some have reported $250 (possibly people with balances). My wife got through to an agent after calling the number on the back of her card, verifying the last 4 digits of her card number and her zip code and then hitting 0. The entire call took less than 5 minutes. Even though she came up empty, it was worth 5 minutes of time to see if they had any offers available.
I then called about my Ritz card. My annual fee hasn't come due yet but I thought it was due to post in a couple of weeks. It turns out it won't post until January and they told me there were no offers now but to try back.
The fact that there is an offer available on the Sapphire Reserve is a surprise. I haven't heard of many if any reports of retention offers on this card. Chase did reduce the renewal fee to $450 this year (it will be $550 again next year). Given the fact that Chase is allowing gas station and grocery purchases to trigger the annual $300 travel credit through June 30, 2021, a retention offer of $150 is incredibly generous and a great move to keep the card in wallets for another year.
H/T: Doctor of Credit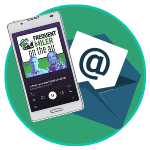 Want to learn more about miles and points?
Subscribe to email updates
 or check out 
our podcast
 on your favorite podcast platform.