Did Chase steal our Joy of Free? That was a key question during this week's Frequent Miler on the Air episode as we discussed the real reason some of us are hesitant to use points for groceries even though it makes sense. There's no doubt that the game is more fun when we're playing it with Monopoly money. We also talk about what makes that Aeroplan-Etihad partnership so sweet and why a new IHG card might be right for some folks thanks to dynamic pricing. Watch, listen or read our Frequent Miler week in review.
FM on the Air Podcast
For those who would rather listen than watch, the audio of our weekly broadcast is available on all popular podcast platforms, including:
You can even listen right here in this browser:
If you can't find the podcast on your favorite podcast platform, send us a message and let us know what you'd like us to add.
This week at Frequent Miler:
In points & miles news
Aeroplan / Etihad first class sweet spot: US to Australia & how to do…
Greg broke the news this week when Air Canada announced its partnership with Etihad and he noted some of the sweet spot opportunities, but this post goes into a bit more depth on the sweet spots that are worth your attention. With some possibilities for very attractive pricing, Aeroplan is offering a great option for those looking to get to Australia in luxury.
Chase has launched its tool to be able to pay yourself back for grocery, home improvement, or dining purchases at a value of 1.5c per point with the Chase Sapphire Reserve card (or 1.25c with the Sapphire Preferred) and it works well. You don't even give up the points earned on the purchase, which is nice news for those looking to maximize the current grocery store spending bonus but also redeem points at increased value.
As Greg notes in Frequent Miler on the Air, Chase has ironically reduced the joy of free by giving us a great way to redeem points for a good cash value. The new pay yourself back feature makes it clear that when points are more like Monopoly money, it's both easier and more fun to redeem for travel than it is when there is a valuable cash offer for the points. In this post, I offer my take on why I think many of us should consider using points toward groceries. At the very least, I'll think a little harder about my next redemption in terms of the cash it cost me to keep the points.
In credit cards
With my argument for cashing out Ultimate Rewards points, you might expect me to be in favor of getting the Sapphire Reserve ASAP. In actuality, I think that only makes sense if you have a lot of URs and want to cash them out. In this post, Greg explains which benefits increase the value of the CSR for now and which are less significant in the overall scheme of things.
Do you need 5 Marriott Bonvoy cards? Probably not. But could you get them? That's the question Greg set out to answer and he demonstrates how it could be done. Given that you'd have to forgo so many welcome bonuses, you probably wouldn't want to do this, but on the other hand the five annual certs could be used for enough value to justify it in the right scenarios. Using those certs to great value isn't a shoe-in, but neither is it hard to save yourself a nice chunk on a 5-night vacation (or 10-night in 2-player mode) every year without having to worry about earning a single hotel point.
Stephen shows how the IHG 4th night free gets a potential big boost in value thanks to dynamic pricing. I talked during Frequent Miler on the Air about how one could leverage cheap point sales and this benefit to save a bunch on stays in the right situations. Time will tell how easy it is to find those spots where the 4th night spikes in price, but it's certainly possible that this could be great for special events that only last a day.
---
That's it for this week at Frequent Miler. Check back soon for our week in review around the web and this week's last chance deals.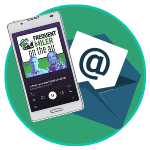 Want to learn more about miles and points?
Subscribe to email updates
 or check out 
our podcast
 on your favorite podcast platform.