Iberia often offers cheap Avios for sale via European Groupon sites. Right now, Groupon Spain is offering Avios for sale from around 1.1c per point (though you are limited to buying 2K Avios at that rate). This might be a decent deal depending on your redemption — for example, you could buy enough Avios for flat bed business class between New York / Boston / Chicago and Madrid (that availability certainly may be gone) for about $510 (keep in mind you'll pay about $100 in taxes on top on the outbound and about $135 in taxes leaving Europe). That's not as cheap as the opportunity that popped up earlier this year, but it sure isn't bad.
The Deal
Buy cheap Avios from Groupon Spain in the following quantities:

2.000 Avios Iberia Plus for 19 € (~$22.09 / 1.1cpp) (Limit 1)
4.000 Avios Iberia Plus for 54 € (~$62.78 / 1.57cpp) (limit 5)
8.000 Avios Iberia Plus for 99 € (~$115.10 / 1.44cpp) (limit 10)
15.000 Avios Iberia Plus for 189 € (~$219.74 / 1.46cpp) (Limit 10)
20.000 Avios Iberia Plus for 249 € (~$289.49 / 1.45cpp) (Limit 5)
35.000 Avios Iberia Plus for 439 € (~$510.31 / 1.46cpp) (Limit 5)
Key Terms
Each package of Avios is limited in the number of times you can purchase it as shown above
You must claim the Avios by 10/21/18 (I understand you'll receive a Groupon voucher and need to redeem it online to get the Avios)
See the promotion page (and perhaps translate it to English) for full terms
Quick Thoughts
You'll need to sign up for an account with Groupon Spain and you'll need to have an Iberia Plus account that is more than 90 days old to take advantage of this deal. If you still have leftover Avios from the crazy 90K promo and you need to top off, 2K Avios for about $22 isn't bad. Under "The Deal" above, I included the approximate prices in USD based on Google's exchange rate and the appropriate cents per point. As you can see, the best deal is the 2K package, but you're limited to buying one of those.
Still, this could be a pretty good deal. I like Iberia for the fact that they add up cumulative distance rather than charging separately by the segment. That makes it easier for me to use Iberia for domestic redemptions since I live near a small airport with only a couple of direct flights. I won't be buying Avios in this sale, but I can see potential for folks who have good redemptions in mind.
One caution — Iberia's IT isn't great and I wouldn't be shocked if some people experienced glitches with this between Groupon and Iberia. Still, they have run these promotions consistently and most people have gotten out alive, so it seemed worth posting for anyone in need of a few Avios.
H/T: Premium Flights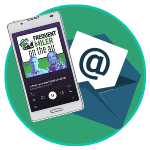 Want to learn more about miles and points?
Subscribe to email updates
 or check out 
our podcast
 on your favorite podcast platform.