A reader reports receiving a pop-up notification when logging into her Citi account with bad news: Citi Prestige Trip Delay coverage is changing from a 3 hour minimum delay to a 6 hour minimum delay. That changes the benefit from being the best in the industry to just being as good as other premium cards. Additionally, the benefit has changed from covering you and your travel companions to you and your family members. Whereas others traveling with you were previously covered, they will now only be covered if they are family members. We have updated our guide to premium credit card insurance, which you can view here:
Here is the full text on the change – I've added bold font for emphasis:
We wanted to let you know about some upcoming changes to some of your Shopping and Travel Benefits. Effective July 29, 2018.

For purchases made on or after July 29, 2018:

Worldwide Car Rental Insurance: You may be reimbursed up to a maximum of $75,000. Program coverage won't apply to charges or expenses for the loss of use of the rental car, rental agency fees, or taxes.
Trip Cancellation & Interruption Protection: You may be reimbursed up to a maximum of $5,000 per trip. Please note, coverage provided will be limited to you and your family members. For updated coverage terms, see the Covered Reasons section for this benefit in your Guide to Protection Benefits.
Damage & Theft Purchase Protection: You may be covered for up to $10,000 per incident for 90 days from the date of purchase or delivery of the item purchased with your card. Please note, the coverage provided by this benefit will be secondary (meaning if you have another insurance policy, this benefit will cover only the amount your other policies do not). Coverage won't include lost items, firearms, ammunition, jewelry, watches, tires or items that are under the care and control of a third party including, but not limited to, the U.S. Postal Service, airlines, or delivery services.
Trip Delay Protection and Baggage Delay Protection: Program coverage will be limited to you and your family members. Program coverage will only apply to delays of 6 hours or more.
Lost Baggage Protection and Travel & Emergency Assistance: Program coverage provided will be limited to you and your family members.
Citi Price Rewind: You may be reimbursed up to a maximum of $200 per item and $1,000 per calendar year. Program coverage won't include consumables, tires, watches, firearms, or ammunition. You won't be reimbursed if the lower priced item is found at a warehouse club where the merchant requires a customer to pay a membership fee.
90 Day Return Protection: You may be reimbursed up to a maximum of $1,500 per calendar year. Program coverage won't include firearms, ammunition, tires, jewelry, furniture or appliances.
An updated Guide to Protection Benefits, with complete coverage details, including coverage limits, what's covered and what's not covered, is available under "Quick links". If you have questions regarding coverage call 1-866-506-5222 (TTY: Use Relay Service).
As noted, the changes take effect for purchases made on or after July 29, 2018. Based on that text, I would expect that flights purchased before that date to be covered under the old terms, though in practice you may have difficulty with the claims processor (and may want to save screen shots of your current benefits and terms).
This is certainly a large negative change. While I had a successful claim last year (See: My $500 trip delay claim with Citi Prestige), the claims processor has since been playing games with defining a delay and refusing to cover missed connections like mine (See: The Fine Print: Fighting Citi Prestige's 'Trip Delay' Shenanigans). Still, a 3-hour delay claim window is much more useful to me than a 6-hour window as I will almost surely incur some expense on a 4 or 5 hour delay. I would therefore typically buy airfare with my Prestige card to be covered for delays of 3-6 hours rather than only having 6hr coverage that comes with cards like the Chase Sapphire Reserve and Chase Ritz-Carlton Visa. This devaluation takes away the advantage of using the Prestige card in those cases.
It is unfortunate to see a continuation of the devaluation of the Prestige. With last year's changes (elimination of Admirals Club access, elimination of the golf benefit, change to calculation of the 4th night free, loss of 1.6cpp towards AA airfare, etc) and the recent reports of delay claim denials, I'm kind of surprised to see further devaluation. Clearly, the trip delay benefit was proving to be too generous and was perhaps used more than Citi expected. It's a disappointing change that starts to put into question the value of holding a Prestige card unless you either frequently use the 4th night free benefit or have held onto a $350 annual fee from opening the card in-branch or having a Citi Priority account. In those cases, with the annual $250 airfare benefit, I still think it's a card worth holding — but that value proposition continues to be more questionable.
Again, see our Ultra-Premium Credit Card Travel Insurance guide for comparisons with other premium cards.
H/T: TravelNSO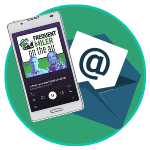 Want to learn more about miles and points?
Subscribe to email updates
 or check out 
our podcast
 on your favorite podcast platform.