CLEAR is a service that uses your eyes or fingerprints to confirm your identity.  This is used at many airport and some stadiums to help you speed through security checks.  CLEAR isn't yet available at all airports in the US, but thanks to partnerships with Delta and United, CLEAR is rapidly expanding.
At supported airports, CLEAR makes it possible to skip the sometimes very long ID check lines (just before security).  Instead, of waiting to show your ID, you can go to the CLEAR aisle (where available) and simply scan your eyes or fingerprints.
This benefit is complementary to TSA PreCheck.  The main difference between CLEAR and TSA PreCheck is that CLEAR lets you breeze past the first line at security: the place you line up to show your ID.  TSA PreCheck then speeds up the second part because you don't have to remove your shoes, laptops or liquids, and you usually go through a metal detector rather than a body scanner.  The best is to have both CLEAR and TSA PreCheck so that you can zoom through both parts of security every time.
5 ways to get CLEAR for less
By default, CLEAR costs $189 per year, but there are easy ways to reduce the price:
Student Discount: $50 per year
Delta & United members (both are free to join): $119 per year
Delta & United credit card holders and elite members (not top tier): $109 per year
Delta Diamond, United 1K, and United Global Services members: FREE
Family Plan: Add up to 3 adults for $60 per person per year
Pay with an Amex card that offers a rebate for CLEAR.  For example, the Amex Green card offers $100 back per year and Amex Platinum cards offer $189 back per year.  If you have a Platinum card you could get the full cost rebated for Delta or United CLEAR membership ($119) plus up to 3 family members ($60).
How to sign up for discounted memberships:
Family Plan: log into your CLEAR account to add family members
More about the Family Plan (it's not just for family!)
The family plan isn't limited to family members.  CLEAR's website is clear about that.  Friends are welcome to be in your family plan.  They write:
Who can be on my Family Plan?
The Family Plan helps you and your loved ones enjoy CLEAR together, whether it's your biological family, chosen family, or friends that feel like family. It's totally up to you!

Individuals on your Family Plan do need to meet the enrollment requirements, which means that they must be 18 or older and have a valid US photo ID.
With an individual membership, there's no reason to pay more than $119 per year since that's the price for any Delta or United member.  So, if you get together with 3 friends and divide the fees evenly, the four of you would pay only $67.25 each.  Here's the math:
Member 1: $119
Member 2: $50
Member 3: $50
Member 4: $50
Total: $269
Per Member Price: $269 / 4 = $67.25
If the primary member has elite status with Delta or United, the average drops to $64.75 each.  And of course a top tier elite with free CLEAR could let 3 friends have CLEAR for only $50 each.
Who can become a CLEAR member?
CLEAR is pretty clear about this, so I'll just republish their words:
CLEAR welcomes individuals 18 years of age and older.

In order to enroll, you must have one of the following forms of photo identification: US Driver's License, US Passport, US Passport Card, US-issued Permanent Resident Card, State Issued ID, US Military ID, or Global Entry Card.

All forms of identification must be valid, unexpired, not amended and have a photo.

Children under 18 can use the CLEAR Lane for free when accompanied by a CLEAR family member. No enrollment is required for the child.
What about kids?
CLEAR is only available to adults 18 and over.  Kids under 18 can go through the CLEAR lane when accompanied by a CLEAR member (the CLEAR member doesn't have to be a family member).
If you are under 18 and traveling alone, you're out of luck.
What about free CLEAR from Hertz?
This version of CLEAR has been discontinued.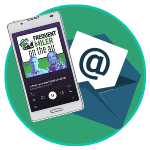 Want to learn more about miles and points?
Subscribe to email updates
 or check out 
our podcast
 on your favorite podcast platform.