Last week, I compared the Conrad Bora Bora to the St. Regis Bora Bora, ultimately deciding that the St. Regis won out in a direct comparison. It wasn't quite as easy to come to that conclusion as the post may have suggested thanks to the welcome we received at the Conrad. To say that the Conrad Bora Bora Nui rolled out the red carpet for us would be a colossal understatement. They went to great lengths to make our stay start off special and it certainly left a strong impression. Sometimes, readers (fairly) question whether or not someone like me receives special treatment from hotels because I'm a blogger. In the case of the Conrad Bora Bora, my family definitely received special treatment – but it wasn't because of me.  Here's how and why the Conrad Bora Bora laid out the red carpet for my family.
I've previously referred to my son as Baby Rey on this blog out of a desire to protect his privacy. I'll probably still continue to refer to him as Baby Rey in future posts (or maybe eventually just "Rey"). However, I felt like I couldn't properly cover my stay at the Conrad Bora Bora without sharing his actual name. The special treatment we received at the Conrad Bora Bora had nothing to do with me: it was because of my son. His name is Conrad.
The story of my son's name is simultaneously not what you think and also exactly what you think. My wife and I have stayed at a decent handful of Conrad hotels over the years, enjoying the great service and properties long before I worked for a blog. Many Conrad hotels have some sort of little stuffed animal that fits the local theme: in New York, we received Hudson the Bull (for the stock market), in London the English Bulldog, in Dubai it was a camel, the Conrad Tokyo gave us little bears and a rubber ducky when we were there on our honeymoon years ago. When we were expecting our first child and found out it was a boy (I didn't want to know in advance, but the ultrasound tech slipped up and said it), we began the great debate over a name. We couldn't agree on anything. Each of us suggested plenty of names, but neither of us could agree with the other's suggestions. At some point, I joked that if we just named him Conrad, he would be born with a personalized stuffed animal collection. The joke hung around for a while and before we knew it, we were referring to our unborn son as "Conrad" all the time. Eventually, it became so matter-of-fact that when he was born, he was already Conrad to us and we couldn't see naming him something different. The middle name was another story – we were writing names out in dry erase marker on the board in the hospital room for the first 24 hours after he was born until we settled on one we I really liked.
By the way, when I first told Greg the story about where we got the name Conrad, his response was, "Thank goodness the Waldorf doesn't give out stuffed animals." True story. No offense to anybody named Wally.
Anyway, that sidebar was necessary if I was going to write the next part of this story and I ultimately decided that it was worth sharing not necessarily because our specific experience is easily replicable but rather as it is a demonstration of the way a top quality hotel can go above and beyond and surprise its guests, which is something we've experienced more with Conrad properties over the years than others. We're probably more loyal to Conrad than any other individual hotel brand, and that dates back to experiences well before I was blogging.
I generally email our hotels ahead of my stays to make some small requests. I've written in the past about this: I'll often ask for a couple of extra towels or a room with a view I want, etc. I do this both because I really do want a couple of extra towels and because it then ensures that a human is assigning the room rather than the computer system, which I think often leads to at least a slightly better room (perhaps that corner room with a bit of extra space) and sometimes to a big upgrade. I just use Google to find the name of a high-level manager and it's usually easy to figure out the email format based on past contacts with other hotels in the same brand/chain (firstname.lastname@hotelbrand.com is a pretty common formula). Sometimes, if an upgrade is important, I'll ask for one. All of that varies depending on my needs and wants.
These days, I also typically request a crib in that pre-stay email. I've mentioned before that some properties (I've found this especially true with Marriott) add an additional fee for a child when you add two adults and 1 child to your room during the online reservation process. However, I haven't yet had a hotel that added a fee or gave us any pushback when reserving the room for 2 adults and then just showing up with a baby. If he were over 2 years old, perhaps some properties would have charged me a fee. I'm sure that if he were a teenager, some properties would definitely charge us (and I know that Greg has written before about how a fee for children, especially as they get reach the age of majority, is very common in Europe) — but thus far, I've been (mostly) reserving for 2 adults and then emailing to request a crib before arrival. At any rate, I emailed the Conrad a few days ahead of our stay and mentioned that we would be traveling with our son Conrad, which is something I've done many times before (though in this case I explained the story of his name exactly as I did above). In the past, we've gotten some great welcomes while traveling with a baby. For example, the Hyatt Regency Maui included a bath robe, slippers, and stuffed animal, which was really cute.
However, the Conrad Bora Bora really went above and beyond. It started as soon as we got off the boat: everyone said hi to Conrad by name. And I mean everyone: each employee who saw us said hi to Conrad, clearly aware that a child named Conrad was checking in. Laureen, the agent who checked us in, couldn't have been nicer as she explained what we needed to know and took our passports. As we sat, employees who passed by said hello. It's not uncommon for that to happen when traveling with a baby (babies seem to be great conversation pieces since many people like to say hello to them), but the fact that everyone heard his name was Conrad made it kind of fun (though we were also kind of thankful that he was too young to remember this, lest it go to his head).
Our room wasn't quite ready yet, so we went to have lunch at the pool bar. When we finished lunch, we meandered back to the main building area where someone said hello to Conrad, telling us that Caroline, the guest relations manager, had been looking for us. When Caroline found us, she showed us to our room. Ben at One Mile at a Time had written about Caroline, saying this:
Some people belong in hospitality, because they're outgoing and can't help but make you smile. Caroline was one of those people.
I'd say his assessment was spot-on. Caroline was clearly meant to be in hospitality: she was personable, welcoming, and one of those people who just makes you feel comfortable. As Ben noted, we saw her interacting with many guests over the course of our time there and she seemed very natural in that role. You'd think that would be common in hospitality, but the fact is that she stood out. It's worth noting that we found the same to be true of Sebastien, the property's general manager. We met and spoke with him several times throughout our stay and we saw him around the property speaking with guests daily. One night at dinner we overheard several other guests thanking him for various special touches like a bottle of champagne, etc. While I often email a GM as noted above with the crib/towel request (fully expecting that my email will get passed down to someone else), I've never seen a GM so visible around the property, and that was great to see.
Back to our arrival at our room: The room immediately felt luxurious and impressive. But when we got to the bedroom, that's where the surprise was waiting. The Conrad had gone all out to make our Conrad's stay special.
As you can see, the bed and crib were full of balloons, they made a banner with his name, and everything was decorated with flowers, artfully displayed towels, etc. Then there was a really special surprise on the bed. The Conrad Bora Bora does not have its own stuffed animal (missed opportunity here!), but having heard about our son Conrad, the housekeeping team at the Conrad Bora Bora made him a pillow in the shape of an eagle ray (which is a common sighting in the waters around the Conrad resort).
That was really cute and totally unexpected (I had checked this Flyertalk thread long ago and knew that the Conrad Bora Bora did not have a stuffed animal). Caroline even took a few minutes to play with our son, putting a big smile on his face (which you can't see here, so you'll have to take my word for it).
While we've had hotels surprise us in cute ways before, the Conrad Bora Bora really went above and beyond here.
By comparison, St Regis Bora Bora did provide a bathrobe, which our son used daily (and provided good material for a photo shoot).
Further, our butler at the St. Regis brought him a stuffed toy the first day. However, it was hard for the St. Regis to compare here thanks to our son sharing a name with the hotel at the Conrad Bora Bora.
Again, staff around the resort at the Conrad Bora Bora said hello to him throughout our stay and we felt well looked-after. We got a great table at the Polynesian show with a front row view of the action.
On our last day, Caroline found us again to say hello and give us some gifts — a hat for me, a sarong for my wife, and a Conrad Bora Bora tote bag in which to carry them. If you've read Ben's entire review of the Conrad Bora Bora, you may enjoy the fact that I proceeded to wear that Conrad Bora Bora hat to check in at the St. Regis, where I was not given a replacement hat :-).
Considering all of the above, one might wonder how I came to determine that the St. Regis Bora Bora had better service. My answer to that has to do with the relative feeling of anonymity at the St. Regis. The Conrad Bora Bora definitely succeeded in making our stay memorable and special, which was partly due to the intimate size of the resort. It was easy for everyone to know who we were and there weren't many children around, which kept Conrad visible. We received great service, but for the first time in my travels I experienced the noticeable feeling of it being because of who I am — in this case for the first time in my life being known for being "Conrad's dad" rather than as me (which is honestly kind of fun).
By Contrast, the St. Regis Bora Bora is a huge property where I think it would be next to impossible for everyone to have known our names. I definitely wouldn't characterize the great service we received at the Conrad as phony or faked, but it was for a specific reason, whereas the service we received at the St. Regis just felt like it was naturally how the staff was trained to interact. After a few days of being "known" at the Conrad, it was delightfully surprising to continue to receive the same level of service from staff members like the beach attendants at the St. Regis Bora Bora who didn't have our room numbers or names most of the time.
Bottom line
The Conrad Bora Bora gave us a wonderful welcome for our recent stay thanks to our son sharing a name with the hotel. They really went above and beyond, demonstrating the way that a hotel can take the opportunity to think outside the box and really make a stay special for its guests. That's the kind of thing that is memorable and makes guests (irrationally) loyal to a brand — I've often joked about how those Conrad stuffed animals have cost me a lot of Hilton points. The Conrad Bora Bora certainly didn't diminish our interest in checking out more Conrad properties in the future and left us with a memory that would bring us back in the future. As I said in my comparison last week, if and when I return to Bora Bora, I'd want to stay at both hotels again — and part of the reason for that is certainly because of how well we were treated at the Conrad thanks to my son.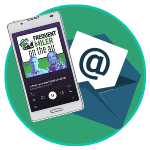 Want to learn more about miles and points?
Subscribe to email updates
 or check out 
our podcast
 on your favorite podcast platform.