I signed up for the Crystal Visa Infinite card late last year because of its 100,000 point signup bonus and waived first year fee (no longer available).  The signup process turned out to be a bit of an ordeal, but I did eventually get the card and I did earn the 100K bonus.
A few weeks ago, I dove into CNB's rewards program to try to figure out what those points are worth.  The answer: points are worth about 1.15 cents each when used towards airfare.  That's better than most bank point programs (which typically peg point values at 1 cent each), but not as good as US Bank FlexPerks, Citi ThankYou Rewards (when used with the Premier or Prestige card), or Chase Ultimate Rewards (when used with the Sapphire Preferred or Ink Plus card).  Still, I was more than happy to clear over $1,150 worth of airfare with this deal!
The surprising thing about this card is not that it had a great signup offer.  The surprising thing is that I intend to keep this $400/year card.  At least, I think that the annual fee is $400.  This page suggests that the card is free, but I'm pretty sure it's wrong.  The card is worth more than $400 a year.  Much more.
3X travel, gas, groceries, and dining
The Crystal card offers 3 points per dollar for certain types of purchases.  Initially, I thought 3X was limited to travel and dining.  That's what I read here: www.cnb.com/rewards/:
However, this page says that the card earns 3X at gas stations and grocery stores too:
For Crystal Visa Infinite Card accounts: 3 Points on net purchases made at merchants that classify their merchant location for Visa in any of the following categories: airlines, hotels, taxis, limousines, rental cars, trains, buses, gasoline stations, groceries, restaurants, and fast food and takeout food dining establishments.
In my experience, the broader list of 3X categories is correct.  Even a purchase at Walmart earned 3X points because it was coded as a grocery store.
This is impressive!  I can't think of any other card with such a broad range of commonly used bonus categories.  The Citi Premier card comes closest with 3X travel and gas, and 2X dining and entertainment.  But Citi doesn't bonus grocery store spend.  Then there's the Amex EveryDay Preferred card that offers great grocery and gas bonuses, but no travel or dining bonus.
I plugged the Crystal Visa Infinite card into my Credit Card Analysis Spreadsheet.  Given the assumptions in that spreadsheet, the card averages a whopping 2.5 points per dollar!  At 1.15 cents per point towards airfare, that's like a 2.875% rebate on average spend.  While its possible to do better in the short term with the Discover It Miles card, or in the long term by holding multiple cards (see: Best credit card combos: Mixed rewards), the Crystal card is among the best if you're looking for a single card to meet your needs.
Crystal Visa Infinite Benefits
In addition to having great category bonuses, the Crystal Visa Infinite card has a few spectacular benefits and a number of really nice ones.  You can find the full benefit guide here, or take a look at these examples:
Airline Fee Rebate: up to $1000
The Crystal card offers $250 in airline fee reimbursements, per calendar year.  Just like the Amex Platinum card's airline fee rebate, the terms state that gift card purchases don't count, but in practice people have found that small denomination gift cards purchased from an airline are reimbursed.  Even better, unlike the Amex Platinum card, authorized user cards each qualify for their own airline fee rebates.  You are allowed up to 3 free authorized user cards per account, so it's possible to have four cards for the same $400 annual fee.  Since each card can earn up to $250 per calendar year in airline fee reimbursements, it's possible to get reimbursed up to $1,000 per year.
I was previously under the impression that CNB only allowed one authorized user card until I received an email from a reader named Nima.  He reported that he had received 3 authorized user cards and had earned a total of $1000 in fee rebates in 2015 by buying a American Airlines gift cards ranging in value from $50 to $250!  So, I jumped on the phone and ordered two more authorized user cards (which I'm still waiting for at the time of this writing).
Global Entry and CLEAR Membership
The Crystal Visa Infinite card can help you speed through airport security.  Sign up for Global Entry and use the Crystal Visa Infinite card to pay the $100 application fee and it will be automatically reimbursed (once every 4 years, per card).  And, sign up for CLEAR for free through this link.
UPDATE: The CLEAR benefit is going away effective February 15, 2016.  To get one year of CLEAR for free, sign up no later than February 14th 2016.
Free In-Flight Gogo Wifi
Visit visa.gogoair.com/cnb to register your Crystal Visa Infinite Card and receive 12 Gogo Inflight Wi-Fi Passes, per year, at no charge.  Each pass is good for one flight segment only.  It appears that this benefit applies to each cardholder, even authorized users.  Consider waiting until you need the passes before enrolling since the passes are valid for 1 year from the date you register.
Discount Air Benefit
Save $100 on each 2 (or more) person round trip domestic flight purchased through this website.  We reported this feature previously, here: Bet You Didn't Know: A Repeatable Companion Airfare Discount with the CNB Crystal Visa Infinite.
Priority Pass Select
Enroll up to 2 cardholders for free in the Priority Pass Select program.  This will give the members and their accompanying guests access to "over 850 participating airport VIP lounges across 120 countries and over 400 airports worldwide, regardless of the class of travel or airline."
Automatic Protections
Like all premium credit cards, the Crystal Visa Infinite card offers many trip and purchase protections.  It's worth noting that it offers a primary auto rental collision damage waiver.
Getting the Card
Even without a signup bonus, the Crystal Visa Infinite card is clearly worth getting.  But, getting the card is the hard part!  Last year, Rene's Points had identified a way to sign up for the card over email.  I jumped on that and found that the application process was almost as tough as getting a new mortgage.
Now, CNB only accept applications in-person.  That means finding a CNB branch in Delaware, New York, Tennessee, Georgia, Nevada, or California.  You can click here for an interactive map.
It gets worse.  Here are a few reader reports:
I tried to apply during a visit to California and was told I had to be an account holder of the bank and that do become an account holder I had to be a resident of California (which I am not). Has anyone from out of state been able to apply recently?
I just called my local branch in Atlanta, GA. The receptionist said they are only accepting applications in NY and CA. She further said a person should have an "entertainment-related" occupation.
I got same reply from Atlanta branch – NY and CA only, but no entertainment industry comment – that's an unusual banking focus!
I called the Nashville location (where I live) and was told they aren't accepting new customers except by referral, and that they aren't a typical branch and are here for the entertainment market. I asked for a relationship manager to call me back but they never even bothered. I called the home office and was told the only requirement was to have an account with them, but unless I can find a country music star to recommend me, it sounds like I'm out of luck!
So, worst case, you may have to live in New York or California and be in the entertainment industry to sign up, and you may even need a referral.  Or not.  Remember the reader named Nima who told me that I could get three authorized user cards?  He says that he simply walked into a branch in Palo Alto, CA and signed up with no fuss whatsoever.  Your mileage may vary.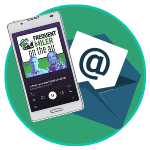 Want to learn more about miles and points?
Subscribe to email updates
 or check out 
our podcast
 on your favorite podcast platform.