On the heels of their point devaluation, CNB has announced severe cuts to the CNB Crystal Visa Infinite card's benefits.  CNB has published a document "Change in Terms to Your City National Bank Crystal® Visa Infinite® Credit Card Guide to Benefits."  Rumors had already circulated about some of this (found here), but now we have concrete changes to react to.  It ain't pretty.
Here's what's changing on January 1 2020:
Airline incidental fees capped at $350 per year.  Previously it was possible to earn $250 per card per year.  So, with 3 authorized users, you could rake in $1,000 per year.  Now, the best you can do is $350.  The slight good news is that it appears that you can get rebated on up to $350 spent on a single card instead of shuffling cards around to try to maximize the benefit.  In other words, it doesn't matter whether you spend $350 in incidental fees all on one card or across multiple authorized user cards.  Either way, you'll get a maximum of $350 back.
Priority Pass membership now charges you for guests.  Wow, this is really bad in my opinion.  They went from offering unlimited free guests to zero free guests.  The industry norm these days is to allow two free guests.  With the CNB card you can still enroll two people into Priority Pass for free.  But each membership is drastically weakened by this new policy.  Now, each Priority Pass member can get into lounges for free, but if they want to bring guests they will be charged $32 per guest.
The Visa Infinite Discount Air Benefit is being discontinued.  No more $100 discount on round-trip domestic flights for 2 or 3 people.
No more 3X rewards for gas or grocery purchases.  3X for travel & dining remains.
For more about the CNB card (prior to these changes), see: The amazing CNB Crystal Visa Infinite Card. A deep dive.  And for my thoughts about the rumored changes (which were only partially correct), see: Is the CNB card worth keeping if rumors are true?
I think that many people will still see value in this card, but I plan to cancel with the next annual fee.
Hat Tip to reader Adam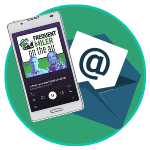 Want to learn more about miles and points?
Subscribe to email updates
 or check out 
our podcast
 on your favorite podcast platform.