We left off day 10 of 40k To Far Away with me having to book a hostel-style Airbnb in Atlantic City. I'd planned to status match at Hard Rock Casino & Hotel to take advantage of getting two free nights with Rock Royalty status.
What I hadn't realized when planning my trip is that I'd be visiting the Friday and Saturday of Columbus Day weekend, so the hotel was booked up. Thankfully I'd left plenty of room in my budget for mishaps like this, so I could afford two nights of paid accommodation without it messing me up.
Day 11
After sleeping for more than 12 hours, I was feeling much more refreshed and ready to hit the city. Despite not being able to take advantage of the two free hotel nights, I still wanted to status match at Hard Rock Casino & Hotel for some of the other benefits, so I put on my walking shoes flip-flips and hit the streets.
My first stop was Borgata. I have Hyatt Globalist status, so had matched to M life Gold status before the trip started. To status match at Hard Rock though, I needed my physical Gold membership card, so off I walked.
Unfortunately, Borgata is located in the most inconvenient location for walking. It's the opposite side of the highway and there's no sidewalk over a bridge or through a tunnel to get there from the direction I was coming from (I was staying west of Caesars). That meant taking a ~1.5 mile detour round past Harrah's to get there, making the journey almost 4 miles.
It was straightforward enough getting a copy of my card (the M life desk was off to the right when entering Borgata), so with that in hand I turned around and walked all the way back to Hard Rock, another 3 mile walk. Just FYI, there's a transportation service in Atlantic City called the Jitney that you can take for $2.25. On any other visit I'd have taken this to avoid all the walking, but after having the unexpected expense of the Airbnb for two nights, I didn't want to risk two trips costing a total of $4.50 pushing me over budget at the end of the trip.
Once inside the casino, I headed to the Wild Card desk on the left, but after waiting in line for a while I was told that I needed to see another desk. That was behind me up some escalators, so I made my way up there. After waiting in line for another few minutes, the guy at the desk knew exactly what to do and within about five minutes I was a newly minted Rock Royalty member of their Wild Card program.
He also explained all of the benefits I'd receive as a newly status matched Rock Royalty member:
Two free nights at the Hard Rock Casino & Hotel.

I think he said these had to be used within 90 days, although I might be wrong about that. To redeem the free nights at Hard Rock, you have to call and book. I might not end up using these now as I don't think we'll be back in Atlantic City before they expire, plus the hotel isn't pet-friendly and we travel full-time with our dog.

Two free tickets to Howie Mandel's Comedy Club.

To claim these, there are several kiosks (they look a little like ATMs) just outside of the desk where you status match. Swipe your card and you'll have the option to claim your tickets.

One time entry for me and one other person for either the Fresh Harvest Buffet or Legends Lounge.

He explained that the buffet is a regular buffet, but that the Legends Lounge has adult beverages. To claim your free entry to either one, you use the kiosk mentioned above.

$50 free play.

This is loaded directly to your card, so there's nothing you need to do to claim it.

An additional $15 free play.

I think the extra $15 free play came about because I was a brand new Wild Card member; if you're an existing member who's status matching, I think you only get the $50. I think this was pre-loaded to the card like the $50 free play, although I might have had to claim it at the kiosk.
Despite getting a total of $65 in free play, this was less than I'd originally been hoping for. In the weeks and months leading up to 40k To Far Away, Hard Rock had been offering $75 or $100 in free play, but they seemed to cut it about a week or two before my trip which was a shame.
After leaving Borgata earlier that day, I'd posted in the Frequent Miler Insiders Facebook group asking for tips on how to best maximize my free play. I'd done a little bit of research before the trip and seen that video poker seemed to offer the best odds, but I'm not much of a gambler and so had no clue if that was correct or not. I'd also read that playing Jacks or Better was one of the better options.
Several people kindly offered suggestions and it seemed like playing Jacks or Better was one of the simplest and best options, so I did that.
One of the commenters – Sophia – also recommended cashing out as I went along. This was a key piece of advice as it meant I cycled through my free play without touching any of my winnings which I definitely would have done without realizing it if she hadn't suggested that. By the time I'd spent my $65 in free play, I'd turned it into $44.75 which is only $0.08 less than the net cost of my Airbnb. After realizing this, my feet wished that I'd taken the Jitney after all.
I'll be writing a post (probably next week) giving more comprehensive details about how I turned the $65 of free play into $44.75, so stay tuned for that in case you're planning a trip to Atlantic City or Las Vegas and will be getting free play yourself.
It was about 5:15pm by that point, and I was starting to get hungry. My status match gave me free entry to the Fresh Harvest buffet or Legends Lounge. One of my strategies for 40k To Far Away was to try the food of each city I was in and what could be more Atlantic City than eating at a casino buffet, so I went for that rather than getting liquored up in the Legends Lounge.
One of the benefits of being Rock Royalty is that you get fast-tracked into the buffet. The photo below doesn't really show it, but there must have been at least 150 people waiting in the Rock Peasantry line.
Despite getting in quickly, there was still a long line when trying to actually get some food. In case you hadn't realized, visiting a casino buffet at 5:30pm on a Saturday afternoon on a holiday weekend isn't the wisest choice. After about 30 minutes, I finally sat down with my food.
After eating my fill, I headed back to my Airbnb. By the end of the day, I'd racked up another 10 miles of walking which is probably good given how much I ate.
Day 12
After checking out of my Airbnb the next morning, I walked over to the Greyhound bus station, stopping off at McDonald's for a cheap and early lunch. My next stop was Washington D.C. and I was due to get in just before 7pm, although delays meant it was closer to 7:30pm by the time we arrived in the nation's capital.
The journey took ~5.5 hours as it stopped in Philadelphia along the way. That gave me plenty of time to work on stuff though which was much-needed. While it certainly wasn't as quick as flying, there was better legroom than you'd normally get on an economy flight, so my 15.6″ laptop wasn't pressed up against my face like it is when trying to work on an airplane.
When getting in fairly late to London the previous week, I'd gone on a self-guided walking tour in the evening to see some of the sights. Knowing what I had planned for the next day though, I just headed to my hostel and continued working. I didn't feel like heading out for food, so I just ate a couple of my tuna wraps for dinner before heading to bed.
I stayed at HI Hostel Washington D.C. which is in a decent location at 1009 11th Street NW. My bed cost a total of $35 – $31 for the room rate and $4 was added on for daily membership of Hosteling International. They offer an annual membership for $18, so that's worth getting if you'll be staying at any of their hostels for more than five nights per year.
I booked the stay through Hotels.com, so I earned 10% back in Welcome Rewards. I'd hoped to pay for it using a discounted Hotels.com gift card, but HI doesn't seem to allow you to pay for your stays using gift cards when booking through Hotels.com.
Still, $35 for a bed in central D.C. was a bargain and it was a very nice hostel. I think there were something like 10 beds in the room, but only half were taken. All the other guests were very quiet and respectful, so it wasn't a party atmosphere which I appreciated. Each bed had its own locker (you have to provide your own lock, so I'd brought one with me) and sheets, blankets and towels were provided.
Day 13
Another great feature of HI Washington D.C. is that they offer free breakfast. This included bread, bagels, cream cheese, preserves, cereals, granola, canned fruit and orange juice. There were several types of bagels, so I had an onion bagel with cream cheese, a cinnamon raisin bagel, some granola, fruit and orange juice.
Before checking out, I took a shower. In addition to providing free towels (my hostel in London didn't provide them free), they also provided shampoo/shower gel dispensers. I had my own, but including all these features for only $31 in Washington D.C. (if you have HI membership) was incredible value.
I'd had an early breakfast, so after checking out I decided to grab a quick lunch as I knew that was going to be my last chance to eat until much later that day. I still needed to eat something quintessentially D.C., but from what I could think of, there's not really a food or drink they're known for. Seeing as I was so close to the White House though, I decided to order a hamberder (sic) from Bolt Burgers.
From there, I made my way over to L'Enfant Plaza for something I've wanted to do for almost 20 years. I've always thought Segways looked like a lot of fun and I managed to get an excellent deal on a Washington D.C. Segway tour with Bike and Roll DC.
Their 2.5 hour Segway tour usually costs $64, but it was on Groupon for $39. Groupon was also running a 20% off coupon code, reducing that cost to $31.20. I paid with a Groupon gift card I'd bought for 30% off using the Newegg Amex Offer, so my net cost was only $21.84. Paying less than $22 for a 2.5 hour Segway tour was an absolute steal.
Not only was it a steal, but it was a lot of fun too. There was a group of five of us, including a fellow Brit who was there on vacation. Our tour guide David was very friendly and fun, so that made the experience even better. My wife and I still need to visit D.C. as part of our 50 state road trip, so I'll be taking her back for this tour as I enjoyed it so much. I highly recommend their tour if you'll be visiting the capital, especially if you can take advantage of the stacking opportunities with Groupon.
We covered a lot of ground around D.C., making our way through the National Mall, past the Washington Monument, up to the Capitol Building, past the White House, past various museums and galleries, the Supreme Court, spent some time walking around at the Lincoln Memorial before heading back to L'Enfant Plaza.
One of the helpful things about Bike and Roll DC is that you start and end at their offices, rather than just a random location in the city where the Segways are kept during the day. That meant I was able to leave my backpacks with them during the tour, rather than having to store it at the hostel.
Being able to do that was especially vital as I knew I was going to be pushed for time. The Segway tour was due to end at 4pm and my next bus was due to leave D.C. at 5pm. The Bike and Roll DC office was about two miles from Union Station, so it would take about 40 minutes to walk there, possibly longer given how heavy my bags were.
Electric scooters came to the rescue thanks to Doctor of Credit. About 10 days before I arrived in D.C., Will had published a post about a free $8 credit with Spin scooters. There was a Spin scooter just around the corner from where I was, so I downloaded the app, entered the promo code and off I went. I arrived at Union Station before my credits had been used up, so that journey was completely free and much easier on my feet than I'd originally anticipated.
My next destination was Richmond, Virginia and we arrived at about 7:30pm. After all the walking I'd done in flip-flops over the previous two weeks, my feet were starting to get friction burn and on the verge of getting blisters. The Greyhound station in Richmond was about three miles away from my hostel for the night, so walking that far wasn't sounding very appealing. Knowing that I had plenty left in my budget with only 24 hours to go, I decided to take an Uber. It cost $12.28, but the soles of my feet valued it at closer to $12,280.
I was staying at the HI Hostel Richmond (the same brand as the hostel I stayed at in Washington D.C.) and it cost me $37.99, including the $4 daily membership fee. The plan had been to get dinner after I'd checked in, but I was still full from my Bolt Burger. I still wanted to consume something that was typical Richmond though, so I headed to Triple Crossing Beer as Richmond has a burgeoning craft brewery scene. They had free Wi-Fi, so I worked on some stuff while enjoying a couple of cold ones to celebrate my final night of 40k To Far Away.
After that, it was time to head back to the hostel and go to bed. Once again, the other guests in my dorm room were quiet and respectful, so I got another decent night's sleep.
Day 14
The morning soon arrived, marking the last day of my trip. After having breakfast and showering, I left my backpacks at the hostel which they stored for free.
One of my favorite things to do when visiting Richmond is to head over to Belle Isle. It's a lovely spot on the James River where you can relax in or by the river. In the summer, the water is warm enough to sit around in as there are shallow pools along the bank. There are loads of giant rocks all around, so kids (and adults) love clambering across those too.
The hostel was only a mile or so from Belle Isle, so I took a wander down there and enjoyed the sound of the water for a while on a beautifully warm fall day.
While on my way back to the hostel after visiting Belle Isle, I spotted a Bolt scooter. Knowing what I had planned next, I thought it might be helpful to have a scooter and I hadn't seen any around the hostel. A quick bit of Googling uncovered a free $5 code for first time users, so I was soon zipping along on my way back to the hostel to pick up my bags. Much of the route was uphill, so being on a scooter was no bad thing.
After pausing my ride to prevent anyone else using the scooter, I went inside and grabbed my bags. From there, I headed to lunch. Shae and I spent 10 days in Richmond a couple of months ago and got to try several great restaurants like Buz & Ned's BBQ, Cary Town Burgers & Fries and Bottoms Up Pizza. I figured I'd try something different this time and so asked the guy working at the hostel if he had any recommendations. He suggested Kuba Kuba, a Cuban restaurant about 1.25 miles away in the Fan District. That was in the direction I needed to head, so it sounded perfect.
I ended my scooter ride when I arrived at the restaurant, hoping no one would rent it while I was having lunch. There were a lot of tasty-sounding options on the Kuba Kuba menu and I ended up ordering their Kubanaso – a Cuban sandwich with chorizo sausage added in. The roast pork was incredibly tender and the sandwich itself was delicious, as were the plantains – a great recommendation by the guy at the hostel.
After lunch I was pleased to see the Bolt scooter still sitting outside. My next stop was Virginia Museum of Fine Arts. Now, let me say – I'm not an arty person by any stretch of the imagination, but VMFA is definitely worth checking out if you visit Virginia's state capital. I'd visited a couple of months ago, but it was a somewhat flying visit as we were moving on to Roanoke that day and so I hadn't had much time to explore.
I was therefore keen to get back and see the exhibits I'd missed. My favorite exhibits though were some that I'd seen last time, but it was good to see them again. One of my favorites was a statue of Caligula, thought to be one of only two left in the world as most of his statues were torn down after he died due to his unpopularity.
There's also a collection of several Faberge Eggs, with VMFA being the first time I'd ever seen any in person.
Not only is VMFA a great place to visit, but it's also free. There's actually a ton of free stuff to do in Richmond, so it's a great place to have a fun yet low cost getaway.
Once I was finished at VMFA, it was time to head home. Although the 40k To Far Away challenge wasn't about creating a round trip itinerary, I decided to do that as part of my strategy. For the purposes of this trip, "home" was Portsmouth VA (see this post for more about why).
The scooter I'd left outside VMFA was gone, but the app showed that there was another one just around the corner, so I hopped on that and rode it the remaining 1.25 miles to the Greyhound station. After walking 10 miles at a time in many cities on my trip, it was nice to have enough left in my budget to take advantage of the scooters. Once the $5 referral credit had been used up, it only cost me a grand total of $5.20 for the three scooter rides in Richmond which was decent value for the time and energy saved.
It was a fairly quick ride on the Greyhound bus from Richmond to Norfolk via Williamsburg and Hampton. Once I arrived in Norfolk, my journey still hadn't ended as I needed to take two more modes of transport.
Well, to be honest I only needed to take one more mode of transport. However, part of my strategy had been to take the most modes of transport out of the three of us. I therefore bought an HRT GoPass for $4.50 (it gives unlimited travel on local buses, ferries and tram for the day) and hopped on The Tide, a tram that runs from downtown Norfolk out east to Newtown Road on the border of Virginia Beach. I rode The Tide all the way out to Newtown Road, then stayed on it for the return journey, getting off at MacArthur Square.
From MacArthur Square, I walked as quickly as I could to the Elizabeth River. Portsmouth is just a short journey the other side of the water and there's a paddleboat ferry that goes between the two cities. The next one due to depart 9 minutes after I got to MacArthur Station and Google Maps said the ferry stop was an 8 minute walk away. The ferry only runs every 30 minutes in the evening, so I didn't want to just miss it and have to wait half an hour for the next one.
As I approached the ferry stop, I could see its green flashing light from a distance, so I did what must've been an absurd-looking run as I was carrying two backpacks weighing 25 lbs and trying to run in flip-flops. I made it to the ferry before it departed, even having time to snap a quick photo before boarding.
On the other side of the river, Shae and our dog Truffles were there to greet me, so we headed up to our old local – Longboards – for a drink and to take advantage of Taco Tuesdays.
While I had an amazing time on my two week 40k To Far Away adventure, it was great to be back with my family.
If you haven't voted for your favorite trip yet, be sure to do that before voting closes – the poll is here.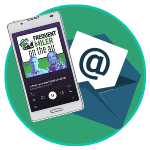 Want to learn more about miles and points?
Subscribe to email updates
 or check out 
our podcast
 on your favorite podcast platform.