A reader reached out today with a great find: when logged into his account as a diamond elite member, he discovered that Delta.com now shows upgrade availability in flight search results!
When logged in as a Platinum or Diamond elite, you'll now see availability in the search results for regional upgrade certificates, and when logged in as a Diamond elite you'll now see availability for global upgrade certificates.
For example, Greg has Diamond Medallion status and when logged in to his account, he can see Delta One availability. It could be easy to miss this new functionality as Delta hasn't made it particularly prominent in the search results, but it can be found listed beneath the route when selecting which flights you want to take.
As you can see in the image above, it even differentiates between whether you'd be flying "regular" Delta One or if Delta One Suites are available on that flight.
When clicking on that section, the following box pops up:
That's what shows up for Global Upgrade Certificates; a similar box is displayed for Platinum members when they're looking to use Regional Upgrade Certificates:
This upgrade availability only shows up online if you have the requisite status level with Delta. As mentioned above, Greg is able to see Global Upgrade Certificate availability on his account as he has Diamond status, but someone with Gold Medallion status isn't able to see that kind of upgrade availability.
Even more interestingly, Delta's search results differentiate between the following scenarios for any given flight(s):
Upgrade Certificate not available for this flight
Upgrade Certificate availability unknown for partner operated flights
Delta One available with Upgrade Certificate
For example, when doing a search from Boston to Delhi airport, all three of those possible scenarios could be found.
The route where upgrade certificates were listed as not being available included a flight on Air France. Nick recently shared his travails with trying to find upgrade availability on Air France flights, so this new feature on Delta's website should save a lot of time and fruitless phone calls when trying to identify Air France routes where GUCs (Global Upgrade Certificates) can or can't be redeemed. Update: It turns out that upgrades might be available on the Air France flight as it was the Delta leg which wasn't upgradeable. Based on further searches that Greg has done, it looks like upgrade availability is only showing on flights operated by Delta – flights on partner airlines don't state whether or not there's upgrade availability.
Nick was doing that research for the GUC trip he's planning for Greg and himself (see Passing the GUC: Greg gives global upgrades to Nick… with a catch) This should make Nick's secret planning (while logged in to Greg's account) significantly simpler because provided Delta's search results are accurate, he'll be able to see at a glance if he can use the GUCs on those flights. That'll make it far easier piecing together possible routes and bonus point opportunities.
He'll still have to call (well, have Greg call seeing as they're his certificates) once it's time to use the certs as it's still not possible to redeem them online, but this new feature for Platinum and Diamond members is an excellent enhancement for anyone wanting to take advantage of their hard-earned (or hard-spent) status with Delta.
h/t Sandeep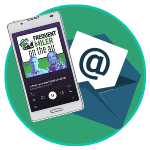 Want to learn more about miles and points?
Subscribe to email updates
 or check out 
our podcast
 on your favorite podcast platform.