Last month American Express released a great new Amex Offer. Called Shop Small, it offers $5 back when spending $10 at a wide range of small businesses. Even better, it can be used up to 10 times during the promotion period for total savings of up to $50.
Shortly after the offer was released, data points came in of some somewhat surprising businesses that triggered the statement credit, including the gift card selling websites eGifter and MyGiftCardsPlus.
Another gift card merchant that triggered the $5 statement credits was the Fluz app. As a result, many people signed up for the app for the first time because you could buy many gift card brands (like Walmart and Starbucks) in $10 denominations, as well as other brands like Amazon in $15 denominations.
One of the great features of Fluz is that you earn cashback on each gift card you purchase, so you earn that cashback in addition to the $5 statement credit from the Amex Offer.
Another nice feature with Fluz is that when signing up via a referral link, you receive three vouchers that can be used to earn up to 35% bonus cashback on more than a dozen different gift card brands. Those vouchers are limited to $3.50 bonus cashback and so they're not hugely rewarding, but if you use all three then that's effectively a $10.50 signup bonus. You then receive another of those vouchers for every friend or family member that you refer after they make their first purchase.
Something important to note with the Fluz vouchers is that they expire after 60 days. We published the post about Fluz purchases triggering the Amex Offer on July 8, so if you signed up for Fluz back then, you only have 10 days or so to redeem those vouchers. I'm sure there are several people who bought ten $10-$15 gift cards to max out the Shop Small Amex Offer, but who also still have vouchers sitting there as they bought non-voucher brands like Amazon and Walmart.
As a recap, here are the gift card brands you can redeem your vouchers for, along with their bonus cashback rates.
Starbucks – 35%
Spotify – 35%
CVS – 35%
Chipotle – 35%
Gubhub – 35%
Seamless – 35%
Taco Bell – 35%
Burger King – 35%
Jamba Juice – 35%
The Coffee Bean & Tea Leaf – 35%
Peet's Coffee & Tea – 35%
Domino's – 25%
Papa John's – 25%
Uber Eats – 20%
DoorDash – 20%
Hulu – 15%
Netflix – 12%
Dunkin' Donuts – 12%
Note that the bonus cashback is in addition to the standard cashback rate. For example, Starbucks is one of the voucher stores and Fluz is offering 2% cashback as their standard rate. Buying a $10 Starbucks gift card will therefore earn you the following when using a voucher:
$0.20 standard cashback
$3.50 bonus cashback from the voucher
$5 cashback from American Express if paying with a card with the Shop Small Amex Offer loaded
Total cashback = $8.70 on a $10 purchase
Seeing as Starbucks earns the maximum 35% bonus cashback, you only need to buy a $10 gift card to max out the bonus. For brands offering a lower bonus cashback percentage, you need to buy a higher value gift card if you want to get the full $3.50 bonus. For example, with Fluz offering 20% bonus cashback for Uber Eats, you need to buy a $17.50 gift card to get the full $3.50 bonus available.
Check out our original post for a little more information about how the Amex Offer was working with Fluz. For a more detailed explanation as to how Fluz works, check out this guide I wrote on GC Galore.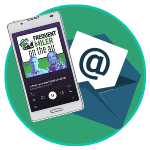 Want to learn more about miles and points?
Subscribe to email updates
 or check out 
our podcast
 on your favorite podcast platform.