American Express has a new offer out encouraging customers to use their cards at small businesses: get $5 back when you spend $10 or more at small businesses listed in their ShopSmall directory up to 10 times (for a total of up to $50 back) when you use your card at those qualifying small businesses by September 20th.
The Deal
A new Amex Offer is out that's good for $5 back when you spend $10 or more (up to 10 times) at Shop Small business by 9/20/20
You can also try the American Express Shop Small online directory to find qualifying online businesses
Key Terms
Offer can be repeated up to 10 times at qualifying merchants
You can only sync the offer with one card
Qualifying purchases must be charged by 9/20/20
Quick Thoughts
This offer is obviously a great deal if you regularly spend at any of the included merchants. There are quite a few restaurants listed in my area where I'd ordinarily spend money anyway, so getting five bucks back each time would be great. I haven't actually been going to restaurants (I've only recently picked up takeout a couple of times now), but I'll gladly add this offer and keep it in mind as I'm sure it'll save me five bucks at least a couple of times.
Note that you can use the Amex map directory linked above to find small businesses. Just keep in mind that the map shows all businesses that (supposedly) accept Amex, but the offer only works at those labeled with the Shop Small logo:
I say "supposedly" above because I've run into businesses locally that show up on the map but that won't actually take Amex (I suspect their payment system is set up to take Amex but they choose not to because of the fees). It's also worth noting that the map may not always be accurate. I saw at least one restaurant in my area that I think has been closed for a while (before COVID) and one cafe listed that was the name of a local bank (think something like "ABC Bank Gold Star Cafe") — though, to my knowledge, there is no such cafe (I couldn't find any evidence of it on the Internet, either).
Most of the included small businesses near me are restaurants, but there were a couple of health food stores / small grocery stores as well. A few years ago, I used a similar offer to buy running shoes at a small shop. When I explained what was up with the  offer to the shopkeeper, she let me split tender $10 at a time to essentially get about half off on my shoes. I believe that comes at a cost for the shop, but it was clearly still worth it to her.
Overall, this is a good deal that should be very easy to use. I believe you'll only be able to sync this to one card, so choose carefully. I'm a little split between syncing this to my Amex Gold card or Hilton Aspire. We haven't yet used up the Aspire resort credits, so I'm tempted to see if we can double dip and get this $5 back also, but this offer extends a bit beyond the ability to use Aspire resort credits for restaurant purchases, so syncing it to the Gold card might make more sense. We'll see. I'll definitely be syncing this one way or another.
H/T: CNN Underscored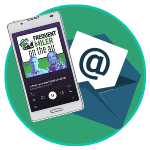 Want to learn more about miles and points?
Subscribe to email updates
 or check out 
our podcast
 on your favorite podcast platform.