American Express launched a new Shop Small Amex Offer last week which gives a $5 statement credit when spending $10 at eligible small businesses.
There have been numerous data points recently of statement credits unexpectedly being received for purchases, with perhaps the most interesting being gift card purchases in the Fluz app.
In case you're not familiar with Fluz, it's an app that offers cashback for gift card purchases. One benefit is that you can buy gift cards for specific amounts (e.g. $11.73) rather than having to buy whole dollar amounts (e.g. $25, $50, etc.). Another benefit is that the gift card is issued immediately, meaning you can use the app in-store while standing at the checkout.
Fluz also offers new users 3 vouchers that can be used to save up to 35% on 17 different gift card brands including Chipotle, Uber Eats, Starbucks, CVS, Netflix and more. Each voucher offers maximum cashback of $3.50, so it's not like you can earn 35% cashback on a $200 CVS gift card, but it means signing up for the app can save you up to $10.50 on gift cards for services, stores or restaurants you'd likely be spending money at anyway.
If you're new to Fluz, here are our referral links. As mentioned above, you'll received 3 vouchers when joining, while we'll earn 1 voucher after you make your first purchase.
Those vouchers aren't the only way you can save with the Fluz app though. Doctor of Credit noted a few days ago that purchases in the Fluz app were triggering a confirmation email for the Shop Small Amex Offer.
Upon reading that, I tried testing it out by buying a $15 Amazon gift card, but didn't receive an email from American Express stating that I'd used the Amex Offer. A data point I saw said that they'd received the email after buying an Uber Eats gift card, so I bought a $17.50 Uber Eats gift card (to max out the savings from using a voucher) but I didn't receive an email about that either.
The pending transactions showed up on my card as 'Fluz', whereas some other people reported it showing for them as 'FluzPay'. I'd wondered if the name difference was affecting the Amex Offer being triggered, but it turns out that me not receiving an email didn't mean anything because a statement credit appeared on my account yesterday.
Even better, it seems like statement credits from the Shop Small Amex Offer work cumulatively. I made two purchases of $10+ and so only expected to get 2x $5 statement credits if the Amex Offer was triggered by Fluz purchases.
As it turns out, I received $15 back. That's presumably 3x $5 statement credits due to spending just over $30 across those two transactions. That means you should be able to buy $100 worth of gift cards using the Fluz app to get $50 back quickly and easily. While that's not the intended use of the Shop Small promotion, it could be a useful option if you don't have any eligible local businesses near you that you want or need to make purchases from.
Update: Based on other people's data points in the comments below, it seems like cumulative purchases aren't triggering more statement credits than expected. If you make 2x purchases for $15, it therefore seems likely that you'll receive 2x $5 statement credits, rather than 3x $5 credits for spending a total of $30. For whatever reason, my data point seemed to be an isolated case of it happening.
If you'd like to learn more about how the app works, I put together a user guide for Fluz over on GC Galore which goes into more detail.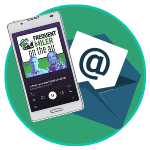 Want to learn more about miles and points?
Subscribe to email updates
 or check out 
our podcast
 on your favorite podcast platform.