My son will be starting college in a few weeks, and I've been busy thinking about how to turn this event into more opportunities to earn points & miles.  We've already been earning miles while saving for college.  Can we earn while paying for college too?  I think we can.  Here's the plan…
Step 1: Earn rewards while saving for college
Ever since Gift of College gift cards became available at Toys R Us stores, I've been buying them with rewards-earning credit cards.  The fee is $5.95 per $500, which amounts to 1.19%.  Since many credit cards offer rewards that exceed 1.19%, it's easy to come out ahead.  Even better has been to use these purchases as a way to meet spend requirements for a new signup bonus or for a big spend bonus.
After buying these cards, my next step has been to load their value to my son's 529 college savings account via GiftofCollege.com.  It generally takes about two weeks for funds to show up in the 529 account.  529 accounts are a great way to save for college since earnings are not federally taxed as long as they are used to pay for college.  Plus, some states offer tax breaks for 529 contributions as well.  More about the advantages of 529 plans can be found here.
Full details about earning rewards when saving for college or when paying for student loans can be found in the following new Frequent Miler resource pages:
Step 2: Earn rewards while paying for college
Now we have a bunch of money ready to go in my son's 529 account (we've been saving since he was a baby).  If we pay his tuition directly from that account, we won't earn any additional rewards.  Instead, I believe we can do the following:
Pay tuition indirectly by credit card (to earn rewards)
Withdraw the same amount of money from the 529 plan to my bank account in order to pay the credit card bill
This is my first time through this, so I could be wrong, but I believe that the 529 withdrawals will lead to me receiving IRS form 1099-Q at the end of the year.  Then, as long as I have receipts showing the same amount paid towards eligible education expenses, there shouldn't be a withdrawal penalty.
How to pay tuition by credit card
Some colleges and universities accept credit cards directly.  Obviously that's the easiest option, but in some cases it can be prohibitively expensive.  The University of Michigan (where my son will be a student) does not offer that option at all.
Instead, my best option is to pay with the Plastiq bill payment service (see our Complete Guide to Plastiq credit card payments).
Plastiq normally charges a 2.5% fee.  That's more than the value of rewards earned on most credit cards so it is only a good idea when using Plastiq to earn a spend bonus.  If you sign up for new credit cards with big signup bonuses, for example, Plastiq can be a great way to meet the minimum spend requirements.
In my case, since I write about Plastiq for this blog, I've stockpiled quite a bit of Plastiq's Fee Free Dollars (FFDs) by referring others.  FFDs are used to pay bills (up to that dollar amount) with no fee.  For example, if you have 1,000 FFDs, you can pay a $1,000 bill by credit card with no fee.  That's a $25 savings.  Since I have a large amount of FFDs, I'm in the unique position of being able to pay my son's tuition by credit card fee-free.
Those without a stockpile of FFDs, could refer others.  For each friend you refer, once they make payments totaling $500 or more, you get 1,000 FFDs and they get 500 FFDs.  Alternatively, use Plastiq to pay tuition only when you need to meet spend for a new signup bonus or for a big spend bonus.
Wrap Up
So, thanks to Gift of College, I earned rewards while saving for my son's college.  And now, thanks to Plastiq, I expect to earn rewards again while paying for his college.
Next step: he'll turn 18 in November and he'll be eligible for his own credit cards.  More rewards to come!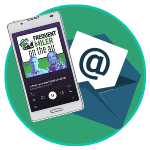 Want to learn more about miles and points?
Subscribe to email updates
 or check out 
our podcast
 on your favorite podcast platform.