By Invitation Only…
You've seen the emails.  Every time you sign up for a new loyalty account, you soon receive an email with the subject heading "By Invitation Only".  It sounds special, right?
These invitations are to participate in the the e-Rewards Opinion Panel.  Basically, in exchange for your time in filling out surveys, e-Rewards offers rewards.  These rewards (e-Rewards Currency / Opinion Points) can then be exchanged for miles, points, gift cards, etc.
Shutdown Rampage
It appears that e-Rewards has swept through their system and shut down many accounts without warning.  Those who had not already redeemed their e-Rewards Currency / Opinion Points lost them.  Many people have lost hundreds of dollars worth of rewards (but keep in mind that e-Rewards currency is worth considerably less than real currency).
You can find shutdown reports here:
This rash of shutdowns was brought to my attention by a reader named Caroline who wrote the following:
I've been a panelist on e-Rewards for years without any problems — I've found it to be a nice way to earn a few extra miles or hotel points to top off accounts for rewards. Earlier this month, a few days after I made a request for Iberia Avios, I tried to log in as usual, but got an error message that my account had been deactivated at my request or due to inactivity. Neither was the case, so I assumed there was a technical error and filled out their "Contact Us" form. After I didn't hear back for a week, I tried again. I waited a few more days and finally decided to reach out to them via Twitter, as I couldn't find another way to contact them (and the form wasn't doing the trick).

At first the Twitter rep was responsive and seemed interested in helping. But a day later, I got the following message back:

"Thank you for your query. We have reviewed your account and we have identified several discrepancies in your account details and/or survey activity that are in breach of our terms and conditions. We regret to inform you that under such terms, we have had to suspend your account permanently. You will no longer be able to take surveys and claim rewards going forward. Thank you for your cooperation in this matter.
The e-Rewards Team"
The above is consistent with what many others have reported.  The only reason conveyed for these shutdowns was discrepancies in accounts or in survey activity.  If people had created and managed multiple accounts, then it makes complete sense for e-Rewards to shut them down.  Similarly if people filled out surveys falsely in order to ensure that they would be accepted as a participant, or to save effort, then again the shutdowns make sense.
However, a number of people have reported that they did nothing wrong.  I know — everyone says that.  But, I think it is reasonable to expect that at least some are telling the truth, and have had their accounts shut down without any good reason.
What can you do?
I checked with Alexander Bachuwa, attorney and author of The Fine Print.  If you lost rewards and believe you did nothing wrong, he recommends filing a claim in small claims court.
Reader experiences
I've never bothered with e-Rewards myself.  It always seemed like too much work for too little reward.  So, obviously, I wasn't effected by the shutdowns.  How about you?  Has your account survived this wave of shutdowns?  If not, did you lose rewards?  Please comment below.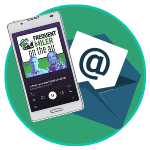 Want to learn more about miles and points?
Subscribe to email updates
 or check out 
our podcast
 on your favorite podcast platform.