During our 40K to Far Away competition in 2019, I put together a fun LifeMiles manual booking, flying four segments from Brisbane, Australia to Niue (a tiny Pacific island nation). I did that on purpose: I wanted eight hour (or longer) connections in Christchurch, Nelson, and Auckland, New Zealand on the way to Niue. I recently took a swing at a more realistic manual booking with LifeMiles. To say that it tested my patience would be putting it mildly, but (sometimes) good things come to those who wait and I wanted to write about my recent experience with it to remind readers that this remains an option (albeit a very slow one!).
What is an Avianca LifeMiles manual booking?
The gist of an Avianca LifeMiles manual booking is this: LifeMiles customer support is able to piece together a booking using your desired segments provided that you can show the individual legs of the booking separately available at LifeMiles.com and you have at least 40% of the miles in your account for the redemption. This is useful because LifeMiles is notorious for not showing all of the options that should be available to book when it comes to partner awards.
Sometimes, the website doesn't show the itinerary you want due to system limitations (of a sort). For instance, One Mile at a Time had written years ago that LifeMiles.com will not show itineraries with a layover of more than 8 hours (that used to be in this post, but I don't see it there now so maybe LifeMiles changed it?). That said, international partner awards almost always allow for a layover of up to 24 hours with any of the major frequent flyer award booking programs. I think that's also the case for Avianca, they just don't display those long-layover options online.
If the itinerary you want would have a shorter layover (or layovers), don't forget to search the LifeMiles website multiple ways. There is the regular "Smart Search": 
There is also a "Star Alliance search"
And finally, there's an airline-specific search.
Sometimes you'll get different results with all three searches, so before you even consider the complication of a manual booking, first make sure that you have searched using each of those options as you may in fact be able to find your desired itinerary without needing the process for a manual booking.
Steps for a LifeMiles Manual booking (the short story)
If you have decided that a manual booking is the right call for your situation, here are the steps:
Run separate searches to find each leg of your desired itinerary available on LifeMiles.com. Take a screen shot of each leg showing that it is available to be booked in your desired class of service (I ran these searches for the desired number of passengers to make it clear that 4 seats were available).
Make sure you have at least 40% of the total mileage required for the booking (and maybe a little extra – see "my experience" for why). Yes, this means transferring before you have a booking, so only make this move if you can accept that risk — and remember that LifeMiles expire after just 12 months of inactivity, so be ready to make your calendar and make an annual transfer to avoid that if this doesn't work.
Email support@lifemiles.com with your name, LifeMiles number, and full itinerary information. See my example email in the next section for the exact layout I used.
Wait.
Wait a little longer.
Feel free to respond to their "we'll forward this to the right department" email, but you're still going to have to wait. This process is not built for the modern everything-in-an-instant world in which we live.
Be next to the phone about a week later because once they put the booking together they will call you (one time) looking for you to make payment.
If you inevitably miss that call, they will email you what looks like an email confirmation but it says that you need to please call back to ticket (and the email includes a deadline date and time). What the email doesn't have is a phone number. See Step 10.
Transfer over the remainder of the miles you need since the itinerary is now on hold and ready to be paid for. The email will confirm the price near the bottom (see "my experience" for more).
To ticket if you missed the call from Avianca, call customer service at 1-800-284-2622. Select 2 for English. Select 3 for LifeMiles. Select 3 for transactions. Explain that you emailed for a manual booking and you missed the call to pay for it so now you need to speak with someone in the billing department to pay for the reservation. The agent will likely take your booking reference number and itinerary info and then hopefully transfer you to the billing department.
Pay the taxes & fees over the phone. Note that if you only had 40% of the miles in your account, they may initially have it set up to use that amount of miles plus cash to cover the rest, so they may need to recalculate the taxes & fees if you have now transferred the rest of the miles.
That's all there is to it :-).
My recent experience with a LifeMiles manual booking
Our 3 Cards 3 Continents trip last year was a lot of fun. Probably the most fun part for me was my last stop at Santa Claus Holiday Village in Rovaniemi, Finland. That was fun for me because of the way Greg set me up to tell that story. If you're interested in that story, go to my Instagram page (NickatFM) and the sole "highlight reel" under my profile picture is the Instagram stories for that final stop.
The entire time I was at the Santa Claus Holiday Village, I thought about how much fun it would be to visit with kids. My wife agreed and we decided that our sons would be just about the perfect ages for that trip this year. I booked the way to Europe separately to take advantage of the LifeMiles sweet spot to Lisbon (35K miles in business class) and then we'll get to Helsinki and on to Rovaniemi separately (we're planning to first stop in another city for a Christmas Market).
For the ride home from Finland, I found 4 seats available in business class on Turkish Airlines for the long-haul from Istanbul to New York on a Sunday. Turkish also had availability for four passengers in business class from Helsinki to Istanbul that same day, so we could have booked the entire trip on one calendar day as seen here (on a different date):
Unfortunately, the problem with that plan is that it would have meant a layover of just 2 hours in Istanbul. Having been to the Turkish lounge in Istanbul last year (that link is Greg's video review), I knew that two hours was not enough to Pacman my way through that lounge the way I would ideally envision. A flight delay could lead to utter disappointment. That plan wouldn't do.
The good news was that Air Canada Aeroplan was showing another option: fly from Helsinki to Istanbul on Saturday evening, have a layover of about 20 hours, and then continue on to New York on the same Istanbul-to-New York flight.
That sounded a lot better to me. We'd get a night in Istanbul, a chance to cruise the Bosphorus or do something cool in Istanbul with the kids, and then get to the airport with plenty of time to properly devour the Turkish Business Class Lounge in all of its deliciousness.
The problem was that Air Canada would have charged 90,000 miles per passenger for that itinerary. With four passengers, that would have been 360,000 total miles. The Amex Points Parade has been good to me, but Avianca's price of just 60,000 points per passenger (240K total) sounded far more appealing. Note that other options for booking were United for 77K miles per passenger, though I didn't have enough miles for that, or Turkish Miles & Smiles for 45K miles per passenger, but with hundreds of dollars in fees per passenger that did not appeal.
Determined to have my Turkish Delight and eat it, too, I decided to give a LifeMiles manual booking a try.
Before we get to the rest of the story, let me recognize that this whole process sounds kind of crazy. Four seats in transatlantic business class can be tough to find. Four seats on what is considered one of the better transatlantic business class experiences is probably even tougher. Finding that on the exact day I wanted to travel felt nearly unicorn-esque. I strongly considered just booking the flight from Istanbul to New York via LifeMiles and booking a separate flight to Istanbul (that plan would have cost me more miles since Avianca charges 63K miles in business from Istanbul to New York plus I'd have paid the cost of the positioning flight. Departing Finland on a single ticket was better, but only if this worked). I proceeded with the manual booking knowing that it would give me something to write about either way — and if it didn't work, there were other options to get home from Europe.
I went to LifeMiles.com and took a screen shot of both the flight from Helsinki to Istanbul showing 4 seats available in business class:
And also a screen shot of the flight from Istanbul to New York showing 4 seats available in business class.
And then I sent the following email to support@lifemiles.com. This email is Day 1.
Hello,

I am writing to request a manual reservation for a LifeMiles award flight itinerary. I am not able to book this online because of a website error (the search engine is not showing the itinerary as available even though each of the flights is available on LifeMiles.com), so I need your help to manually create the reservation. Thank you so much for your help. I am prepared to transfer the miles and pay for the booking as soon as I hear from you. I will keep my eye on my email as I would like to get this ticketed as soon as I can. Thank you for your help!

Here is the information:

My name: Nicholas Reyes
LifeMiles Number: XXXXXXXXX

Itinerary Information:

From

: HEL (Helsinki, Finland)

To

: JFK (New York, USA, JFK airport)

Cabin

: 

Business class

 (all segments)

Depart

: [Date]

Arrive

: [Date]

Passengers: 4

Segments:

1)
Date: [Date]
Flight: TK XXXX
From: HEL

To: IST

Dep: 18:40
Arr: 23:20
Available on LifeMiles.com:

2)
Date: [Date]
Flight: TK XXX
From: IST
To: HEL
Dep: 19:00
Arr: 22:05
Available on LifeMiles.com:

The four passengers will be:

1) Nicholas Reyes
Male
DOB: [insert DOB]2) [Passenger 2 name]
[gender]
DOB: [insert DOB]3) [Passenger 3 name]
[gender]
DOB: [insert DOB]

4) [Passenger 4 name]

[gender]

DOB: [insert DOB]

Thank you very much for your time and assistance. I look forward to hearing from you soon!
At the time when I sent that email, I only had 747 miles in my Avianca LifeMiles account. Almost 24hrs after I emailed, on Day 2, I got the following response:
Cordial Greetings 

Nicholas

:

In regard to this matter, 

let us inform you that in order to book your flights on LifeMiles.com, you need to have at least 40% of the required miles, reason why, we invite you to purchase or transfer the miles and then perform the process online. Our internal department is not able to evaluate the case if you don't have at least this amount of miles

.

You may calculate an estimated on LifeMiles.com → Travel → Select the carrier and check the information through the option ""Find out how many LifeMiles you need for a ticket on ______"""".
The requirement to have 40% of the miles necessary was news to me. I didn't run into that on my previous LifeMiles manual booking, though in hindsight I think I probably already had at least some miles in my LifeMiles account at that time (maybe even enough to book it? I can't recall).
I decided that it wasn't worth arguing about whether it really is necessary (and we'll come back to the fact that it was indeed necessary), so I decided to make a transfer of the required 40%, confident that I'll use LifeMiles again within the next year if this fell through. The total for four passengers should have been 240,000 miles (60K per passenger), so 40% of that total would have been 96,000. I decided to transfer 100K just to keep things even and simple. I wrote back noting that I don't recall this requirement before, but that I'd transferred 100K points hoping to get this booked as soon as possible.
About 24 hours passed and then on Day 3 I received this email:
Cordial Greetings Nicholas:

We offer you an apology for this delayed response.

We appreciate the information provided which we've sent to our internal department so a manual booking can be evaluated, if approved, they'll contact you by phone or through your email address so you can confirm the itinerary and complete the process.

Take into account that the support department does not book the flights, we can only escalate your case to the internal department so they can evaluate your case and contact you to assist you with the case.

Thank you for your valuable time.

Regards,
I wrote back within minutes saying that I was keeping an eye on my phone and email and looking forward to having this booked as soon as possible.
About 24 hours later, on Day 4, I got a response with an apology that it is taking so long but reiterating that I'd hear back from the "internal area" if and when they were successful. I wrote back 15 minutes later thanking them and reiterating that I looked forward to another update soon (really just trying to be the squeaky wheel).
After another 24 hours, on Day 5, I got the same "we're waiting on a response from the internal area" email. This time, I waited 24 hours and on Day 6 I emailed to say that I didn't want to be annoying but I was looking for a status update.
A few hours later, on Day 6, I got the following email:
In reference to your request, it is not possible to complete the redemption, because you do not have enough 

miles

 to make redemptions, since you are requesting the flight for 4 people in business cabin, and you must have at least 40% of the total required, which is 100,800 

miles

.

Thank you for your understanding.
My first reaction was incredulousness. I had more than 40% of the miles required for this booking in my account! I should only need 96K and I had transferred 100K! Then, I did some quick math and facepalmed in frustration.
I realized that they mis-priced the reservation at 63,000 miles x 4 passengers = 252,000 miles. Forty percent of 252,000 miles is 100,800 miles. Ugh. The LifeMiles person working on the booking made a mistake: most of Europe to the United States costs 63,000 miles each way per passenger. However, back when LifeMiles used to publish an award chart, Northern Europe to/from the US (or at least the Eastern US?) was 60,000 miles per passenger. As a rewards program enthusiast, I had long ago learned that. And I know that it still holds up today because I had seen the price from Helsinki to Istanbul to New York-JFK with the 2hr layover (60K per passenger as seen in a screen shot far above). But with the benefit of hindsight, it did not in the slightest bit surprise me that a random booking agent at Avianca did not know the correct pricing and had thus mis-priced the booking and determined that I didn't have enough miles to proceed. This story is important because it is a good reminder that customer service agents are just so frequently wrong about things (and may very well misprice an award if you don't know what it should cost!).
But it is also important because it proves that the 40% of the miles thing wasn't made-up. If you've got a very good memory, you may recall that at the beginning of this part of the story I mentioned having an existing LifeMiles balance of 747 miles. Yup, after transferring 100K from Membership Rewards, I had 100,747 miles — just fifty-three miles short of the 100,800 that they thought I needed and they wouldn't put together the booking because I didn't have enough miles. I'm not shocked that they require having the miles on-hand to essentially put the reservation on hold, but that was a pretty clear indication to me that the 40% threshold is firm. Note that the 40% figure makes sense: Avianca allows you to use a mix of cash and miles to pay for an award starting at 40% of the miles and a cash co-pay.
I immediately felt really, really stupid. I should have totally anticipated that an agent might mis-price this award at 63K per passenger and made sure to transfer enough points to have 40% of the total if they made that mistake. It's obviously not my fault that they made a mistake, but it felt like falling for a pump-fake in a basketball game: I should have seen it coming.
I was all the more disgusted with myself knowing that, at best, it would be 24 hours before I heard back and I'd probably be putting myself back at the end of the queue and looking at another week passing before anyone even looked at my request. I felt like I had already been exceptionally lucky that the availability for all four seats on both flights had stuck around for a week. Now I had to hope for another lucky week.
When a poker player loses a big hand and then emotion gets the better of them and they start making expensive bad plays in the ensuing hands, that player is said to be "on full tilt" (as though tilting the table upward so their chips go rolling away from them and toward everyone else at the table). I had my "full tilt" moment at this point and I transferred another 140K Membership Rewards points to Avianca so that I would have the full 240K to make the booking. Just like the poker player on full tilt, there was no good reason for that, emotion just got the better of me as I was annoyed with myself and decided that my punishment was going to be that I'd have to find some way home using Avianca LifeMiles after I finished messing this deal up.
Still on Day 6 and within 15 minutes of their email to me saying that I didn't have 40% of the miles required, I sent back that screen shot of a different date (shown far above in this post) explaining that a flight departing Finland in business class should be 60,000 miles per passenger for a total of 240K miles for four passengers and that I had more than enough for 40% of that but that I had proactively gone ahead and transferred over the additional 140K hoping to speed things up.
About 24 hours later, on Day 7, I got the expected email saying that they sent the information to their "specialized department" so they could "evaluate a manual booking" and that "if they approve" the request, I would "be contacted by phone or email" to confirm and complete the booking. They even reminded me that "availability and the mileage are subject to changes".
Then, as we recorded the podcast last Thursday on Day 8 from my initial request for the manual booking, my phone rang. I couldn't answer it, but within minutes I had an email with the sender "Travel Document". Note that this email comes directly rom Amadeus, a reservation system used by many airlines worldwide.
Note that at the very bottom of the reservation it shows that they priced the itinerary correctly at 240,000 LifeMiles points and $355 in taxes and redemption fees (total for 4 passengers). Nice!
I boxed the section under "general information" because you might otherwise skip right over that and not know what to do with this document. Clearly, I needed to call back to Avianca's call center. The problem was that there was no phone number to call!
Luckily, 2019 me recognized this problem. I didn't recall doing it, but in my previous post about LifeMiles manual booking I had noted this problem and where to find the phone number. I called 1-800-284-2622 and had to bob and weave through some menu prompts without really knowing what numbers I wanted to hit beyond "2 for English". When I got to a human, he clearly understood what needed to happen and put me on hold waiting for someone from the proper team to pick up to take payment. After 5 or 10 minutes on hold, the call dropped. Ugh.
I called back and followed the same pattern on the menus and got to a new agent immediately. Once again, the agent clearly understood what I needed without much explanation and this agent got the billing department on the line within a minute or two. That billing agent re-confirmed a couple of basic details and then took payment for the taxes & fees.
While on the call, he confirmed that the payment had gone through and that I would receive the ticketing emails within a couple of hours. Before ending the call, I asked him whether there was a direct phone number to call the billing department so that I could cut straight to them the next time I do this kind of booking. He told me that there was not a direct line.
I received the eticket emails and electronic receipts very shortly after the call. But I also received this email timestamped one minute before the tickets and receipts:
As you can see, the email looks almost identical to the one that had come directly from Amadeus after the booking was put on hold. I had a moment of panic because the email said to call back to Avianca's call center for booking payment (in the same place as before). I wondered whether there had been a problem with payment or something. My eyes almost completely passed the final two lines of that email, which contained the entire purpose of the email: "Reservation is pending due to miles redemption please do not use miles currently in LifeMiles account". While this new email looked like it was asking me to call back to pay, really it was just reminding me not to use the miles in my account because they were yet to be deducted to pay for this booking.
While that sounds really weird, it matches my experience last time: the miles didn't come out immediately and the phone agent asked me to please not use the miles in my account because they would be deducted separately at a later time.
That seems like a really weird way to do things, but apparently that's how Avianca rolls. This reservation was ticketed late last week and as of the time of writing, the miles still haven't been deducted. I'm sure they will be, but maybe that takes another week?
Also interesting in that email is that it lists a phone number for LifeMiles in Colombia. I have no idea whether or not it is a direct line to the billing department, but maybe next time I'll try calling that.
Bottom line
At the end of the day, I am now 2-for-2 on pulling through with an Avianca LifeMiles manual booking. I don't really recommend this process since it is so painfully slow, but if you have plenty of miles and confidence in your ability to find another option (or you can book a backup that is freely cancelable while you wait for Avianca to do their thing), a LifeMiles manual booking can be a good tool to keep in your belt. I have only done this two times, but both times I was pleasantly surprised at how easy it was apart from the waiting. Being patient was difficult, but the taste of victory will no doubt be a delight.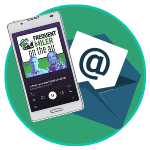 Want to learn more about miles and points?
Subscribe to email updates
 or check out 
our podcast
 on your favorite podcast platform.