To round off my world record-themed 3 Cards, 3 Continents trip, I flew what was, at the time of taking it, the world's longest flight from Singapore to JFK with Singapore Airlines (other routes are due to exceed its length in the next year or two).
What is 3 Cards, 3 Continents?
Frequent Miler loves creating fun and competitive team challenges. This year Greg, Nick, and Stephen are competing to
book the most amazing 3-continent dream-trip using 3 credit card welcome bonuses.
Blocked at 18 hours 50 minutes over a distance of 9,537 miles, the flight is so long that Singapore Airlines doesn't have an economy cabin on the flight. Instead, seating is either Business Class or Premium Economy to ensure passengers are as comfortable as they can be.
Despite booking my ticket in Business Class, I was a little apprehensive about how much the flight would drag, but I was pleasantly surprised. The flight passed remarkably quickly and the way my sleeping schedule worked out I was able to automatically adjust back to Eastern time zone upon landing.
The flight was very comfortable, the service was excellent, in-flight entertainment options were comprehensive and the food was tasty but not as amazing as I'd anticipated. Unfortunately the Wi-Fi didn't work for the duration of the flight and there was no scheduled meal service for the last 8 hours of the flight which I hadn't expected, so that left a bit to be desired.
I booked the flight using 99,000 KrisFlyer miles transferred from Amex Membership Rewards along with $54.57 in taxes and fees.
Here's a full review of my experience on the world's longest flight with Singapore Airlines from Singapore to JFK – flight SQ24.
Singapore Airlines SilverKris Lounge
The flight departed from Terminal 3 at Changi Airport in Singapore. My business class ticket meant that I was eligible for SilverKris Lounge access and it was no problem entering the lounge more than 12 hours before my flight was due to depart.
I arrived at about 10:30pm with the flight departing at 11:50am the next morning. I napped for about an hour in the lounge, but otherwise spent the time catching up on some work and writing this post about what I'd done during my 24 hours in Singapore. While having a lack of sleep might not sound appealing, it worked out perfectly for having no jetlag upon arrival back in the US (more about that later).
I headed to the gate about 45 minutes before the scheduled departure time and boarding began shortly after.
Singapore Airlines SIN-JFK Business Class Seating
Singapore Airlines flies SQ24 on an Airbus A350-900 with a 1-2-1 configuration in business class, thereby ensuring all passengers have direct aisle access.
When Shae and I fly together in business class we tend to pick center seats so that we can sit next to each other. Seeing as I was flying solo for 3 Cards, 3 Continents, I picked 15K – a window seat.
The seat was nice and wide and was comfortable to be in for such a long flight.
Between the seat and the window was a storage cubby hole, light, headphone input, a power outlet and a couple of USB outlets.
On the headrest on the other side of the seat were three additional lighting options.
If those aren't enough personal lights, there are a couple more above your seat. Unfortunately there were no air nozzles next to them. Although they kept the cabin at a reasonable temperature for the first half of the flight, it felt like it got warmer for the second half and so using the blanket was uncomfortably warm.
On the window side of the seat was a small storage compartment containing a bottle of water and noise cancelling headphones.
Next to that was the tray table. This was a good size, but it didn't move as much as I'd have liked which made it harder to get up from the seat while the tray table was down.
On the other side of the seat were controls to adjust the seat, turn on the overhead lights, call a flight attendant, etc.
I was initially confused as to why my seat didn't move when trying to recline during the flight. It turned out it was because Singapore Airlines stores your blanket and two pillows behind the seat and so the seat doesn't recline while they're back there.
The seat has a padded footwell that's parallel to your seat, but off to the side. That means it can't comfortably be used when reclining, but it does mean that when your bed is fully flat that you have more space.
Beneath that footwell was another storage spot that can be good for placing shoes.
Above the footwell was a small shelf where you can place drinks during the flight, while above that was a small cubby hole where I stored my glasses so they didn't get lost.
What looks like a little compartment to the left of the shelf is in fact a mirror.
In-Flight Entertainment
Business Class has a good-sized in-flight entertainment (IFE) screen.
Somewhat surprisingly, the IFE didn't have a touchscreen. Instead you have to use the controller.
Singapore Airlines has a comprehensive selection of movies, TV shows, games, music, etc. For example, our flight had 363 movies available with options from around the world.
The noise-cancelling headphones were good quality and definitely helped block out noise while I watched movies.
Singapore Airlines Business Class SIN-JFK Food & Drink Menus
Singapore Airlines lets you select your meals ahead of time, so I did that a week or two before my flight to ensure there wouldn't be any issues with them being out of whatever meal I wanted.
Singapore Airlines also has a feature called Book The Cook for passengers on flights of 1.5+ hours sitting in Business Class, First Class or Singapore Suites. This allows you to pre-order non-menu meals, with dozens of different options. I went with a menu item for my first meal and used Book The Cook for my second meal.
For anyone who hadn't pre-selected their meals, here are the menus for the SIN-JFK route (the JFK-SIN route offers different meal options).
There's also an extensive drinks selection, from wines to spirits to soft drinks to coffee to tea.
Pre-Departure
While we were all getting settled into our seats, flight attendants came round offering a pre-departure drink of champagne, juice or water.
Another flight attendant came round with slippers, socks and something else that I'm not sure of what it was because I tucked them all away an eye mask. I'm assuming the little pouch in the bottom-right corner of the photo was below was some kind of amenity kit, but if it was then it was the most sparse amenity kit ever. If it wasn't an amenity kit, I simply wasn't offered one which also seems strange. Update: Based on comments below, Singapore Airlines only offers an amenity kit upon request.
I popped to the restroom before the flight departed. The restroom wasn't particularly big and didn't have any amenities beyond facial mist, hand lotion, eau de toilette and some face towels. There was therefore nothing like toothbrushes and toothpaste which also presumably weren't provided in the barely-existent or non-existent amenity kit.
The Flight Itself
We were ready to leave about 25 minutes after boarding began. Singapore is one of the world's busiest ports and as we flew overhead it wasn't hard to see why.
I tried connecting to the plane's Wi-Fi during the flight but couldn't get it to work for the duration of the flight. I likely wouldn't have gotten any actual work done, but it would've been nice to have stayed connected on a flight that lasts for almost an entire day.
About 15 minutes after takeoff we were served some mixed nuts. These were served in a packet rather than warmed and served in a ramekin.
Drinks were offered shortly after. Seeing as I was flying Singapore Airlines I asked for a Singapore Sling and a water. However, having spent more than 12 hours in the lounge leading up to the flight, I was feeling a little pickled and so only ended up having a couple of sips of the Singapore Sling.
The meal service timing felt off for the first meal. The hot smoked salmon appetizer wasn't served until almost 45 minutes after drinks had been served.
A selection of breads and rolls were offered shortly afterwards; I chose a couple of pieces of garlic bread. These weren't as soft as I'd expected and seemed like they were on their way to becoming Melba toast.
The entrée wasn't served until 25 minutes after receiving the appetizer which is another reason the timing of the meal service felt like it was off.
The seared fillet of barramundi was good, but not as flavorful as I'd been expecting. It was supposed to be served with sautéed baby carrots, asparagus and spelt risotto, but the carrots and asparagus were seemingly replaced with squash, green beans and a cherry tomato.
Dessert consisted of a slice of chocolate cream cake and some sliced fruit.
Other than a one hour nap in the lounge before the flight, I'd been awake for more than 24 hours and so I was feeling tired at this point. I tried to work out how to put the bed together, but a flight attendant soon came over to do that for me. The seat reclines and then the seat back folds down to create a larger sleeping area.
The photo below was taken after I woke up from sleeping and so the bed isn't as tidy as the flight attendant had initially set it up. Apologies for the blurriness of it too – the cabin was dark and so I used Night Sight, but the 10 seconds that took to take the photo meant I wasn't able to keep as still as needed.
Perhaps it was just because I was so tired, but the bed felt incredibly comfortable and I got about 7 hours of solid sleep. Due to how the seatback folds down, there was a lot of sleeping surface and so it felt more spacious than other business class seats I've had in the past.
I fell asleep at about 2pm Singapore time which is 2am ET. Sleeping for 7 hours meant that I woke up at what was effectively 9am ET. That was perfect because it meant that I was immediately back on US time when we landed and so I had zero jetlag after arrival. Most other business class passengers seemed to sleep until about an hour before we landed which meant they woke up at about 5pm ET which might make it harder for them to adjust to ET if New York or the east coast was their final destination.
Shortly after waking up, a flight attendant stopped by my seat to ask if I wanted my next meal and so I said yes. This started off with chicken satay.
This was followed by an appetizer of seared pepper crusted tuna with shaved fennel, crab and togarashi mayonnaise. This was my favorite dish of the flight, although as I'll explain shortly, there were fewer dishes on the flight than I'd expected.
My next dish was one I'd selected from the Book The Cook menu – chicken curry. The curry was tasty enough, but wasn't as flavorful as I was expecting from a southeast Asian airline.
Singapore Airlines should also market it as a chicken and potato curry because half of what looks like chicken in the bowl is actually potato. There were therefore maybe half a dozen chunks of chicken in there and the sauce to rice ratio was a little off.
A slightly puzzling aspect of this dish is that it's not served with something like naan bread, paratha or chapati. Instead, I was given a couple of regular bread rolls.
A cart with some dessert options was brought around; from that I chose fresh sliced fruit and a sticky date pudding, the latter of which was OK but has nothing on sticky toffee pudding.
To summarize these two meals – they were good, but I was expecting to be blown away with the quality of the meals and I wasn't. I'm not a foodie and don't have high standards when it comes to food, so it was a shame that the dishes weren't more flavorful than they were.
Surprisingly for me, I spent the rest of the flight watching movies and TV shows because I normally just listen to music. I watched Gone Baby Gone which I originally thought I'd seen before, but think I'd mixed it up with Gone Girl – this was good, but the twist felt like it was telegraphed ahead.
Next up was American Made with Tom Cruise. It was an OK movie, but felt a little sensationalized but perhaps the guy's story really was that crazy. After that I watched Jason Bourne which I'd seen a few years ago but didn't remember much about and figured it wouldn't matter as much if I happened to doze off again. With only an hour left of the flight after that, I watched a few episodes of The Big Bang Theory as there wasn't enough time for another movie.
Missing Meal
My second meal service ended at what was 10am ET, with our flight landing at about 6pm ET. In that eight hour period, Singapore Airlines didn't serve any more meals.
I knew that I could order from a variety of snacks during the flight such as noodles, soup, nuts, chips, etc., but I wasn't particularly hungry for several hours after that second meal.
I started getting a little peckish with a few hours left of the flight, but figured I'd wait to eat until they served the pre-arrival meal about an hour before landing. I got hungrier and hungrier and all of a sudden the flight attendants were coming through the cabin preparing for landing and it became clear that we wouldn't be getting served anything.
It turns out that after serving a meal about 10 hours into an almost 19 hour flight, Singapore Airlines doesn't provide you with any other food unless you explicitly ask for it. Perhaps my expectations were off, but I found this bizarre. I – apparently naively – assumed they'd serve a third meal because, y'know, why wouldn't they?
When flying from the east coast to the UK, airlines serve two meals in economy – one shortly after takeoff and one shortly before landing. Those flights last seven hours or less, so I've no idea why Singapore Airlines doesn't automatically provide food for an eight hour period at the end of this particular flight, especially for business class passengers.
After landing I scrolled through my photos of the menu, wondering if I'd missed where it said that we'd have to ask for food if we wanted anything to eat. There wasn't anything that really suggested this would be the case. The menu did say that the second meal would commence halfway through the flight and, to be sort of fair, the menu doesn't actually list there being a third meal before arrival. I'd just assumed there would be one, but I guess they figure business class passengers won't be hungry within 8 hours of their previous meal.
It was a shame because that meant I left the flight with a sour ravenous taste in my mouth.
Final Thoughts
Despite some negative aspects, I enjoyed experiencing the world's longest flight with Singapore Airlines in business class. Their service was friendly and attentive, the seat/bed was very comfortable and I got some great sleep. The meals that I was served were good but not spectacular and there were some pacing issues with the meal service. There's an excellent selection of entertainment options with decent noise-cancelling headphones.
Thanks to sleeping through more than 1/3 of the flight, the almost 19 hour flight time wasn't bad at all and felt like it passed by faster than the 5 hour flight I took from London Heathrow to Cairo in British Airways economy class earlier in the trip.
The lack of Wi-Fi on the flight was disappointing and even more disappointing was the fact that Singapore Airlines don't provide a scheduled meal service in the second half of the flight. If you're not aware of that then it means you go hungry and it shouldn't be incumbent on passengers to have to ask for a meal during an 8 hour period of a flight.
Despite that, I'd be more than happy to fly in business class with Singapore Airlines again, even on this lengthy flight – I'd just have a better idea now as to what to expect.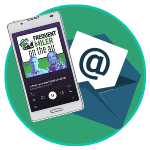 Want to learn more about miles and points?
Subscribe to email updates
 or check out 
our podcast
 on your favorite podcast platform.