We've had so much fun following three very different journeys during this 3 Cards, 3 Continents challenge, and I'm sad to say that today marks the last day. We'll have summary posts coming up with information about voting, but in the meantime, enjoy a recap of the journeys we followed!
What is 3 Cards, 3 Continents?
Frequent Miler loves creating fun and competitive team challenges. This year Greg, Nick, and Stephen are competing to
book the most amazing 3-continent dream-trip using 3 credit card welcome bonuses.
Where in the world are the 3 Cards, 3 Continents contestants today?
Greg was the only contestant still traveling today and while his third and final continent was probably closer to home than some might have guessed, he still wrapped his trip-theme up quite nicely.
Review each contestant's individual journeys so far. We're slowly but surely adding clips to YouTube (below), but for "live" updates, make sure to follow us on Instagram too!
Nick's trip so far…
Day 1: Nick started his trip off with a flight from DC to Cairo on Egyptair, part of a more complex flight itinerary which we'll learn more about as he goes. This cost him 105,000 Air Canada Aeroplan miles which he'd gotten by transferring 88K from Capital One and 22K from Amex. (A previous version of the trip required 110K total before it was changed to this current version.)
Though just a layover, his Cairo visit was plenty of time for a guided tour of the Pyramids and Sphinx before hopping right back on a plane for his Cairo to Istanbul leg with Turkish Airlines. All this and he still had time to join our Ask Us Anything from the Crowne Plaza Istanbul Harbiye. (He booked the stay with 10K of the 22K IHG points he bought for $126.50.)
Day 2: From the time Nick woke up in Istanbul he was already on his second continent (on the Europe side of the city). And even though this was another <24 hour layover, he jumped on a yacht trip to cruise and cross the Bosphorus. (Now we see why his packing strategy deserved so much attention!) This helped him achieve his third continent by day 2: Asia. Then it was back to the airport yet again where he awaited the next leg of his flight in the Turkish Airlines business class lounge, (which he says is so nice it rivals Qatar's business class lounge for the best he's ever seen!)
Day 3: Late night arrivals and action-packed layovers seem to be Nick's new life and his itinerary today was no different. He spent most of his incredible day swimming with whale sharks and sea turtles until it was time to go to the airport for his next mystery destination. Luckily the Grand Hyatt Muscat (which he snagged for just $115) gave him a late checkout so he had time to attempt to dry his swim gear with a hair dryer. (Not all luxury travel is luxurious, folks!)
Day 4: Nick, Nick Nick. My head spins just trying to keep up with you. He started his day on an Oman Air business class flight (one of Air Canada's non-alliance partners), and spent a few hours admiring the sites of Bangkok – (I'm convinced just to remedy old wounds from his Air Asia ticket preventing Thailand entry back in the 40K to Far Away challenge). And just when we thought he might kick back and stick around somewhere, he headed right back to the airport for a 5th Freedom Flight on Gulf Air (another of Air Canada's many non-alliance airline partners).
Day 5: Nick woke in a Capsule hotel in Singapore and made a bee-line for the J2 Crispy Curry Puffs, Michelin Bib Gourmand food stall for some incredible looking food for just a few bucks. By noon it was already time for him to board a Singapore Airlines flight in their 737-MAX business class. He's since reported that it knocked his socks off, saying: "After flying so many times in such close succession, it stands out even more…the service is head and shoulders ahead of most airlines."
Day 6: Nick decided that rest isn't in his itinerary just yet, so he awoke in Cebu, Philippines in time for a 5 am start to a 15 hour tour! That tour had him mostly off-grid, adventuring through waterfalls and participating in something called a "sardine run". While we won't know much else until he can upload all his GoPro footage, I'm wondering if he's finally feeling worn out.
Day 7: Today our roving adventurer went to…a shopping mall? Yep! That's right – local friends raved about a little mall spot called "CNT Lechon" for local Filipino pork so he made sure to give it a visit before departing the Philippines, and found it quite worthy of a stop. (Perhaps he's trying to show-up Greg and Maisie's food-themed trip?) He then had a canceled discount airline flight to contend with getting from Cebu to Manila, and more bad news for his next leg. His next flight, on Qatar, was on a 777 but was scheduled to be their old business class, instead of the coveted Qsuites. He'd been hoping for an equipment swap, but I guess luck was not in his favor. We have yet to find out exactly where he's headed…
Day 8: Nick managed to have an impressive day despite hardly leaving the airport. How? He flew Manila to Doha to Dubai, using 40K American Airlines miles to book this in business class. However, he booked the Dubai routing specifically because Qatar markets the leg from Doha to Dubai as "first" class even though it's only a 1hr flight. This meant he was able to access the first class lounge in Doha, which included a private bedroom. Not only this, but he then finally got his Qsuites experience for the next leg of flying AND checked into the Waldorf-Astoria Palm Jumeriah upon landing in Dubai. Nick is competing on every angle he can! 
Day 9: Today Nick made himself at home at the Waldorf-Astoria Palm Jumeria in Dubai where he ordered an "anti-aging" pillow off the pillow menu and some baklava from the room service (almost certainly just to show Greg and Maisie that he could ;-D). While I'm sure he would have loved to stay longer, we're not surprised at all to hear that he's already flown onward.
Day 10: Nick is heading back into mystery land (and I can't believe he's not done yet!) He had a quick stop in Budapest (staying at an "Easy Hotel" – like Easyjet, but a hotel), and then headed onward to someplace he won't publicly say yet…but I happen to have inside information which is enough to confirm – it's amazing.
Day 11: Wow – Nick did something totally unexpected, yet again! Even though Greg jokingly mentioned visiting Santa in the North Pole when brainstorming examples of eccentric things which could maybe bend the continent-counting rules, I don't think any of us took the comment even remotely seriously. But sure enough, Nick shocked us all by visiting Santa Clause above the Arctic Circle in Rovaniemi Finland. He booked a stay at *yes I'm serious* the Santa Claus Holiday Village! Not only that, but he caught an epic view of the northern lights while he was "in the neighborhood." Absolutely incredible day for Nick.
And on a house-keeping note, he has now submitted all kinds of expense updates which I'll try to work into his graph within the next day. (And I have now lost track of whether he's on Day 11 or 12..because we might have lost a day in his transit all the way North to visit his buddy Saint Nick.
Day 12 (Final Day!): Nick is so dedicated to his budget that he got up just a few hours after midnight to walk himself out to the airport before 5 am. While I'm impressed by his diligence…it crossed my mind that maybe he was also hoping for one more peak at the Northern Lights. 😉 We're getting closer to sorting out his status chart too: his flight home was booked via AA for 30K miles and $65. He specifically booked AA on the way home even thought the taxes cost more because he could use his Amex Platinum card airline fee credit to buy an extra legroom seat.
I've updated the mileage portion of Nick's graph, (which includes this flight home as well as his Manila to Doha to Dubai flight for 40,000 American Airlines miles and his Budapest to Rovaniemi flight for 12,500 AA) but I'm still all jumbled up on his various cash charges, so I've left that part in question for now. I've also added Santa's Village as his his possible honorary fourth continent… it's up to you all whether or not that should count!
Stephen's trip so far…
Day 1: Stephen's trip has just barely begun, starting with an evening flight from JFK to London on a brand new discount airline: Norse Atlantic Airways. He booked this flight for just $228.80 cash. Luckily his Amex Platinum gives him the Priority Pass, which means despite flying a discount airline, he's been chilling in the Primeclass Lounge at JFK while he awaits his flight!
Day 2: Much of Stephen's trip is still shrouded in mystery as he's alluded to the fact that he chose Europe as his first destination for a very specific, yet undisclosed reason, though he's given some details about his day visiting castles and footballers here. We're intrigued what else awaits him in Aberdeen…(or elsewhere?)
Day 3: Today we resolved the mystery of why Stephen had his eye on Scotland…he was headed after the world's shortest flight, a 1.5 minute Loganair flight from one Orkney Island (Papa Westray) to another (Westray). While on the Orkney Islands, he got to see sites even more ancient than the pyramids!
Day 4: Stephen's been soaking up all the ancient and fascinating sites the Orkney Islands have to offer, but today he boarded that same record-short flight, this time to make his way back to London before he moves onward. While Nick and Greg are taunting each other with food posts, Stephen's taking the high road and shared a savvy tip about Premier Inn, a brand common in the UK which doesn't show up on OTAs. That's his depot for the night until he heads to some unknown spot tomorrow.
Day 5: It's been a transit day for Stephen. Despite dealing with a two hour delay for his London to Cairo flight, he had some luck upon landing, getting a nice upgrade to a Regency Suite at the Hyatt Regency Cairo West. Greg and Nick may be burning the candle from both ends, but Stephen's proving a great trip requires some R & R. He's kicking back to enjoy his suite before sight-seeing in Cairo begins.
Day 6: Stephen is not convinced that dashing about trying to fit tours into short visits is the right way to have a "dream trip." Instead, he's been drinking cocktails by the pool, catching up on the game, and of course squeezing in more world-record sites like the Tahya Misr Bridge in Cairo, the widest cable-stayed bridge on record!
Day 7: Stephen may have started his journey with discount airliners, but today he kicked back in Etihad business class. He booked his Cairo to mystery-destination flight using 40,000 American Airlines AAdvantage miles. Any guesses as to where he's headed, (and why)?
Day 8: Those of you who guessed Stephen was headed to Singapore were right! He enjoyed the luxurious Shangri-La Singapore, but also headed out to the Mandai Night Safari at the Singapore zoo. (You can read his thoughts about it here.) You might have guessed his country of destination, but I bet you didn't guess his activity for the day!
Day 9: Stephen proved that, while Singapore has some cool sites, the airport itself is a worthwhile site of its own! He even found out about a rooftop pool. And it seems he's not finished collecting world records either as this airport also has the world's tallest indoor waterfall!
Day 10 (Final Day!): Stephen arrived back at JFK tonight after taking the world's longest flight from Singapore – a very appropriate way for him to wrap up a 3 Cards, 3 Continents trip that started with the world's shortest flight back on Day 3, and included a few other world-record sites sprinkled in. Watch out for Stephen's wrap-up posts in the coming weeks, but in the meantime, here's his quick report of the world's longest flight: Overall it was a great experience, but he hadn't realized there was no scheduled meal service for the last 8 hours and so was pretty hungry by the time they landed!
Greg's trip so far…
Day 1: Greg and his travel companion Maisie officially started their joint travels today, wasting no meal opportunities and grabbing some enviable pastries from Tartine in SFO before heading to the airport. So as not to make us jealous, Greg decided to share footage of the elegant United Polaris Lounge SFO instead of his tasty treats, but he'll have to get over that by the time he reaches his next destination because we're all curious about the culinary adventures Maisie's got in store for him. We know that they're headed to Tokyo, but it sounds like that's not their ultimate destination. Where will that be and, more importantly…what will they eat once they're there?
Day 2: Greg and his culinary concierge Maisie had an enviable foodventure even before they left the airport. Their food explorations started at the Haneda airport during their layover there and included incredible sushi, fresh from the Tokyo fish market. All this before touching down in Saigon where their Asian food explorations continued…and got a whole lot crazier. I was very jealous of the sushi…and not as jealous of the coconut worm shot. The description Maisie sent along, however, almost had me changing my mind.
Maisie explains, "Chef Peter Cuong Franklin of Anan restaurant in Saigon made us two cocktails off his special menu: the first was a coconut worm shot version 1 (less scary – his words, not ours) where they skewer the worm and cover it in cane sugar and then blow torch it to caramelize it before your eyes; and version 2, where you hold the writhing live worm by its head with tweezers and bite into it."
Check out our instagram stories, reels, and highlights for more!
Day 3: Greg and his culinary concierge Maisie got an early start to check out the floating market on the Mekong Delta. Once again they're going for exotic foods that might shock more than entice…depending on how you feel about durian fruit for example, or a scary-looking fried elephant fish! They've been staying at the Le Meridien Saigon for 16K Marriott points (complete with upgrade) but seem to be spending most of their time on local boats!
Day 4: Greg's third and fourth days sort of blend together because he decided to turn his middle-of-the-night layover in Doha into an scavenger of sorts with two primary goals: 1) to find authentic Qatari food and 2) to learn how to properly pronounce "Qatar". His first mission was much more successful than his second, thanks to culinary concierge Maisie Wilhelm, but he did make a boat-ful of local friends, so that counts for something.
But his day didn't end there! He and Maisie then flew on to Sofia Bulgaria where they checked into Marriott's Sense Hotel before checking out the local food scene.
Day 5: Greg and Maisie are the ones making my head spin now – seeing sites and sampling food in two different countries today: Sofia, Bulgaria and Istanbul. In Sofia, Maisie went to the local markets to make a uniquely Bulgarian picnic spread (including UNESCO bread that's naturally leavened) before they flew off to Istanbul in Turkish Airlines business class. Despite a length of an hour or so, even the flight came with a nice spread of food.
Day 7: Greg and Maisie set to work showing up Nick's Istanbul trip by following a local chef and food expert around town (via Edible Istanbul), tasting all his local favorites. They even did some fortune-telling with their Turkish coffees. Do we believe the all-wise coffee grounds when they guessed that Greg will win this competition? Hmmm.
Day 8: Greg and Maisie got an early start to their day so they could row along the Golden Horn in Istanbul in time to watch the sunrise. A great way to soak up Istanbul before taking off to their next destination: Stockholm! There they were treated to a caviar and vodka pairing from the owner of the hip/lux bar Punk Royale. The caviar came straight to them and they enjoyed their tasting right off the hood of the owner's car!  They ended the evening with a fantastic meal at Matbaren: the famous Swedish chef's casual dining restaurant.
Day 9: Greg and Maisie started their morning in Stockholm with a behind the scenes kitchen tour of Michelin starred restaurant Operakällaren then enjoyed an array if pastries at an iconic bakery. Next they flew off to Bergen where they rode a funicular and then sort of copied Stephen's 40K to Far Away troll-hunt before ending the day with an incredible dinner at Michelin starred restaurant Lysverket.
Day 10: Greg had a true "dream trip" moment today with an experience that's been on his bucket list for a long time. He and Maisie continued their water sub-theme, (with the first two themes obviously being food and luxury travel) by taking a fjord cruise in Norway. The scenery was mind-blowing and we're so happy that Greg got to use his 3 Cards, 3 Continents trip for some authentic dream-travel!
Day 11: While Nick walked to the airport and flew economy like a real budget traveler, Greg and Maisie lived it up in United Polaris Business Class. A lot of folks are making guesses as to exactly where he's headed since he still has one more continent to get to if he wants to meet the challenge's 3 continents criteria. Even if you think you may know where he's going…any ideas what he'll do there? (I'm betting it will relate to food, water, or luxury travel!)
Day 12 (Final Day!): Some may be surprised by Greg and Maisie's final stop (and final continent), but it fit their multiple themes quite nicely. A visit to Niagara Falls was a perfect closure to their water-activity theme and a visit to Pearl Morissette was an excellent add-on for their food theme. Pearl Morissette is a Niagara-region winery and restaurant which sources much of its menu from its own farm. A true farm-to-table experience and an excellent way to wrap up this food-themed trip!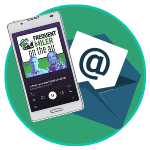 Want to learn more about miles and points?
Subscribe to email updates
 or check out 
our podcast
 on your favorite podcast platform.