A reader named Colin passed this one along to me. Until Feb 26, 2013, American Express is offering a $25 statement credit when you use a synced American Express card to spend $100 or more at Sony.com. The trick to getting free money and points is to go through an online portal to Sony, buy a physical gift card, and then sell the card via a reseller.
It's possible to do this once for each American Express card you own (see details near the end of this post). For each $100 card you buy, you can earn some cash back, plus 100 points from American Express (depends which card you use as to what kind of points you get), plus 400 Ultimate Rewards points or additional cash back. Below are the steps to follow. Make sure to read through them before deciding whether this is worth the effort for you.
Step 1: Sync your Amex card
Go to sync.americanexpress.com and register each of your American Express cards with one of these services (Facebook, FourSquare, or Twitter). In general, you can only sync one Amex card to each service, but you could have multiple Twitter, FourSquare, or Facebook accounts. For more details on syncing multiple cards, please see "Free Money 101" from Deals We Like.
No, you cannot sync American Express prepaid cards or Bluebird cards.
Step 2: Register each Amex card for the promotion
Depending on which social media site you synced with, there will be a different way to register your Amex card. Quoting from Deals We Like:
Twitter: You must "tweet" the promotion code, with the hash tag included (in this case the promo code is #AmexSonyOffer)
Foursquare: You must "check in" at the participating merchant (Sony).
Facebook: You must "like" the promotion in the "Link, Like, Love" app.
Alternatively, when you log into your American Express account, click on "My Offers" and see if the Sony deal is available. If so, you can register right there.
Step 3: Go through an online portal to the Sony store and buy a $100 gift card
At the time of this writing, one of the best points earning opportunity I know of is via the Ultimate Rewards Mall, which currently offers 4 points per dollar at Sony.
Despite Terms & Conditions that say "Not eligible on gift cards," I have found in the past that you will earn points through the Ultimate Rewards Mall as long as you buy a physical gift card. e-gift cards do not work.
Make sure to pay with your synced American Express card. Yes, you can get points when you pay with a non-Chase credit card, but there is a risk because you won't get much help from Chase if anything goes wrong.
An even better option is to take advantage of the current AAdvantage eShopping promotion in which you can earn up to 1000 bonus miles. Read details here: Up to 1,000 Bonus Miles for Joining American Airlines Shopping Mall. Even though the AAdvantage portal only offers 2 points per dollar right now for Sony, the promo miles more than make up for that.
Alternatively, if you prefer cash, you can go through TopCashBack for 6% cash back.
Even though TopCashBack explicitly lists cash back for gift card purchases, I still would not recommend ordering an e-gift card since prior experiments have shown that e-gift cards do not result in cash back or points.
Make sure to pay with your synced American Express card!
Step 4: Sell the gift card
GiftCardGranny is a good site to go to for finding the best ways to sell gift cards. At the time of this writing, here is what GiftCardGranny finds as options for selling Sony gift cards:
Note that there are a number of sites that will give you 75% or more of the value of the gift card. Since you will have received a $25 statement credit (25%) from American Express, this means that you should come out even or even make a small profit on the deal. If you sell to Plastic Jungle or Cardpool, go through TopCashBack first to earn a little bit extra.
For example, assuming the numbers above are correct, you can go through TopCashBack to PlasticJungle and sell your $100 gift card for $78. Through TopCashBack you will earn 2.5% of $78, which is $1.95. Your total profit then will be $78 + $1.95 – $75 = $4.95. This does not count the points or cash back you get from buying the gift card in step 3.
Rinse and repeat
All of the above can be done once for each American Express card you own as long as you are careful to sync and register each card with a different social network / account.
Add it up
Here is an example of what you can earn each time through (assuming the GiftCardGranny numbers are correct):
100 SPG points by paying with your Starwood American Express
400 Ultimate Rewards points by going through the Ultimate Rewards Mall
$4.95 profit
Clearly this isn't a big score. In fact, I'm not going to bother with it myself, but it could be a good way to dip your toe into gift card churning to get the hang of it.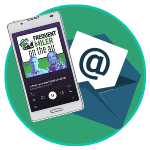 Want to learn more about miles and points?
Subscribe to email updates
 or check out 
our podcast
 on your favorite podcast platform.