Early this month, I introduced the idea of challenging myself (and anyone foolish enough to join me) to earn a million points in one month (see "A crazy million mile idea. Should I do it?" and "Million Mile Madness, it's on"). So, starting March 1, I'll do everything I can to earn as many points as I can while keeping within my ethical boundaries. As a reminder, I don't expect that a million points will have been credited to my account by March 31st: points often take quite a while to get credited. Instead, I'll track all of the points that I expect, and I'll declare victory if the expected total is over a million. Oh, and to keep things challenging, I will try to keep my net costs below $1,000.
Big Scores
In order to get to a million points in one month, I need to look for the big scores. Little deals for getting 100 points here or there won't cut it. Here are the three types of big scores I have in mind:
Credit Card Sign Up Bonuses
The best credit card sign-up bonuses range from 50,000 to 100,000 points. I'll sign up for as many as I can reasonably get approved for. Each credit card issuer has different rules about how many cards you can apply for, whether you can get a sign-up bonus for a card you've had before, and so on. Also, the best offers come and go all the time, so I won't know for sure until March 1 which cards I will try for. That said, based on the current set of best offers, I believe that I can easily earn over half a million points with sign-up bonuses alone.
I'll follow up soon with more details about my plans for sign up bonuses.
Double Dip, Buy & Sell
Some of my biggest scores in the past have been through shopping portal promotions. For example, last May, when Sears offered 15 points per dollar through the Southwest Airlines RapidRewards Shopping portal, I earned over 110,000 points by combining a "double dip" with strategic buying and selling. That is, I went through the portal to Sears to buy almost $4000 worth of gift cards. Then, I went through the portal again to use those gift cards to buy electronics. Finally, I shipped those electronics to Amazon so that they could sell them on my behalf through their "Fulfillment by Amazon" service. In the end, I lost a few hundred dollars due to selling costs, but I gained over 110,000 points and a Southwest Companion Pass good for almost two years!
I won't know for sure until March which shopping portal offers will be available, but I feel confident that there will be enough good ones to earn lots of points. My goal will be to diversify across merchants as much as possible to avoid putting too many eggs in one basket.
I'll follow up soon with details about experiments I intend to run in February so as to be prepared for the March challenge.
Mega Promotions
The third type of big score happens when an incredibly lucrative promotion appears. A great example happened last summer when Club Carlson offered 44,000 to 50,000 points for one stay at each of their brands. In that case, it was possible to rack up hundreds of thousands of points by finding cheap Club Carlson properties and checking in for one night each. Promotions as big as this are extremely rare, so I doubt I'll be lucky enough to see something like this in March, but I'll definitely be on the lookout!
Combining Tactics
One of the challenges of signing up for lots of credit cards is that most come with hefty spend requirements. For example, the current Chase Ink Plus offer requires $5K spend in 3 months. In my case, to meet the rules of the challenge, I will need to spend $5K in one month, and that's for just one credit card!
Similarly, in order to earn lots of points through the buy & sell approach, it is necessary to spend lots of money at first, even though most of the money will come back once the items are sold.
My approach will be to use my new credit cards to pay for "buy" side of the buy and sell approach. This way, I'll kill two birds with one stone. Here's an example of how it could work, using the Ink Plus as an example. Imagine that fictional merchant MerchantX allows double dipping and is offering 7X points through the Ultimate Rewards Mall in March:
Sign up for the Ink Plus and ask for rush delivery of the card
Use Ink Plus to buy Visa or Amex gift cards at an office supply store in order to earn 5X (Chase Ink cards earn 5 points per dollar at Office Supply stores)
Go through the Ultimate Rewards Mall to buy MerchantX gift cards in order to earn 7X. Pay with the Visa or Amex gift cards (note: some online merchants won't accept cards unless your full billing address is registered with the card, and some Visa gift cards don't allow that).
Go through the Ultimate Rewards Mall again to buy merchandise from MerchantX in order to earn another 7X. Pay with MerchantX gift cards.
Sell all merchandise for the best price I can get.
Through the above fictional example, I would earn 5X when buying the Visa/Amex gift cards, 7X when buying merchant gift cards, and 7X when buying merchandise for a total of 19X. If I spend all $5K of the Ink Plus' required spend in this way, I would earn $5K X 19 points per dollar = 95,000 points. Plus, I would have fulfilled the spend requirements for the 50,000 point signup bonus. So, in total, by combining techniques here, I would earn 145,000 points from one credit card! Of course, not all opportunities will be that lucrative. Some will be better, some worse.
I will have to be smart about which items I buy and sell. The goal, of course, will be to buy low and sell high, wherever possible. In order to keep my overall budget to less than $1000, I'll have to minimize losses on these deals. I'll keep costs down by maximizing use of coupons, discounted gift cards, sales, and price matches. To ensure successful re-sales, I'll look for items that are on Amazon best seller lists, and also research eBay completed listings to get an idea of what the items sell for.
Miscellaneous Stuff
While I expect that the bulk of my point earnings will come from the above tactics, I'll keep my eyes open for other opportunities as well such as dining programs, social media bonuses, etc. A great resource for finding these opportunities is the site "Free Frequent Flyer Miles."
What? No reload cards?
Frequent readers may be surprised that there was no mention above of Vanilla Reload cards, MyVanilla debit cards, Bluebird cards, etc. Theoretically, one could get a million points by using a Hilton Amex to buy reload cards at drug stores in order to get 6 points per dollar before converting the reload cards back into cash. That would require over $160,000 in initial spend. That's not going to happen. Even if I had the cash and the credit limits to afford it, and even if I could find 320 reload cards for this purpose, I wouldn't want to attract the instant attention of my credit card company's fraud department, as would certainly occur.
I may buy reload cards in moderation as part of this challenge, but that will be just to fill in the gaps here and there rather than a central part of my strategy.
Charity Donation
Because of the somewhat selfish nature of this challenge, I've pledged to donate at least $1000 to charity when I'm done. I'll put in $1000 automatically and if my net costs for this challenge come to less than $1000, I'll donate the difference as well. For example, if my net costs come to $850, I'll donate $1150 to a good cause.
Preparations
There are several things I need to do to prepare for this challenge. I need to setup a spreadsheet to use for tracking points and expenses. I need to review my current credit cards to see if I should cancel any before March. I need to avoid anything that would hurt my credit score between now and March 1. I need to test double dip scenarios so that I'll be ready in March with knowledge about what will work and what won't. And, I need to save up some extra cash. The buy/sell approach I discussed above may require floating a lot of money past the due date of my credit card statements. In that case, I intend to have enough money on hand to pay the balances in full (as I always do) regardless of whether all of my items have yet sold.
Thoughts?
So, above is my general strategy for attacking the challenge. What do you think? Will it work? What should I do differently? If you're planning to join in the challenge, what will you do differently?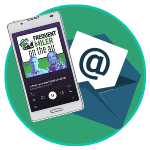 Want to learn more about miles and points?
Subscribe to email updates
 or check out 
our podcast
 on your favorite podcast platform.