Update 8/23/22: There's now a third promo code that works to take 5% off virtual Visa gift cards from Giftcards.com – SUMMERVISA.
Update 8/15/22: Reader jeph36 pointed out this morning that the code ENDOFSUMMER now shows up on portals. Unfortunately, the American Airlines shopping portal bonus ended last night. For what it's worth on future promos, I decided to take my chances last night and place the order through AAdvantage eShopping using code ENDOFSUMMER while the portal promo was still in effect and the order successfully tracked. It's also worth noting that you can now get 3% or 3x back via Rakuten.
GiftCards.com is offering 5% off on virtual Visa Gift Cards with coupon code EOS5, ENDOFSUMMER or SUMMERVISA. That should stack with a Citi Merchant offer for 1.5% cash back and probably either 6% cash back via the Capital One Shopping app (free for anyone to use) or 3x American Airlines miles and the current AA shopping portal bonus to come out nicely ahead of the game. That said, it may be worth waiting a day or two to make sure that the portals eventually list the coupon codes in order to remove any doubt as to whether the code is eligible for portal rewards.
Update: Several readers in the comments note that the Citi Merchant Offer for 1.5% back did not post for them.
The Deal
GiftCards.com is offering 5% off on virtual Visa Gift Cards (up to $75 off) with the following coupon codes:

EOS5
ENDOFSUMMER
SUMMERVISA

These deals should stack with 1.5% back via Citi Merchant Offer for those targeted and may also stack with shopping portal rewards.
Key Terms
Maximum discount is $75 (max purchase is therefore six $250 cards)
Keep in mind that most portals limit you to earning rewards on up to $2K in purchases per month.
Quick Thoughts
GiftCards.com sells virtual Visa Gift Cards in denominations up to $250 for an activation fee of $5.95. The coupon codes are good for up to $75 off. That will bring the total cost for $1500 in Virtual Visa Gift Cards down to $1460.70.
That puts you almost forty bucks ahead of the game before considering any stacking opportunities.
If you have the Citi Merchant offer for 1.5% back, that should be another $21.91 cash back. You should be able to sync that offer up to your Citi card and then click through the Capital One Shopping app and get 6% "cash" back (keep in mind that cash back rewards earned through Capital One Shopping are only redeemable for gift cards) to get $87.64 back in gift cards. If that all stacks, you're essentially almost $150 ahead before considering whatever rewards you earn with your credit card.
You could alternatively go through American Airlines AAdvantage eShopping for 3 miles per dollar. There is currently (at the time of writing) a portal bonus good for 2,000 bonus miles when you spend $600. That would increase your total mileage payout to more than 6,400 miles. Keep in mind that only the base miles (3x) will count as Loyalty Points for the purposes of earning elite status, not the 2,000 bonus miles.
There are a couple of additional points to consider:
Shopping portal terms typically dictate that using a coupon code not found on the portal will invalidate cash back. In the past, when GiftCards.com has run these discount codes, we have seen a code hit the portals a day or two after the sale launches. Sometimes the code is the same and sometimes it is different. I'm not sure whether orders made before the code is added have typically paid out. Personally, despite the great potential deal here, I'll probably wait a day or two to place an order (which is risking that the deal is dead, so you may prefer to buy now). That said, I heard that ENDOFSUMMER may be the better bet to come out on portals.
Capital One Shopping is free and open to anyone (no Capital One credit card is required). However, they only offer 6% back in the app, not on the desktop version of the Capital One Shopping app (the desktop version only offers 3%). If you have a Capital One credit card, you can alternatively log in to your Capital One account and on your card account page, there is a link to shopping offers and I see 6% back at GiftCards.com in that offers section on desktop (though I think you will need to pay with a Capital One card if you go that route). It's easier to just get the app on your phone and use whatever credit card you want.
GiftCards.com typically only pays out portal rewards on up to $2,000 in purchases per month.
Again, I'll probably wait a day or two to place an order, but I'll definitely do this deal if the codes show up on portals. In my case, I may do it for American Airlines miles because I'm just short of a useful level of status, but otherwise I'd probably go with Capital One Shopping for 6% back.
H/T: Miles to Memories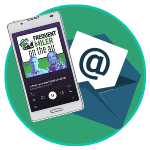 Want to learn more about miles and points?
Subscribe to email updates
 or check out 
our podcast
 on your favorite podcast platform.