A couple of weekends ago, Carrie wrote a post full of tips to pack for a round the world adventure. In it, she said that no matter what one packs, "it will feel like too much and too little at different points throughout the trip". That sounds about right, but her post played right into my biggest anxiety for our 3 Cards 3 Continents trip: packing for a trip that includes a variety of climates and activities as compactly as possible. That anxiety is only building as the trip gets closer and I thought that perhaps my best method of taming that anxiety would be writing out my plan. Here's what I plan to bring — until readers convince me otherwise :-).
My Wallet
Perhaps the easiest part of the trip to pack will be my wallet. As a reminder, the three cards I chose for this challenge are:
Card Info Name and Link Only (no offer)
Card Info Name and Link Only (no offer)
Card Info Name and Link Only (no offer)
In reality, I won't bring a Barclays Aviator Business card with me since there would be no reason to need it during the trip. I wouldn't use the card on anything, nor would having it provide me with any perks or travel coverages pertinent to my trip.
However, I certainly will carry my Capital One Venture card and Amex Platinum card.
I'll want the Venture card for potential lounge access: the card covers two lounge visits per year to Plaza Premium lounges or Capital One lounges. There are some nice Plaza Premium lounge options around the world, so I'll plan to make good use of those visits.
I'll want the Amex Platinum card for its Priority Pass membership, which will get my into an even wider selection of lounges, as well as the possibility of Centurion Lounge access (and this card can also get me into Plaza Premium lounges). Furthermore, since I booked a prepaid Amex Fine Hotels & Resorts booking with the card, I'll bring my Amex Platinum just in case they want to see the card I used for booking. Finally, if I buy any expensive souvenirs, this will be a good card to have for purchase protections.
I will also carry other cards in my wallet just because I rarely leave home with such a thin wallet. For instance, I'll still carry my Amex Gold card for 4x at restaurants (and my US Bank Altitude Go for an effective 4% back where Amex is not accepted), and I'm sure I'll still carry my Chase Ritz-Carlton card because you never know when you'll need a bottle opener.
View this post on Instagram
I'll also need a debit card. I have not been suckered into upgrading my SoFi Money account, so I am still grandfathered in to the account that offers free ATM fee reimbursements worldwide. I'll therefore bring my SoFi Money card so I have easy access to cash.
However, overall, my wallet is the least of my concerns.
Electronics
Note that product links to Amazon within this post are our affiliate links.
Electronics are where I expect my first difficulty to lie. I generally don't leave home without an extensive array of electronics and charging implements.
Here are the electronics I intend to bring:
Electronics I would kind of like to have but probably won't bring include a gimbal to stabilize video with my phone (it's just too bulky) and a smart watch (Samsung seems to have killed off Samsung Pay in my Gear S3, so the main reason to bring it would be to track steps, but I don't know if I care enough to have to also remember to charge my watch every night). The Bluetooth connectivity of a smart watch would also drain my phone battery. Instead, I'll probably lean toward a more traditional watch, though I'll need to decide between one that can hold up to different types of activities (like swimming / hiking) or one that is easy to reset at each destination (a manual watch). I'll decide which at some point later.
Clothes
After electronics, my biggest dilemma has been clothing. I'll need to be able to handle multiple climates and more than a week of travel without taking up too much space in my bag. Here's what I plan to bring:
Merino wool shirts (2). After reading others talk about Merino wool for years, I finally decided to take the plunge and try it out. I placed an order with Wool&Prince intending to test the waters on re-wearing a Merino wool shirt for a few days. Last week, I wore the same shirt four days in a row, even wearing it to the park in 90º weather to run around after my kids. Yes, the shirt showed plenty of sweat — but as predicted by those readers who followed the Instagram story, it was dry within about an hour each time. More importantly (and amazingly), it didn't smell bad. After four days, it had picked up enough of my deodorant smell that I decided to wash it, but I think I could have gotten away with a fifth day (and probably even more if I followed their advice about wetting down the pits with warm water at night and letting it air dry). I bought a Henley and a Polo shirt. I intend to participate in the 100 Day Challenge to get another free shirt down the line (though note that you can wash your shirt during the challenge).
Merino Wool Underwear / socks. The shirts made a believer out of me, so I think I'm going to bring some more Merino wool products to round out my collection. I see that Saks carries Bombas Merino wool blend socks, so that may be where the latest personal Platinum $50 credit gets spent this time around.
Fishing pants. I own a pair of L.L. Bean fishing pants that are perfect for travel (these look like the more modern equivalent of my decade-old-plus pants). I love fishing pants for travel because they feature pant legs that zip off — which means that one pair can be both pants and shorts. More than once before, I've walked around in a sweltering climate in my shorts all day and then zipped on the pant legs to visit a site like a church or temple. Furthermore, fishing pants are designed to dry quickly (important if I need to wash in a hotel room) and they have a lot of pockets (useful for a lot of reasons).
Golfing shorts. I hate golf, but I love golf shorts. Typically made of a quick-drying material that is comfortable and lightweight, these fit for this type of trip and packing. I bought a few pairs like this one from Coscto during a big sale sometime last year.
Swimsuit. I'll definitely spend some time in the water during my trip, so a pair of trunks isn't optional.
Uniqlo Ultra Light Down jacket. I have owned one of these very lightweight yet very warm Uniqlo jackets for for years (this jacket is the closest option to the one I have, though it's a bit different as mine has a hood). I used to sometimes DJ outside at a ski resort wearing this jacket, so I am confident that it can handle the low temperature end of my trip. The nice thing is that mine packs up into a little carry-bag that won't take up a ton of room in my backpack or it could even be tied to the outside.
Sneakers. This is a total sacrifice. I'd like to have sandals for the beach and also have shoes with padding and/or traction for hiking, I just don't have the extra space, so sneakers is the "compromise".
Fedora. You already knew this, didn't ya?
I feel like the above isn't quite enough for a trip of somewhere between 1 week and 2 weeks, but I'm not sure how much more I can fit. If I end up having the space, I'll probably work in a moisture-wicking t-shirt and/or a long-sleeved t-shirt to give me an option to wear if  I get cold. Thankfully, I have a stop planned where laundry should be an option, time-permitting, so I'm counting on only needing to get through half my trip with what I've got.
Bags
Everything above has to go somewhere, so how am I going to carry it?
Tumi backpack. Greg and I have talked on the show about how our favorite travel accessory is our Tumi backpack (mine is pictured at the top of this post). With strong zippers and really convenient pocket design, I have come to absolutely love mine. Greg mentioned how this bag is designed to sit upright without falling over and how there is the perfect compartment for chargers or snacks or your laptop, etc and all of that is spot on. This one on Amazon is the closest one available new today to the one that I have, though I bought mine for $100 used on Craigslist about 5 years ago and it is still going strong.
T-Mobile Tuesdays drawstring bag. One question I had was what to do with laundry and/or items that are still wet when it is time to leave a place. As if they heard me talking to myself, T-Mobile offered a free draw-string bag for T-Mobile customers last week on T-Mobile Tuesday. The bag they offered was simple, with a single drawstring pouch and one zippered compartment on the front, but that should be enough for my needs. I can pack this bag inside my backpack and get some separation if I have odors that I want to separate from my clean clothes. It may even come in handy as a daypack / beach bag. All that said, Carrie made the point that your laundry bag should be porous enough to not trap the odors too well. Is a drawstring bag a mistake? Hmmm….
Bottom line
I know that Carrie is right and that I'll inevitably regret not bringing something or wish I hadn't brought one of the items above. Help me try to avoid mistakes: what is missing from my packing list that should be there or what do I have that you'd leave home? Let me know in the comments.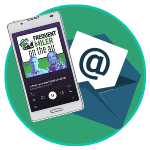 Want to learn more about miles and points?
Subscribe to email updates
 or check out 
our podcast
 on your favorite podcast platform.