If you're saving for – or currently paying for – your child(ren)'s college education, Gift of College gift cards can be a great way to do that. There's now a new source for these gift cards – Fluz.
Greg first started writing about using Gift of College gift cards back in 2016 as a way to indirectly pay for student loans and 529 savings plans using credit cards. You can find all the posts we've written about them since then here, but here's a smattering of the highlights:
We've also covered some of the recent new sources of Gift of College gift cards which includes Cumberland Farms gas stations and Kroger's online gift card portal. This new option to buy the gift cards from Fluz is an interesting development with several things to note.
Payment Methods
The first is that unlike most other gift card brands sold by Fluz, you can't buy Gift of College gift cards with a credit card directly. You might therefore be wondering why we're writing about this, but bear with me. The three ways that you can buy the cards through Fluz are:
Cash Balance – earn 1.5% cashback
ACH/Checking – earn 1.5% cashback
Debit Card – earn 0.5% cashback
While the debit card option earns you 1% less cashback, if you have a debit card that itself earns cashback (e.g. the PayPal Business Debit Mastercard), you could earn a total of 1.5% cashback or more.
If you have access to Fluz's Power Portal, you can prefund your account and then redeem that Cash Balance to earn the 1.5% cashback rate which could be worth it for some.
No Purchase Fees
One of the key differences with the Gift of College gift cards sold by Fluz is that there are no purchase fees. When bought through other retailers, there's usually a $5.95 purchase fee. That's not terrible if you're able to buy $500 cards and pay with a card that's earning a category bonus at that retailer, but that fee appears to be waived with Fluz.
Denominations
Different retailers sell different maximum denominations of Gift of College gift cards. Walmart.com limits you to $100 per card, other retailers have a limit of $200, while others let you load up to $500.
With Fluz you're capped at buying $200 at a time. However, seeing as there are no purchase fees that's not really an issue other than that it adds a little extra hassle if redeeming thousands of dollars worth of cards in $200 denominations.
The minimum purchase when buying through Fluz is $25, but you can buy any amount from $25-$200 including random amounts like $147.92 if you wanted/needed to do that for some reason.
Quick Thoughts
Some people will prefer buying Gift of College gift cards from a gas station and paying with a Wyndham Rewards Earner Business credit card. Although that will incur an effective 1.19% fee on $500 denominations, that can be worth it seeing as that card earns 8x points per dollar at gas stations.
For others though, this new Fluz option will have some appeal seeing as there's no purchase fee and you can earn up to 1.5% cashback directly through the app or potentially more overall depending on how rewarding your debit card is or if you have access to the Power Portal.
If You're New To Fluz
If you're new to Fluz, new users also get three vouchers that can be used to save up to 35% on 17 different gift card brands including Chipotle, Uber Eats, Starbucks, CVS, Netflix and more. Each voucher offers a maximum cashback of $3.50, so it means signing up for the app can save you up to $10.50 on gift cards for services, stores or restaurants you'd might be spending money at anyway. If you're new to Fluz, here are our referral links. As mentioned above, you'll received 3 vouchers when joining, while we'll earn $5 after you make your first purchase.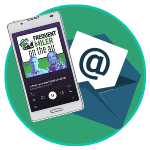 Want to learn more about miles and points?
Subscribe to email updates
 or check out 
our podcast
 on your favorite podcast platform.