I write a lot about gift cards. I've written about how use gift cards to save money at Amazon.com, Kohl's, and just about everywhere. I've also written many posts about how to leverage gift cards to earn points and miles. For just a few examples, see "Gift Card Churning," "5X everywhere!," and "Almost too good to be true"
All of these posts don't change the fact that dealing with gift cards can be a pain in the you know what. Carrying a big stack of cards is no fun. Trying to remember how much money is left on each card is worse. Then, between e-gift cards and physical gift cards, the chance of simply losing or forgetting about your money increases as you get more cards.
Luckily, GoWallet is there to help. [I realize that sounds a lot like a commercial — that wasn't my intent. I'm not being paid in any way for this review].
Ever since a reader named Anne told me about GoWallet, I've been using it to keep track of my gift cards. GoWallet can be accessed on the web or on your smart phone (I use it on my iPhone). It's a simple matter to type in each gift card's number and PIN, and from then on, use GoWallet to find that information. Your card numbers are protected both by a login password and a PIN code for extra security.
Registering Cards
When you get bank gift cards (Visa, Mastercard, Amex), it's a good idea to register your name and address. Often, online purchases are not possible unless your card is registered. One nice feature of GoWallet is that for some Visa gift cards, you can register your name and address directly within GoWallet. This feature worked for me with $200 Visa cards I bought at OfficeMax, but did not work with the $500 gift cards I bought at Office Depot.
Tracking Card Balances
When this works, it is a killer feature. If you're about to use a gift card, simply open GoWallet and click the Update Balance button. Soon, you'll see exactly how much money is left on your card. This feature has worked successfully for me with $200 Visa gift cards purchased at OfficeMax, $100 Visa gift cards purchased online at Staples.com, and with Kohl's gift cards. The feature has not worked with $500 gift cards purchased at Office Depot, or with Walgreens or Sears gift cards.
Pain Reliever / Life Saver
Since I've started using GoWallet, I've found that gift cards are still a pain in the ass, but less so than before. I like that when I think a card is empty, I can use GoWallet to double check before tossing the card in the trash. One time I apparently forgot to do this because GoWallet showed a small balance for a card that I had already discarded. I would never have known without GoWallet! Thankfully, I was able to use the card number stored in GoWallet to buy myself an Amazon gift card with the exact remaining balance.
Now that I'm used to GoWallet, I can't imagine trying to deal with gift cards without an app like this one. My only frustration is that many merchant gift cards and bank gift cards do not work with GoWallet's balance checking feature. In those cases, GoWallet is still useful, but much less so.
Competitors?
If you use or know about competing products, please let me know. I'd love to do some comparisons to see which is best.

Stay informed:
Follow me on Twitter / Like me on Facebook / Join the Club
If you're new to Frequent Miler, please start here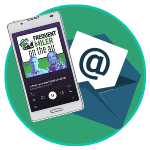 Want to learn more about miles and points?
Subscribe to email updates
 or check out 
our podcast
 on your favorite podcast platform.