We are outa here!  This morning, I'm on my way to Washington Dulles Airport to meet up with Nick so that we can begin our great GUC adventure.  As a reminder, "GUC" stands for "Global Upgrade Certificate."  I previously offered to share my Delta Global Upgrade certificates with Nick, but with a catch: He had to plan the whole trip and take me along.  Plus, we made it into a game: his goal is to earn as many Frequent Miler Bonus Points as possible.  If you missed the introductory post on this topic, please see: Passing the GUC – Greg gives global upgrades to Nick… with a catch.
What's new with our trip?
As described later in this post, the best way to keep up to date is to watch our stories on Instagram, but you can also check out our daily blog-post update by clicking here.
First stop… Dubai
If all goes well, we'll be flying Air France Business Class from Washington Dulles to Dubai, with a layover in Paris.  That's almost 15 hours of total flying time in business class just for our outbound flights.  We will return on a different airline.
To get to Dubai, we booked cheap round-trip economy tickets ($608.75) and used two GUCs per person to upgrade all the way (one GUC for the outbound segments and one for the return segments).  Nick will soon post full details about how we booked the trip and how we secured upgrades to business class.
Next stop… Surprise!
We plan to spend a few days in Dubai before going off to a different surprise destination.  Details about what we'll do, where we'll go, and how we'll return home will be revealed as we go along.
As we go, Nick will be doing everything he can to earn Frequent Miler Bonus Points.  See details about this later in this post.
So far, I only know about the major destinations.  Everything else will be a surprise to me too!  Nick is a ferocious competitor and so I'm sure he's been working like mad to ensure earning as many bonus points as possible.  I'm both excited and a little nervous to see what he has cooked up!
COVID Info
Even though Nick and I have each long since been fully vaccinated, COVID-19 remains an issue in many ways.  Many places around the world don't allow visitors from the U.S. or require quarantine.  Fortunately our primary destinations are OK in that regard, but they do require testing in advance.  Nick and I separately went for testing on Saturday so that we'd have results in time for our Monday flights.  We couldn't do the tests earlier because most destinations require testing to be done 72 hours prior to the flights.
Nick got his test results back on Saturday afternoon.  Fortunately, he tested negative.  In my case, the test result didn't come in on Saturday.  On Sunday, the hours ticked by with no test results.  I started to worry that the results wouldn't come in on time at all.  I started considering alternate plans for Monday's travel.  I could take a later flight to Washington Dulles in order to get a rapid PCR test on Monday morning.  Yeah, that could work…  But, finally, at 7pm on Sunday, my test results came back.  Negative!
During our trip we'll have to get tested a couple more times (we'll report on this as we go).  Vaccines are great, but breakthrough infections do happen.  If it happens to either of us, that's going to be bad.  Even if we don't have symptoms, we'll be stuck in quarantine somewhere and our travel plans will be shot.  I really hope that doesn't happen.  I plan to wear N95 masks while traveling and hope to spend as much time outdoors as possible when at our destinations.
How to follow along
The best way to virtually tag along on our trip is to follow us on Instagram.  We will post stories as we go.  You'll see when things go well and when things go wrong (especially then!).
Another way to follow along is via YouTube.  We'll regularly post video updates there.  If you haven't already subscribed to our YouTube channel, please click here to subscribe now!
We also plan to post an update to this blog every afternoon.  Please visit our Subscribe page to see all the ways to follow us at Frequent Miler: frequentmiler.com/subscribe.
Why are we doing this?
This adventure will (hopefully) be a lot of fun, but more importantly we hope to learn a lot along the way that will help others get great value from their travel.  I promise you that the lessons learned won't be exclusively about Delta GUCs.  I added a bunch of challenges (Frequent Miler Bonus Point opportunities) to this trip for Nick so that he would be motivated to push the envelope in many ways that will (hopefully) lead to widely useful information.  Hopefully we will learn how to get great value from points for activities and lodging, new ways to upgrade hotel stays, and more.  At a minimum, we should be able to publish Bottom Line Reviews of our flights, lounges, and hotels.
Can Nick earn 200,000 Bonus Points?
In the initial Passing the GUC post, I listed a bunch of bonus point opportunities for Nick, but I didn't say how I'd score those things, how many points he could earn, or what his goal should be.  Let's do that now…
For Nick to "win" I'm declaring that he needs to earn at least 200,000 bonus points.  Different bonus opportunities have different target values such as 10K points for flying in a business class suite.  I reserve the right, though, to assign Nick fewer or more points as the situation warrants.  He could earn fewer points if the experience is worse than expected (e.g. we fly in a suite, but the seat is broken) or he can earn more points if the experience is better than expected.  Another reason I may assign more points is if I think that the experience provided useful information for our readers/followers.
Here's a list of bonus point opportunities and the target earning rate for each:
Bonus Point Opportunity
Target
Notes
Travel safely & don't get cancelled
50K
This is by far the most important point opportunity and so it commands the most potential points.  Many points will be subtracted if we get stuck in quarantine anywhere.
Travel Far
(Circle the world)
30K
If we manage to cross both the Atlantic and Pacific ocean on this trip, Nick can earn mega bonus points!  If we don't circle the world, points will be awarded proportionally up to 30K.
Airline elite status for Nick
20K
Can Nick earn meaningful airline elite status from one trip?
Free stopover perks
20K
In the post "The best stopover deals worldwide" I detailed many different free tours, hotel stays, and more that are available via stopovers.  Nick can earn up to 20K points for each stopover perk!
Destination points
20K
Nick can earn points for leading us to destinations I've never previously visited, or which are very far away, or are in some other way very interesting to me or to our audience.
Business class suite
10K
Nick can earn 10K points for each significant leg of the trip where the GUCs are used to move us into a business class suite.
Fly something new
10K
Each time we use a GUC to fly a business class product that Greg has never tried before, Nick will earn around 10K points.
KLM Delft Blue houses
10K
Nick will earn up to 10K points if we collect KLM Delft Blue houses on the trip. KLM presents every World Business Class passenger with a gift: a Delft Blue miniature traditional Dutch house, filled with Dutch gin, also known as genever.
Airport lounge experiences
10K
Each time we visit a highly regarded airport lounge that Greg hasn't previously visited, Nick can earn 10K points.
Outsized hotel point value
10K
Nick can earn around 10K points for each hotel stay where we get far outsized value for our points, free night certs, or other rewards.
Outsized activity point value
10K
Nick can earn around 10K points for each activity where we get outsized value using points.
A GUC for a duck
5K
Up to 5K bonus points each time we collect a rubber duckie (from a hotel stay perhaps?) or for any significant interaction with ducks.
Spirit swag
5K
Up to 5K points if Nick finds a way to make good use of swag that Spirit sent each of us when they launched their new rewards program (see swag video here).
Luxury bonuses
5K
This is a limitless opportunity for Nick to earn bonus points.  Each time we experience noteworthy luxury, in a way not assigned points above, I'll award Nick 5K points.
Catch all
5K
In case I missed anything in the above list, I reserve the right to give bonus points for anything I deem worthy!
Questions? Suggestions?
If you have questions or suggestions for our trip, or ideas for how we can best keep readers involved, please comment below!
Stay Tuned for More!
As mentioned earlier in this post, we will be publishing stories on Instagram as we go (make sure to follow us!).  Plus, we will publish updates to the blog every afternoon beginning Tuesday September 4th.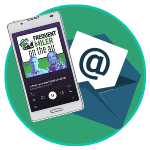 Want to learn more about miles and points?
Subscribe to email updates
 or check out 
our podcast
 on your favorite podcast platform.