Nothing says "welcome home" like the tiny dutch houses they give out on KLM business class flights. With these houses earning Nick 15K points and KLM itself earning him 20K points, Nick's blown the roof off this Passing the GUC challenge, wrapping it up with a whopping 265K points! (Not sure what "Passing the GUC" is? Read this introduction post, or this wrap up post.)
What's a GUC?
GUCs are Global Upgrade Certificates available only to Delta Diamond elites.  Earlier this year, Greg had offered to share his GUCs with Nick, but with a catch: Nick had to plan the whole trip.  Please see the original post on this topic, here: Passing the GUC: Greg gives global upgrades to Nick… with a catch.
Latest news from Greg & Nick's GUC adventure
Even with nothing left but transit for the Passing the GUC trip, KLM Business Class helped Nick blow the roof off of his 200K point goal. First, the KLM 787 Business Class product impressed Greg with its cute little delft porcelain house amenities.
Then, the KLM Crown Lounge even further impressed Greg, who called the lounge a "work of art". Nice job, Nick! You finally won a Frequent Miler challenge! (We'll ignore the fact that you had no competitors this time.)
Nick's Score Card
Greg's been too busy enjoying the benefits of Nick's labor to assign any bonus points. We think this means Nick will score quite a few!
+5K points for putting Spirit swag to use!
+5K points for Air France Business Class with lie flat seats…(which Greg had flown before, but liked).
+10K points for the Air France Lounge experience, including hot showers, complimentary facial, and a (kids-only) gaming room
+5K points luxury bonus for the Grand Hyatt Dubai Prince Suite
+10K points for 2 Hyatt ducks!
+10K points for the outsized hotel point value bonus (Grand Hyatt Dubai)
+10K for the hot air balloon for the Fly something new bonus
+10K for a camel ride and hot air balloon ride winning the Outsized activity point bonus
+10K Good Value Booking Activity (for F1 Racing)
+10K Great Value booking hotel (Four Seasons + Brunch)
+5K Random bonus for Dubai food tour
+5K Luxury bonus for Emirates 1st class lounge (back massage)
+20K Destination bonus for UAE
+20K Destination bonus for Maldives
+20K Outsized hotel point value bonus (for the Le Meridien Maldives)
+20K Luxury bonus for the Le Meridien Maldives
-10K for champagne debacle
-20K for lame layover planning
+10K for flying something new (KLM Business Class)
10k Dutch House
10k KLM Crown Lounge
10k Luxury Bonus for the KLM Business Class experience
45k for safe travel throughout
20k "Travel Far" bonus
15k elite status (for Nick scoring Delta Gold elite status through January 2023)
5k Second Dutch House
Final Score: 265,000/200,000!!!!
How to follow along
The best way to virtually tag along on Greg & Nick's GUC trip is to follow us on Instagram.  Much to my millennial heart's delight, Greg and Nick have worked hard to learn how to "Instagram", and I think they're crushing it. (Translation for you Boomers…"crushing it" is a good thing.)  By following along there, you'll see when things go well and when things go wrong (especially then!), and you'll see it as it's happening.
Another way to follow along is via YouTube.  We'll regularly post video updates in a Passing the GUC playlist here.  If you haven't already subscribed to our YouTube channel, please click here to subscribe now!
We also plan to update this post every afternoon.  Please visit our Subscribe page to see all the ways to follow us at Frequent Miler: frequentmiler.com/subscribe.
Previous GUC Adventure Updates
Tuesday, September 14th: Literally he's in the air, but figuratively, Nick's in the dog house…
Nick has been non-stop winning – we forgot he didn't already have this in the bag. While Emirates First Class was a promising start to the homeward journey, Greg was not impressed with needing to wait around for a bottle of champagne Nick had gotten confiscated when they first left Dubai, nor was he impressed with the idea of sitting on the curb outside of the airport all day. With the check-in counter not yet open for accessing a lounge during their long layover, it was looking to be a real bummer of a travel day.
But luckily Nick is traveling with a real pro and Greg swooped in to save the day using a Marriott, Stay 1 Get 1 deal to get a room at the Le Méridien Dubai Hotel for their layover hours. He even got enough points for another Maldives night in the future, and an upgrade. Don't worry Nick. Maybe someday you'll be a real pro like Greg.
Monday, September 13th: The sun sets on Greg and Nick's Maldives weekend
Greg and Nick have reached their final day in paradise at the Le Méridien Maldives and they're soaking up as many of the amenities as they can, snorkeling with sting rays and dining at sunset. But they didn't want all of us to feel excluded, so they started their final day by hosting an "Instagram Live", right from the patio of Nick's overwater sunset villa.
Sunday, September 12th: Snorkeling in the Maldives has Greg and Nick (literally) swept away…
Greg and Nick are creating an enviable routine in the Maldives, watching stingrays out their front doors and snorkeling to their heart's content.
They made a few rookie mistakes, however. First, they let the current take them out a bit further than intended so they had to expel energy while on vacation, (no one likes doing that), to return to the shore. Secondly, and we can hardly fault them for this, they forgot to bring a room key. (When snorkeling is as easy as stepping out the back door, it's easy to forget your key.)
Saturday, September 11th: Nick is leveling up at the Le Méridien Maldives Resort & Spa
Living the high life is exhausting, so Nick secured a massage in the Emirates First Class Lounge for Greg while they awaited their first class flight to the Maldives. (Careful Nick – he's going to start getting used to this.)
Once checked into their overwater bungalows at the Le Méridien Maldives Resort & Spa, Greg and Nick snorkeled with the sting rays…(and perhaps even the grouper which ended up on Greg's plate that night at the restaurant "Turquoise").
Friday, September 10th: This Friday, "F" is for "Food"
When you're staying at a fancy hotel like the Four Seasons Abu Dhabi and your room includes breakfast…you might as well go twice. That's what Greg thought anyway, taking in a pre-brunch breakfast before meeting Nick at 1 for the famous Four seasons Friday Brunch. (Are you allowed to call it brunch if you already had breakfast?) With french toast, steak, fried chicken and pancakes, and mac and cheese, it's a wonder these two still had room for a local evening food tour. But then again, who can turn down a camel burger?
Thursday, September 9th: Frequent Miler finds new ways to frequent those miles
Despite being scared of heights, Nick faced his fears and knocked his travel companion's socks off with a hot air balloon ride over the desert for sunrise. This had Greg questioning his bias of deserts as "a bunch of dirt" and he was thoroughly impressed. Next, Nick's adventure package introduced yet another mode of transportation – a camel. Together, the experience earned Nick the "outsized activity point value" bonus of 10K points.
But wait…there's more! Nick had a third mode of transportation waiting for them in Abu Dhabi… but first they had to get in. Currently, getting into Abu Dhabi requires an app called "Alhosn" which verifies your vaccination, and Nick's app wasn't updating his status properly. (All the best adventures include some sort of border-crossing purgatory, right?) Luckily this one turned out to be a fairly minor inconvenience and soon Nick and Greg were racing around a Formula 1 racetrack at the YAS Formula 3000 Driving Experience.
(Any more modes of transportation, and I would've had to write this segment as a Dr. Seuss poem!)
Wednesday, September 8th: Dubai Mall has Nick on Thin Ice!
Even business class travel is exhausting, especially when you film a podcast from the Air, so Greg and Nick decided to take the day easy. The Grand Hyatt Dubai Prince Suite was the perfect place to get some rest before an…underwhelming day at the Dubai Mall. Nick argues that an over-the-top mall with an indoor waterfall and skating rink is a quintessential "Dubai" experience, but at the end of the day, Greg hates malls. Nick's lucky he didn't lose any points over this.
Tuesday, September 7th: Greg gets a facial and Nick gets a pat on the back…
The Passing the GUC trip had a smooth start for Greg and Nick with negative pre-travel COVID tests and, aside from a slight delay for Greg, uneventful trips to Dulles where the real fun began. In the C Concourse of Dulles' Airport, Nick used his Priority Pass credit to treat Greg to a free lunch at Chef Geoff's, but the gesture fell a little flat, garnering a reaction that was more or less "damning with faint praise", as one commenter put it.
Don't give up on Nick yet, though. He redeemed himself with the Air France Lounge which impressed Greg with such amenities as a hot shower, a complimentary facial, and a (kids-only) gaming room. (If Greg is impressed by even amenities he's too "elderly" to participate in, Nick may have an easier task on his hands than we thought.)

Monday, September 6th: The Trip Begins
Greg announced the start of the trip!  Greg and Nick were scheduled to meet up at Washington Dulles airport to get things rolling…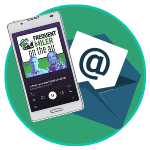 Want to learn more about miles and points?
Subscribe to email updates
 or check out 
our podcast
 on your favorite podcast platform.