Advance Auto currently has several good coupons, including ones for either $30 off of $80 or $40 off of $100. These can be stacked with a widely available Amex Offer to produce savings of up to half off on things like car batteries, windshield wipers, break pads, and many other common auto care necessities at Advance Auto.
The Deal
The Amex Offer is for $10 back on $50 or more and is widely available on personal cards:
Use code TRT41 for $40 off of $100 (must sign up for free SpeedPerks loyalty account)
Use code 
Use coupon code "" for 20% Off Sitewide
Use coupon code "" for 30% Off orders $50+
Use coupon code "" for 15% Off orders $30+
Cash Back
Several portals have 3-5% cash back at Advance Auto, but be aware that using a coupon that is not found on your chosen portal may negate your payout. Many portals have the same or similar coupons, so check before purchasing:
Example Savings
I need a new battery for one of our vehicles.  First, I put in my year and model at both Amazon and Autozone to comparison shop. The following were the cheapest three exact fits according to Amazon:
And Autozone only had one exact fit:
Advance Auto had several that would fit. I went with this one:
You'll see that code TRT41 took off $40. Note that you must sign up for SpeedPerks to use the $40 off of $100 coupon. It just requires a name, email address, and password I believe (I was already signed up). The final price above only seems to reflect a $30 discount, but that's because of the mandatory core charge in my state — when I bring back the old core, I'll get that $10 deposit back. So my final price will be:
$107.99: Original price
 -$40.00: Coupon code TRT41
$67.99: After coupon price
  -10.00: Amex Offer for $10 back on $50
 $57.99: Final price
Assuming 4% cash back on $67.99, my final net out of pocket would be $55.27, We can surely debate the quality of the Advance Auto battery and its 90-day replacement warranty versus one of the many brand names on the market — but at the end of the day, I could buy two or nearly three of these for the next best price I saw on Amazon and Autozone. Of course, this is just an example. There are many other products on which this would work.
Note that there are some exclusions (see the image below), the most limiting of which is that it will not work for items "on sale". I don't know why the exclusions state a $50 maximum value for a $40 off of $100 coupon. Best of luck finding a deal!
H/T: Fat Wallet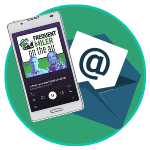 Want to learn more about miles and points?
Subscribe to email updates
 or check out 
our podcast
 on your favorite podcast platform.