In this Frequent Miler week in review around the web, learn about AirBnB's pretty customer-friendly response to a last-minute cancellation, get DoC's take on that 3% Robinhood account, see the nonexistent Flying Blue award chart and more. Read on for the weekly recap.
Have you ever had an AirBnB host cancel your room at the last minute? In an expensive city or during high demand, that could seem like a panic moment. But I'd only panic if I had no idea that AirBnB's customer service could come through so well in such a pinch. This post from Scott Grimmer at Mile Value shows that with a little persistence and an impressive response from AirBnB, you might end up at the Hilton Times Square for free.
My lone experience with Citi Prestige trip delay protection was overwhelmingly positive. Hotels in the area were all charging north of $400 per night and Citi covered my claim quickly and easily. Reports since indicate that a claim like mine — where a delay led to a missed connection — would not be covered and we've seen plenty of reports of denied claims. I was happy to see another successful data point in this post from Angelina Travels. With the changes to the card, I'm not sure I can justify the continued annual fee, but for those who keep it it is encouraging to see success with a claim. All that said, this post ultimately discourages me from keeping it. Angelina notes that her claim was relatively small because she "didn't want to be SOL" if it was denied. It's that level of uncertainty in the benefit that makes me less inclined to keep the card long-term.
---
The advice in this post from Travel With Grant boils down to something simple: don't travel with only one debit or credit card. Those of us with dozens of cards likely can't imagine traveling with less than half a dozen, but this is a piece of advice we should all be imploring on our friends who are just beginning to travel overseas. It can happen to the best of us: I arrived in Paris near the beginning of my 4-month honeymoon and the ATM ate and destroyed the debit card I'd bought and planned to use for the entire trip. By stroke of luck, I had another one in my bag that I hadn't even intended to bring, but I had to move money over to that account to use it. If I hadn't had that card, it would have been hugely inconvenient. Several years before, a friend had his only debit card eaten in an ATM while visiting us in Ecuador. When he was going through the process and at the airport and found that he needed cash to pay the exit tax and had no cash, no debit card, no cell phone, and no idea what our cell phone numbers were, he learned this lesson as well. After a brief panic, he realized he had set up a cash advance PIN on his credit card and he was relieved when the ATM didn't eat that card as well. Moral of the story: encourage friends to travel prepared.
---
Have you ever visited a hospital overseas? While I rarely get sick, my wife and I have traveled enough that we have ended up needing medical care overseas more than once (an emergency dental visit in Ecuador, double ear infections in South Africa, some sort of viral infection in Peru, an injury in Dubai, and more over the years). This post from Climber Monkeys Abroad is a great reminder to consider your insurance options, because you never know what might derail your trip. While Army suggests that you should buy travel health insurance if you intend to live overseas, and you certainly may want to consider it, my experience is that most of our overseas medical bills have been incredibly reasonable. That is certainly a function of where we've been when we needed assistance, so I think the analysis as to what you need depends on where you'll be. I will say that one of the things I've enjoyed about using points to stay in hotels we probably wouldn't have considered in our pre-points life is that the concierge/front desk often knows the location of an English-speaking clinic and advice about which location is best.
---
Have you seen ads in your Facebook feed about a checking and savings account from Robinhood offering 3% interest on up to $250K? It's not FDIC-insured. Robinhood claims that it is covered by SIPC insurance. Doctor of Credit explains why that may not be true. While I personally think the risk is low and the account might be worthwhile, I feel like Robinhood is reaching at best and their marketing seems deceptive on this one. Again, this one might be a good deal, I just wish we had a clearer idea as to how the account is insured — because I think Doc's opinion on that is sound.
---
Drew at Travel is Free is back with a look at the Air France / Flying Blue award chart — you know, the chart that doesn't exist? He made it. At least, as best it can be made. Since Flying Blue is transfer partners with everyone, it is easy to amass the miles for an award. See Drew's chart and interactive maps for those based in the US. Just mouse over the country you'd like to visit to see the low end price, but keep in mind that with variable pricing you never know what you're gonna get. Try multiple city pairs.
---
That's it for this week around the web. Check back soon for this week's last chance deals.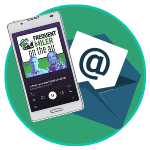 Want to learn more about miles and points?
Subscribe to email updates
 or check out 
our podcast
 on your favorite podcast platform.