My wife and I recently spent four nights in Paris with a couple of friends and their two teen children. European hotels aren't particularly conducive for a family of four as very few let that many people stay in the same room together, so we needed to book a total of three rooms.
With it being Paris in the middle of summer, that had the potential to be expensive. However, as Nick discovered recently and as I've been enjoying taking advantage of since dynamic pricing came into effect about 18 months ago, IHG came to the rescue.
We were able to book a stay at the Holiday Inn Paris – Gare de L'Est for less than $70 per night, partially thanks to Shae and I each having both the IHG Premier and Select cards. With the revamped IHG One Rewards status benefits now in play and us both having Diamond status, all four of us adults got free breakfast and that benefit was even extended to their children who were too old to be eligible for IHG's "Kids Eat Free" benefit.
While it's obviously not as luxurious or centrally located as some Paris hotel options, nor does it have many amenities, the Holiday Inn Paris – Gare de L'Est was a decent place to stay, excellent value when using points and is still in a convenient location for exploring France's capital, especially if you're arriving from London by Eurostar given its proximity to Gare du Nord.
Holiday Inn Paris – Gare de L'Est Bottom Line Review
The Holiday Inn Paris – Gare de L'Est is so named because it's located right opposite Gare de L'Est, one of the largest train stations in Paris. That makes it easy to take day trips by train to attractions like the Palace of Versailles, as well as being able to take the Metro around the city.
It's in a grand-looking building with many – or possibly all – rooms having a balcony. The standard rooms aren't huge, but they aren't too cozy either. The decor is a little unusual as it felt more Aloft-lite than it did a Holiday Inn, but it did at least mean it didn't feel dated.
Rooms have air conditioning, although our rooms didn't seem to crank out too much cold air. However, it kept them just cool enough to be able to sleep comfortably and night time was pretty much the only time we spent there.
An area where the hotel falls down is in its amenities or lack thereof. There's no fitness room, no pool, no guest laundry, etc. Having said that, we didn't really miss having those amenities as we spent most of our time outside of the hotel.
While I wouldn't automatically default to staying at the Holiday Inn Paris – Gare de L'Est in the future, it's a solid hotel choice, especially if booking multiple rooms at a reasonable price is a chief consideration.
Points Price: We booked a four night stay at the Holiday Inn Paris – Gare de L'Est. Each room cost us 20,000 IHG One Rewards points per night for the first two nights, the third night cost 19,000 points and I'm not sure how much the fourth night would've cost.
That's because we have the IHG Premier card which gives every 4th night free on award stays. The way that benefit works with IHG is that they simply deduct however much the 4th night costs rather than taking off an average of the four nights. We also have the IHG Select card (no longer available for new applications) which gives a 10% points rebate on award stays.
As a result, a four night stay that would've cost ~80,000 points only cost 59,000 points with the 4th night free which was further reduced to 53,100 points with the 10% rebate. That's an average of 13,275 points per night which is a tremendously low price for Paris in the height of summer.
We'd bought those points for 0.5cpp during Daily Getaways last year, so our effective cost was $66.38 per room per night.
Cash Price: At the time of booking our stay the cash price was $130.22 which means we saved almost 50% by booking with points and taking advantage of the two IHG card benefits. Even though booking with points was much better value, $130 was still a surprisingly low room rate for our dates at the end of August.
Points Value: Potentially very good depending on if you're able to maximize your stay. Even if we'd only stayed one night, redeeming 20,000 points rather than paying $130.22 would've resulted in 0.65cpp of value which is better value than the 0.5cpp we bought the IHG points for.
Being able to stay in increments of four nights to maximize the 4th night free benefit and getting 10% back in points meant we got almost 1cpp of value.
Resort or Destination Fee: None.
Parking: Unsure as that section on IHG's website is blank.
Room: Our room had what I think was a king-size bed which was comfortable, although it only had a comforter rather than a top sheet too.
On the opposite side of the room was a desk and chair, with an additional chair off to the side with a side table. The room's TV didn't work, but that didn't matter as we weren't in our room enough to want to try watching something. There was an electric kettle with tea bags and instant coffee rather than the room having a coffee maker. The closet contained a small iron and ironing board, as well as a small safe and small mini fridge.
Our room was on the sixth floor which meant our balcony was a little longer than the balconies on other floors. In the photo of the property at the top of the post, you can see balconies spanning the length of the property on the same floor as the Holiday Inn sign rather than the narrower balconies seen on the other floors. From the balconies at the front of the property you can see the Sacre Coeur which looks lovely lit up at night until 1am when they turn its lights off.
The bathroom had a walk-in shower with a glass door that fully closed; the shower's water pressure was good.
Pet Policy: This hotel isn't pet-friendly.
Housekeeping: I think we declined housekeeping every day of our stay, so there's nothing I can share here.
Turndown service: None.
Internet: This is complimentary for all guests and was a good speed during our stay. I had to work one of the days of our stay and didn't have any problem getting stuff done.
Dining: My wife and I both have Diamond status. We booked one room in my name and two rooms in her name as she had more points at the time. IHG One Rewards now lets Diamond members choose between bonus points or complimentary breakfast for two people in the room on every morning of your stay. Needless to say, choosing free breakfast was the best value option and so we asked for that.
Despite us booking three rooms for six people and only two of us having Diamond status, all six of us got to enjoy free breakfast. I initially attributed that to the hotel's generosity, but subsequently remembered that IHG has a "Kids Eat Free" feature whereby two children per parent can eat free. When checking the terms of the "Kids Eat Free" feature though, it turns out that in Europe only kids ages 12 and under are eligible. Our friends' children are older than that, so it does seem like the hotel generously extended free breakfast to all six of us despite only four people being eligible.
Breakfast was buffet-style with a number of hot options, different baguettes, pastries, cereals, fruit, yogurt, cheese, cold cuts and more. There was more than enough to choose from to satisfy anyone's palate, although I wasn't a fan of the super-loose scrambled eggs which seemed like they'd only been gently hovered near some kind of heat source.
I'm not sure how much the hotel charges for breakfast otherwise. If we hadn't gotten complimentary breakfast though, we'd have been more inclined to get breakfast from a nearby café.
Spa: None.
Fitness Room: None.
Pool: None.
Welcome Amenities: None as such, although Diamond members get to choose bonus points or complimentary breakfast as a welcome gift.
Service: Service was pretty good. There was a guy who was sometimes working at breakfast who was always supremely friendly and cheerful whenever we saw him. The front desk staff were also friendly and thankfully spoke good English as my French is extremely rusty since getting a B for French in my GCSEs (high school exams in the UK) but not using it in the 26 years since.
Location: Pretty good, although it does depend on what you're looking for. If you want to be in the thick of things, you might be better served by going Vendoming which, needless to say, comes with a much higher price tag, whether booking with cash or points.
For transportation convenience though, the Holiday Inn Paris – Gare de L'Est is in a great spot. It's directly opposite Gare de L'Est and is only a 10 minute walk to/from Gare du Nord which is where the Eurostar travels to and from London. We'd taken the Eurostar ourselves, so having a short walk from the station to our hotel rather than having to take a couple of taxis or take Metro trains was convenient.
Taking the Metro was very cheap because I think it only cost us €1.90 per ride (~$1.90) and an entrance for the stop is right outside the hotel without even needing to walk across to Gare de L'Est.
There are also plentiful electric scooters and bikes available throughout Paris, so that's another great option for getting around. There are several different companies providing the scooters and bikes. Lime is one option and they're owned by Uber, so even if you don't have the Lime app on your phone, I think you can rent bikes and scooters through the Uber app.
Rides seemed to cost far less than in the US too; I paid for a group ride for three of us and it came to a total of €12 (~$12). A similar length ride in the US would normally cost $12 for only one person, so it felt like Paris was 1/3 of the cost. There are bike/scooter lanes throughout the city too, so that makes getting around both safer and faster than having to navigate through traffic on the roads.
Elite Benefits: As Diamond members we received free breakfast. We didn't get an upgrade to a suite or Executive room, but they did give us three rooms right next to each other on the sixth floor which had larger balconies, so I was fine with that.
Would I stay again? Possibly, but the lack of an overwhelming 'Yes!' isn't meant as a slight on the hotel. If Shae and I headed back to Paris by ourselves in the future (unlikely, but you never know), I'd be more likely to choose a Hyatt option in the city. If we wanted to use category 1-4 certificates we'd try to book a stay at the Hyatt Regency Paris Étoile, while with a category 1-7 certificate we might go for somewhere like the Hôtel du Louvre or Hyatt Paris Madeleine.
If we were returning with friends though and needed to book multiple hotel rooms for four or more nights, I'd definitely be open to staying at the Holiday Inn Paris – Gare de L'Est again seeing as it can be such good value when using points.
Pros:

Value – Redeeming points meant we were able to book rooms for less than $70 per night. Even the cash rate of $130 per night was reasonable though.
Free breakfast – Diamond members can now get complimentary breakfast at IHG brands like Holiday Inn.
Location – It's next to Gare de L'Est and has a Metro entrance literally steps from the hotel entrance, it's a 10 minute walk from Gare du Nord for the Eurostar and it doesn't take long to get to Paris' attractions.

Cons:

Amenities – There are very few amenities.
Air conditioning – I struggled as to whether to list this as a con or not. Rooms do have air conditioning, but it didn't keep the room as cool as we would've liked.
Photos & Captions Follow: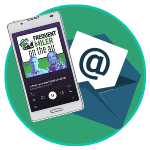 Want to learn more about miles and points?
Subscribe to email updates
 or check out 
our podcast
 on your favorite podcast platform.