It's official: today is the deadline for purchasing IHG points in the latest sale and I had to make a decision as to how many I would be purchasing for our #3Cards3Continents challenge. As it turns out, I will be staying at only two IHG properties during my trip and as a result I am purchasing 22,000 points today. Actually, in real life, I'm buying more IHG points than that, but I'm only buying 22K for the purposes of the competition and as such I'm accounting for it as though I only purchased 22K (which makes a difference in the bottom line).
What is 3 Cards, 3 Continents?
Frequent Miler loves creating fun and competitive team challenges. This year Greg, Nick, and Stephen are competing to
book the most amazing 3-continent dream-trip using 3 credit card welcome bonuses.
I definitely didn't go into this competition planning to spend any nights at IHG properties. After all, in American Express Membership Rewards, I chose a currency that transfers directly to Marriott (1:1), Choice Privileges (1:1) and Hilton Honors (1:2). I expected it was more likely than not that I would be targeted with a transfer bonus to Hilton at some point that would make the ratio 1:2.3 or 1:2.6, in which case I figured Hilton would become a reasonable option.
Somewhat to my surprise, we haven't seen a Hilton transfer bonus over the past couple of months. More surprising to me is that I haven't found a single Hilton property in the places where I will be traveling that would be appealing from an award stay perspective even with a transfer bonus. That's not to say that there aren't some nice Hilton properties (nor is it to say that I won't be staying at any Hilton properties!), but rather that Hilton award stays in my chosen locations wouldn't have fit the budget.
As a reminder, in addition to the points from the cards that we drafted, we have $1,000 in cash to use to make travel arrangements like booking flights / paying award taxes, booking hotels, paying for airport transfers, etc. That thousand dollars also needs to cover the annual fees of the credit cards we chose in the draft.
Since I chose credit cards with cumulative annual fees of $790, that meant that I had $210 remaining from the initial starting budget. In order to make my trip work, I therefore needed to cash out some of the welcome bonus points I earned. Thankfully, one of the cards I chose was the Schwab Platinum card. One of the key reasons I chose the Schwab card is because points from this card can effectively be cashed out at a value of 1.1c per point. This means that I can cash out points to pay for flights or hotels — or to buy hotel points.
As an aside, one piece of hindsight "wisdom" on this trip is that I'll end up needing to cash out enough Membership Rewards points that I'd have been better off focusing on a good cash back bonus rather than taking the Schwab card at all. In hindsight, I know exactly what card I should have chosen — but that's material for another post on another day.
Sometimes cash is king because of its flexibility. Not only can cash be used to pay for great cash rates, but other times it can buy you points which can buy you hotels that would otherwise cost more than you want to spend :-). The moral of the story is that I am buying IHG points: today I am declaring that I will be "cashing out" 12,000 Membership Rewards points for $132 in order to buy 22,000 IHG points for $126.50 (which will leave me with an "extra" $5.50 — don't worry, that'll get used up elsewhere :-).
You might be saying, "Wait a second, I thought IHG points were on sale for half a cent per point (0.5c per point)?"
While that is indeed true, the minimum purchase in order to get the rate of 0.5c per point is 52,000 total points (26K purchased + 26K bonus points for $260). In real life, I bought plenty of points to get the 0.5c rate. However, since we are accounting for this trip as a standalone thing, I am accounting for the points purchase as though I purchased only the amount needed for my trip. That means I'm accounting for points at a cost of 0.575c per point.
That's kind of funny accounting — in essence, my 3Cards3Continents trip will be accounted for as though it cost me $16.50 more than it really did since I invested enough in IHG points for future trips as to pay a lesser cost per point. But the point of the 3 Cards 3 Continents trip here is to show what could be done solely within the parameters we set — and I'm getting pretty excited because "what could be done" is looking pretty awesome.
If you are a regular podcast listener, you know that I recently said that I would probably be staying at IHG properties on 3 different continents. As it turns out, that won't be the case. I originally intended to stay at another IHG property in part because it would have meant getting a better price per point. However, I spent a lot of time poring over lodging options this weekend and I ended up finding a deal that made more sense for my trip (both for the specific needs at that destination as well as the domino effect it had on other pieces of the puzzle) that changed things up. At this point, I have almost all of my flights and accommodations booked and I am very much looking forward to the trip. Next up: obsessing over the best activities in my destinations — and how to save a few bucks on those adventures.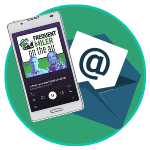 Want to learn more about miles and points?
Subscribe to email updates
 or check out 
our podcast
 on your favorite podcast platform.