Early in the COVID lockdown in the United States, it was obvious that the points & miles blog business was going to take a big hit.  Ad and affiliate revenues were plummeting.  Would the Frequent Miler business survive?  Three months ago, I published my answer based on what I knew at the time: How Frequent Miler (the business) will survive COVID-19.  Now, I'm back with an update.
First, for those not interested in clicking through to the above link, the gist of the previous post was encapsulated in an email I sent to my team and shared with readers.  I'll repeat it here.  This was the email I sent to my team on March 31st:
The purpose of this email right now is to keep everyone in the loop regarding how COVID-19 is affecting FM's business.

First: Last year was a very good year revenue-wise. Credit card affiliate revenue was up. And at the end of the year, ad revenue was way up thanks to Boarding Area moving to in-content ads. The point is that the business has plenty of money to weather the current situation…

And then COVID-19….

Ad revenue: Ad revenue is plummeting. My understanding is that marketers simply aren't bidding nearly as much on ads as they did before. That makes sense to me.

Affiliate revenue: Affiliate revenue has just started to drop a little (about 30%), but I expect it to drop precipitously in April. Two banks have already pulled certain cards from the affiliate networks. The cards we no longer have affiliate links for represent 71% of affiliate revenue from the past 12 months. And I expect it to get worse. I expect that other banks will follow suit.

In short, I expect business revenue overall to drop to meager amounts.

How long will this last?

No one knows, of course. My gut tells me that we have to be prepared for 6 months of record low revenue.

How does this change what we're doing?

I believe that Frequent Miler is a valuable business and so I will invest whatever it takes to keep it going through this downturn. For at least the next 6 months that means that I plan to continue to employ each of you at the current rates.

As far as changing our focus, I think it makes sense for us to do things now that will make Frequent Miler better prepared for a resurgence in 6 months (or whenever it happens). That means things like:
Platform improvements: Complete changeover to new theme, re-work our email newsletters, finish tag project, etc.

Improve SEO. Anything we can do now to improve search engine optimization will help us weather the storm plus will put is in a great position if/when ad and affiliate revenue returns to pre-COVID levels.

Continue to expand into video and podcasting (and other media maybe?). We need to do more to grow our audio/video audience. Eventually these could be very important revenue streams.
The main takeaways from my email were this:
Revenue is down and will soon be way down
The business has enough money to weather the storm
We should focus our efforts on projects that will make Frequent Miler competitive in the long term (rather than looking for short-term revenue boosts)
Let's now take a look at where we are today on each of those points…
Revenue is waaaay down
I created the above chart by using credit card affiliate revenue earned each month this year.  Since revenue routinely jumps up and down quite a bit, I averaged January and February to create a pre-COVID baseline.  The rest of the data points are calculated as monthly revenue divided by baseline revenue.  You can see that revenue dropped just as precipitously as I predicted three months ago.
The good news, I suppose, is that revenue appears to be leveling off.  The bad news is that the new normal is just slightly above 10% of pre-COVID levels.
The business can weather the storm
In my March 31 email to my team I wrote: "I believe that Frequent Miler is a valuable business and so I will invest whatever it takes to keep it going through this downturn. For at least the next 6 months that means that I plan to continue to employ each of you at the current rates."
In other words, at that time I committed to keeping everyone employed at current levels through September 2020.  Since that was written, though, I received a Paycheck Protection Program loan.  This loan covers two and a half months of salaries.  I won't have to pay back the loan as long as I use that money for that purpose (which I will!).
This means that the business can survive at current staffing levels at least through the end of this year.  But it gets better because that projection doesn't include incoming revenue.  If we continue to earn revenue at current levels (around 10% of pre-COVID revenue), we can continue to survive at current staffing and salary levels several months into 2021 before we need to make any hard decisions.  I'm hopeful that the credit card economy will bounce back enough by then to ensure that those hard decisions won't ever be necessary.
Project progress
In the past couple of months we accomplished quite a bit beyond our day to day blog posts:
We released (and subsequently re-released) a modern new blog theme (which I love).
We re-designed our email newsletters.  The old newsletters had many quirks that made them difficult to read or flat-out ugly.  The new format, in my opinion, is about a million times better, at least when reading in Gmail.  It's impossible to get it to show up the same in every email client, but we've done our best to make it work well with most.  MS Outlook proved to be particularly challenging, but we think we've eliminated most of the issues there.  We also made it easier than ever before to switch mailing lists.  Now, if you want to switch from Daily to Instant, for example, you can simply sign up for  Instant emails and you'll automatically be unsubscribed from Daily emails.  You can find subscription options here.
We organized post tags.  Where Carrie did most of the work for the above two projects, Stephen took the lead on this one.  He drastically cut down the number of random tags that we used in blog posts and standardized the ones we kept in place.  The reason this is helpful is that now when you scroll to the bottom of a post, you'll see the tags for that post and can click any one of them to see related posts.  Similarly, below the tags, you'll find a section titled "Related Articles".  I believe that the system uses tags and categories to determine which articles are related.
We started a new video series: Ask us Anything.  Every other week we go live on Youtube to answer your questions.
Further, we are currently working on the following projects:
New Card Talk series.  We will soon release a new video and blog post series called "Card Talk" where we have a credit card intervention with a real person who needs help deciding which credit cards to get or to cancel.  In a trial version of this we helped one person save nearly $3,000 (see this post for details).
New resource page.  Our goal is to make it easier to find the information and answers you need.
Evergreen post refreshes.  We've identified a large number of posts as "evergreen posts".  These are posts that we think are relevant long term.  We've setup a process to select one evergreen post each day to fix any outdated information and to re-tweet it to remind readers about this information.  In many cases, when we've made substantial changes, we have re-published the post entirely so that it goes out in our newsletter as well.
Bottom Line
Frequent Miler, the business, is here to stay.  We have the resources to keep publishing the blog, videos, and podcasts without interruption at least through the end of the year, but probably well past that even if the economy doesn't improve.  In the meantime, we're making our site and our content better and richer as we go.  I'm proud of our website and media content, and even more proud of the team.  Nick, Stephen, and Carrie have done an outstanding job!
Most of all, I'm thankful to our audience.  You keep coming back for more, and that's ultimately what makes this all worthwhile.  Thank you!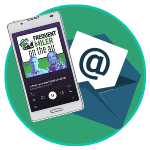 Want to learn more about miles and points?
Subscribe to email updates
 or check out 
our podcast
 on your favorite podcast platform.