Business is picking up!  The business of this blog was hit hard by the pandemic.  Revenue started dropping in March and by June it hit an all-time low.  Through the summer, though, revenue crept upwards and now conditions appear to be in place for the business to be profitable once again!
This post is the third in a series where I've opened up to readers to discuss the business of the blog during the COVID-19 pandemic.  Previous posts in this series:
How Frequent Miler (the business) will survive COVID-19 (published April 1, 2020): This post included a brief history of this blog, including how it turned from a hobby into my career; and I shared an email I had sent to the Frequent Miler team (Nick, Stephen, and Carrie) where I predicted that revenue would drop precipitously, but I pledged to use my savings to keep the team going for "at least the next 6 months."
How Frequent Miler (the business) is surviving COVID-19 (published June 26, 2020): In this update, I showed that business had tumbled… as predicted.  There was still some revenue coming in, however.  That, combined with a Paycheck Protection Program loan meant that we'd be able to keep going at current staffing levels several months into 2021.  I further gave an update as to projects we were undertaking to make the business stronger than ever once the recession eased.
How We Make Money
Some of our revenue comes from ads, but the majority comes from credit card affiliate links.  When we have these links and when a reader clicks through and is approved for a credit card, we get paid.  Long time readers know, however, that we often don't show affiliate links on our site for the following reasons:
We never publish our affiliate links when we know of better public offers.
Many credit cards aren't marketed through affiliate channels.
Some issuers strictly limit which publishers they work with and haven't chosen to work with us.
Despite the fact that we often do not publish affiliate links for popular cards, and despite the fact that we don't push cards in order to earn revenue, the Frequent Miler business has been successful enough over the past several years to provide income for me, a full time employee (Nick), and two part-time employees (Stephen and Carrie).
Unfortunately, due to the pandemic, almost all advertising and affiliate revenue dried up by late spring.  Advertisers stopped bidding for ads, and credit card issuers mostly pulled out of affiliate marketing.  This combination caused our revenue to plummet to 10% of pre-pandemic levels.
Business Recovery
On April 1st I published my prediction:
How long will this last?

No one knows, of course. My gut tells me that we have to be prepared for 6 months of record low revenue.
Now, six months later, things are looking up!  As of mid-September, nearly all of our pre-pandemic affiliate options were back in place!  Even better, Chase has led the way with best ever offers (which encourage people to sign up for new cards).  The Sapphire Preferred 80K offer was huge (see my analysis here), but I expect the 5 night Marriott Bonvoy offer to do even better (see my analysis here).  Plus, I'll be surprised if we don't see huge new offers for Amex Marriott cards, the World of Hyatt card, and others.
In September, Frequent Miler revenue reached 37% of pre-pandemic levels.  If you look at the chart and project a line forward, you might expect to see us reach around 50% in October.  I'm expecting better.  Since some of our most profitable affiliate options resumed mid-September, I don't think the September numbers reflect how well business has recovered.  In fact, 73% of our September affiliate revenue came in the second half of the month.  My guess is that our October revenue will hit maybe 60% of pre-pandemic levels and hopefully November will be even better than that.  60% might not sound all that great, but the 100% mark is a high-target: business was doing better than usual at the beginning of the year.  Frequent Miler can survive long-term at the 60% level.
Thank You!
Frequent Miler owes its success to you.  Everyone who reads our blog regularly, recommends our blog to others, and/or signs up for credit cards through our links is a big part of our success.  Thank you!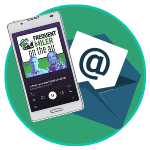 Want to learn more about miles and points?
Subscribe to email updates
 or check out 
our podcast
 on your favorite podcast platform.