The eagle-eyed among you might have noticed that in the video graphic produced for 40k To Far Away, it said my first flight from Newark-Toronto-Madrid only cost $115.45.
Flights to Europe from the east coast to Europe are often cheap, but a sub-$120 one-way fare is pretty much unheard of other than the occasional Norwegian flight. There's a reason for that – I didn't book a $115 one-way fare, I booked a round trip ticket.
When researching my flight options during the early planning stages of 40k To Far Away, I noticed flights out of Washington D.C. tended to be more expensive than those out of New York and Boston. I was also having a hard time finding any stellar one-way fares out of those two cities, when it occurred to me that round trip flights to Europe are often cheaper than one-ways.
I'd been playing around with cities and dates on Google Flights, so I changed the setting from one-way to round trip and it immediately yielded results. Most interestingly, there were sub-$240 round trip fares from Newark to Madrid that were bookable through United.
When clicking through to see the details, I was even more excited. While there were direct flights for only $235, there were some options available for only a few dollars more that included a layover, A layover meant added mileage, so paying an extra $3 seemed worthwhile in this case. Not only would the flights include a layover, but as they'd be on United, Air Canada and Swiss they would include meals – even better!
The Dilemma
The possibility of a cheap round trip flight took hold, but I faced a dilemma – when should I return? The ~$240 fares had great availability, so I could stay anything from 3 nights to 21 nights. The thing is, if I returned too soon it might be hard to put together an itinerary between the two flights. If I returned too late, my budget might run out before my return flight.
In the end I decided to book the return flight for a week later. On the one hand this was a good decision, but it ended up constraining me and meant I couldn't go ahead with some strategies (more on that in a mo).
Seeing as I'd need to get from Dulles to Newark, I booked my outgoing flight for October 3 as getting up there on October 2 (the day the challenge started) might cause problems if there were any delays due to traffic.
The Cost
The flight I booked ended up costing $238.03. I paid with my wife's Sapphire Reserve, so earned 714 Ultimate Rewards. Although Ultimate Rewards was Greg's currency, I could still use any UR earned when booking my trip to offset other costs. 714 UR can be used as a $7.14 statement credit, so I accounted for my round trip flight as $230.89, or $115.45 each way. I didn't want to give away what I had planned though, which is why the video graphic only showed $115.45 being used initially rather than $230.90.
So Long Hong Kong
One thing that I wanted to do during the trip was fly from Hong Kong to London with Virgin Atlantic. That only costs 12,500 miles and 330 HKD (approx. $42). At the time, there was a 30% transfer bonus from Membership Rewards to Virgin Atlantic, meaning I'd only need to redeem 10,000 MR.
It looked like it might be possible to put together the following itinerary:
Newark-Toronto-Madrid-Berlin-Singapore-One of many cities in southeast Asia-Hong Kong-London-Madrid-Zurich-Newark
That would have racked up a decent number of miles and given me the opportunity to explore some of the cities. The Berlin-Singapore-Other southeast Asian country legs would've been on Scoot and included a layover in Singapore of up to 18 hours. That would've given me plenty of time to take in a free tour of the city.
At the time, there was no shortage of options that all routed through Singapore:
As hard as I tried though, I couldn't make this work and it was due to the dates of my round trip flight. The problem was that the cheap one-way fares from Berlin on Scoot were only available on certain days. No matter how short I tried to make layovers, I wouldn't make it back to Madrid until October 11 or 12 – after my return flight was booked.
If I'd booked my Newark to Madrid flight for October 2 and risked the traffic delays getting to Newark, I might have been able to make this itinerary work too. One of the dates with cheap flights out of Berlin was October 4, but leaving Newark on October 3 meant I'd be landing in Madrid the morning of October 4, not giving me enough time to get to Berlin.
DOA ANA
It took me the longest time to book my itinerary between when I was due to arrive in Madrid and then leave again. While I was still trying to decide what to do, Nick popped up with a suggestion – using ANA to book a round trip flight with a stopover and open jaw.
With my flight to Europe already booked, the only worthwhile option mentioned in that post seemed to be to fly round trip to Africa for 40,000 miles. I spent some time looking at my options and had a potential itinerary that had me flying to Johannesburg or Cape Town (I forget which it was now) via Addis Ababa on Ethiopian Airlines.
Although this too would've racked up some decent mileage, I decided not to pull the trigger. Having already paid ~$230 for the flights from the US to Europe and $16.25 for the bus to Newark, using all 40,000 miles and something like $110 for taxes and fees would've left me with very little money. Having less than $50 for the entire trip was far too risky and would've meant I'd have had very little opportunity to explore any of the cities where I had a layover or stopover. It'd also mean I wouldn't have anything in the budget to transport myself from one airport to another to take advantage of the open jaw.
My New Strategy
With Asia and Africa both eliminated, focusing on Europe seemed like the best option. I'd mentioned in a previous post that I'd considered trying to fly as far as possible by taking several budget flights per day and only spending a couple of hours at each destination.
I soon chose not to do that though as it meant I wouldn't see anywhere I'd be flying to – I'd simply be landing at an airport, going to a lounge for 30 minutes and then turning around and getting on a different flight.
Instead, I chose a similar but alternative strategy – fly to a different location each day and leave enough time to properly explore each city. This was harder to put together than I expected. I'd get a few flights into an itinerary before finding that there were no cheap flights out of whatever city I'd picked up to that point. This happened again and again, so I stayed up until 5am many nights getting sucked deeper into possible routings.
Eventually I landed upon an itinerary that worked, so I pulled the trigger that night and booked every flight and bus ride in quick succession to ensure availability didn't disappear.
The Added Bonus
One of the interesting features of my Europe itinerary is that it didn't use much of my budget. With somewhat budget flights and cheap buses transporting me from country to country, I still had several hundred bucks to play with.
Where Next
I flew from Madrid to Zurich this morning and scheduled this post to go live once I'm in the air from Zurich to Newark. That's not the end of my #40kfaraway trip though as I still have several days of travel and activities planned.
So what did I plan next? Stay tuned to find out. There's the potential for the next couple of days to go very wrong though as I won't know if what I have planned will be possible until I arrive.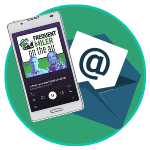 Want to learn more about miles and points?
Subscribe to email updates
 or check out 
our podcast
 on your favorite podcast platform.