Wow. I had a great time on my 40K to Far Away adventures, but I'm beat!  I'm now in the Seychelles for a brief recovery (I slept 10 hours last night!) before flying off to join my wife in London.
I wrote previously about my trip leading up to South Africa:
In this post, I'll cover my adventures within South Africa.  Please watch the videos.  I spent a lot of time putting them together and they do far better at showing my experiences than the words below…
Johannesburg
I started in Johannesburg (Jo'burg) where I rented a car (you can read here about the trials and tribulations of renting this car with Chase points!).  I then drove to Chef Bjarne's house.  I had met Bjarne on the CouchSurfing website which I used, in this case, to find locals who could give advice about what I could do on a Sunday morning in Johannesburg with only about 6 hours available.  Bjarne offered to prepare a sunrise breakfast at Northcliff Tower overlooking the city!  I would pay for the ingredients.  After breakfast, he took me in my rental car for a tour of the city.  In addition to the breakfast and great fun hanging out with Bjarne, a big highlight was our visit to the Rosebank Sunday market.  This video covers all that and more:
p.s. If you visit Jo'burg and you'd like a personal Jozi (Johannesburg) tour with a local, Bjarne might be available. Contact him here: BjarneH@iafrica.com.  If you're looking for lodging, his Airbnb gets great reviews too (found here).
Johannesburg to Cape Town by Train (and bus)
The Shosholoza Meyl train ride between Johannesburg and Cape Town may be the single best value in travel today.  For only about $50 you get a sleeper car to take you 1,400 kilometers across the country.  At this price, your sleeper car is private if you book for 2 to 4 people.  With just a single person, you are likely to be put into a sleeper car with up to 3 others.  In my case, I had just one roommate (luckily he was very nice and considerate!).  Also at this price, everything is à la carte.  You pay extra for food and beverages and even for bedding (the latter is about $4).  I brought my own bedding, but I was a bit jealous of my cabin mate's much nicer setup.  You can read more about the train at the Man in Seat 61.
The downside of this fantastic deal?  The train is often late… very late.  If you have a tight schedule, don't even consider it.  And sometimes things go fantastically wrong.  Watch my video to see some hard to believe examples of what actually went awry…
Cape Town
One of the rules of our contest was that we couldn't seek help from readers.  That said, Nick, Stephen and I agreed in advance that friends and family were fair game.  Of course, we couldn't ask someone to pay for our flights, but if someone offered to host us when we visited, that would be fine.  After all, accepting such an invitation is what we'd likely do when travelling normally.
It happens that I have a good friend in Cape Town.  My wife and I have hosted her at our house many times in the past.  When I told her I'd be in Cape Town she was eager to reciprocate.  So, when I finally arrived in Cape Town (despite my train and bus misadventures), I eagerly accepted her hospitality.  She and her husband Bruce made my brief visit to Cape Town awesome.  I can't wait to return with my wife!  Check out the highlights in this video: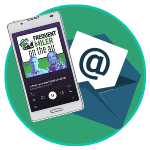 Want to learn more about miles and points?
Subscribe to email updates
 or check out 
our podcast
 on your favorite podcast platform.