In this week's episode of Card Talk, Frequent Miler's bi-weekly series in which Greg and I meet with a reader to do a credit card intervention, we met with Parker, a groom-to-be planning a dream honeymoon trip to either Bora Bora or the Maldives and Australia in 2022. Whereas in previous Card Talk episodes we had focused on narrowing down a credit card portfolio, this time we focused on how to strategically expand a collection for an awesome trip.
Meet Parker
Parker pitched his need for a Card Talk intervention with the following:
I'm currently planning for a honeymoon that (fingers crossed) will occur 2 years from now. Currently planning on Bora Bora or the Maldives with a stop over in Australia and would love to know which of my credit cards I should keep, cancel, and which ones I need to sign up for.
That description appealed to us because we spent the first couple of Card Talk episodes with Jim and then Jen focusing more closely on trimming down wallets that had gotten a little unruly with annual fees. This time, we would focus on adding the right cards at the right time to make a specific trip happen — albeit with a more unpredictable flight and award availability schedule since it is harder than usual to know what the new normal will be in 2022. Strategically adding cards that would simultaneously provide good options for what Parker wants and flexibility for what circumstances allow in 2022 is the best strategy at this point in the planning stage.
A (nearly) blank slate
Parker and his bride-to-be only have a few credit cards between the two of them, so they are both under 5/24. They currently have some Delta and United miles, though neither currency is likely to be terribly useful for this particular trip. Thankfully, Parker also has a good start on Chase Ultimate Rewards points with a Sapphire Reserve card and about 80K points. This means options are open but also that there was some work to be done in terms of building a card portfolio and the order in which to do it.
Dump part of the small collection?
One topic that we managed to skip over entirely during our discussion was whether to dump any of Parker & his girlfriend's cards. We were so focused on building up for the trip and which cards would best suit his needs that we managed to gloss over where they can save a few bucks.
Specifically, though not mentioned in the video, Parker told us that he has a Delta Gold Amex card and his girlfriend has a Chase United credit card. Neither of those cards will specifically help them toward their goals. However, I wouldn't recommend that they close either card yet.
Given that each of them have relatively thin credit profiles given just a couple of credit cards and a few years of credit history, they probably do not yet want to drop any cards — at least until they have successfully added a few more that they want to have for this trip. Particularly in the current environment, where many issuers are tightening up a bit on approvals, I think they aren't increasing their odds by thinning their credit profiles given their position (to be clear, if they had five or six cards each, I wouldn't hesitate to close whichever cards aren't being used; with just 1-3 cards each, it may be more prudent to hold until they've added a few more).
And actually, in their case, they really only have those two airline cards (Delta Gold and Chase United) that aren't worth keeping. In the case of the Chase United card, I'd never recommend canceling but rather downgrading to the MileagePlus card (not to be confused with the MileagePlus Explorer card). The United MileagePlus card has no annual fee and earns an awful 1 mile per $2 spent, but it maintains access to expanded award availability that is reserved for Chase credit card holders. Unless you highly value the free checked bag benefit on the United Explorer card (keep in mind that benefit only applies when you use the card to book a ticket), the no-fee Mileage Plus card makes sense as the long-term keeper (this no-fee card is not available to new applicants, it is only available as a product change option).
The Delta Gold card I would likely cancel at next annual fee, particularly assuming that they have added a couple more cards to their portfolio by then.
New cards & opportunities
Interestingly, I have previously written a guide on how to plan a trip to the Maldives, complete with hotels and flights covered, using welcome bonuses from just two credit cards. See that post here:
Of course, Parker wants to add a trip to Australia as well, so his situation will require a bit more planning. He also hasn't definitively decided between the Maldives or Bora Bora for the tropical paradise portion of his trip. After my trip to Bora Bora last year, I wrote several posts that he and other readers looking to take a trip there may find of interest:
That said, the cards Parker wants for his trip are likely similar whichever way he ultimately decides to go. Read on for our recommendations.
Hotels: Ultimate Rewards for Australia / New Zealand
Parker noted that he is particularly interested in staying in some luxury hotels. While he was perhaps more focused on that goal for the Maldives or Bora Bora, Greg pointed out that both Sydney and Auckland (a potential stop) have Park Hyatt hotels that would be great uses of Chase Ultimate Rewards points. The Park Hyatt Sydney is very highly regarded and the Park Hyatt Auckland is scheduled to open later this year (which has been getting pushed back for years and will likely get pushed back again, but it's a safe bet that it will probably be open by 2022). Since Chase Ultimate Rewards points transfer 1:1 to Hyatt with Parker's Sapphire Reserve credit card (and could then be transferred from one Hyatt account to another if Parker knows someone with Hyatt Globalist status so that they could make him a Guest of Honor booking), adding about 100K Ultimate Rewards points to his balance would be a useful goal. That would give him enough points for 6 nights at properties like those Park Hyatts. Alternatively, he could use his points through the Chase Ultimate Rewards portal to book a hotel at a value of 1.5c per point, which will give him plenty of room to shop around for other hotels.
Note also that excess Ultimate Rewards points may be handy for topping off accounts for his flights and also for paying for domestic flights from Papeete, Tahiti to Bora Bora within French Polynesia since those flights can not be booked using airline miles. (Flights in the Maldives from Male to your resort island are usually sea plane transfers that can't be booked through the portal).
Luckily, Parker and his girlfriend are already over the first hurdle to building a Chase Ultimate Rewards balance: the Chase 5/24 rule.
Chase's 5/24 Rule: With most Chase credit cards, Chase will not approve your application if you have opened 5 or more cards with any bank in the past 24 months.

To determine your 5/24 status, see: 3 Easy Ways to Count Your 5/24 Status. The easiest option is to track all of your cards for free with Travel Freely.
As Greg has previously written in many posts about starting out a credit card collection, the best bet has historically been to begin by adding Chase business cards. That's because Chase business cards do not add to one's 5/24 count (though they are subject to the 5/24 rule).
Chase 5/24 semantics ("Subject to" vs. "Count towards"): Most Chase cards are subject to the 5/24 rule. That means the rule is enforced in making approval decisions. In other words, you probably won't get approved if your credit report shows that you opened 5 or more cards in the past 24 months. Meanwhile, most business cards (such as those from Chase, Amex, Barclaycard, BOA, Citi, US Bank, and Wells Fargo) are not reported on your personal credit report. These cards do not count towards 5/24.

Example: Chase Ink Business Preferred is subject to 5/24, so you likely won't get approved if over 5/24. If you do get approved, it won't count towards 5/24 since it won't appear as an account on your credit report.
Of course, to open a business credit card, one needs some business activity. Thankfully, Parker reports that he has a side hustle that would qualify him for business credit cards.
Applying for Business Credit Cards

Yes, you have a business: In order to sign up for a business credit card, you must have a business. That said, it's common for people to have businesses without realizing it. If you sell items at a yard sale, or on eBay, for example, then you have a business. Similar examples include: consulting, writing (e.g. blog authorship, planning your first novel, etc.), handyman services, owning rental property, renting on airbnb, driving for Uber or Lyft, etc. In any of these cases, your business is considered a Sole Proprietorship unless you form a corporation of some sort.

When you apply for a business credit card as a sole proprietor, you can use your own name as your business name, use your own address and phone as the business' address and phone, and your social security number as the business' Tax ID / EIN. Alternatively, you can get a proper Tax ID / EIN from the IRS for free, in about a minute, through this website.

Is it OK to use business cards for personal expenses? Anecdotally, almost everyone I know uses business cards for personal expenses. That said, the terms in most business card applications state that you should use the card only for business use. Also, some consumer credit card protections do not apply to business cards. My advice: don't use the card for personal expenses if you're not comfortable doing so.
With that in mind, we recommended starting with Chase Ink Cards.
Even though the Ink Business Preferred card a big 100K offer, that's not the one we recommend at this time.  Chase has been harder on business card approvals lately and with relatively short and thin credit profiles, it seems unlikely that Parker or his girlfriend would be approved for that card.  Historically, the no-annual-fee Ink cards have been easier approvals (in part because Chase will approve them with lower credit limits if need be) and they have much lower spending requirements. That makes the Ink Business Cash or Ink Business Unlimited a good fit for Parker. Which of those two to get depends on his side hustle: if he can meet his business's expenses using Visa or Mastercard gift card purchased at office supply stores, the Ink Business Cash (which earns 5x at office supply stores) would be the better choice. If most of his spend is in unbonused categories, earning 1.5x everywhere with the Ink Business Unlimited might make more sense.
Again, Chase business card approvals have been tough as of late. There is definitely a chance that Parker won't be approved right now. It still may be worth giving it a shot as the inquiry won't have a huge long-term effect even if he is turned down. On the other hand, if he decides to go after other cards now, he should keep a close eye on his 5/24 status to make sure he stays under until he has the chance to pick up a Chase business card or two.
Hotels: Amex Hilton Aspire for Bora Bora or the Maldives
Parker hasn't yet decided whether to spend a few nights in Bora Bora or the Maldives, but either way he is definitely going to want the Hilton Honors Aspire Card from American Express.
I recommended that he should consider opening the card ASAP. Despite its high annual fee, there were several reasons I recommended the Aspire card right now:
The card offers a free annual weekend night. Free weekend night certificates issued this year are valid for two years and are valid any night of the week. That adds significant flexibility. The free night certificate Parker earns this year will be valid through his intended honeymoon in 2022.
Parker will earn a second free night certificate at anniversary next year. He will also earn enough points from the welcome bonus to cover at least one more night if he can find a standard room award. In other words, he can get his desired 3-night stay from this credit card alone.
Through the end of August, this year's $250 Hilton resort credit can be used at restaurants. If Parker is likely to spend that much on restaurants / take-out over the next ~6 weeks from the time of writing, he should consider this card right now to get full value out of this benefit.
The card comes with Hilton Diamond status, which will get him free breakfast at whichever property he chooses and potentially some other perks like a room upgrade and perhaps more (the Conrad Maldives, for example, has offered a free cocktail hour and appetizer each day for Diamond members in the past).
He will also get a $250 per calendar year airline incidental credit. See: Amex Airline incidental fee credits: What still works?
Next year after his card anniversary, he could potentially use his next $250 resort credit (this is a cardmember year benefit) by contacting the hotel on which he settles and making an advance deposit (See: Maximize Hilton resort credit without staying every year.). Alternatively, since his honeymoon will be before his subsequent anniversary, he could use wait until his stay and use his Aspire card to pay and earn the $250 credit when paying for food and other things while at the hotel.
I think that adds up to a great deal. In the end, Parker will have paid two annual fees (a total of $900) and gotten:
3 nights of hotel covered in either Bora Bora or the Maldives (2 nights from free night certificates plus at least one more with points)
$500 in easy-to-use Hilton resort credits ($250 potentially at restaurants by the end of August 2020 and $250 at his intended resort)
$750 in Amex Airline incidental credits ($250 in credit to use before the end of 2020, $250 in credit to use in 2021, and $250 in credit to use in 2022, which could be used before his anniversary in July 2022 so he could cancel if he wants to without paying a third annual fee)
Hilton Diamond status for free breakfast
And he'll likely still have some Hilton points left over.
He should keep in mind that while I loved the Conrad Bora Bora and the new Waldrof Astoria Maldives gets rave reviews, some honeymooners may prefer the Conrad Maldives Rangali Island given that overwater bungalows are available as standard room rewards. His free night certificates could get him free nights in an overwater bungalow there, which is a relatively unique opportunity.
Flights: Amex Membership Rewards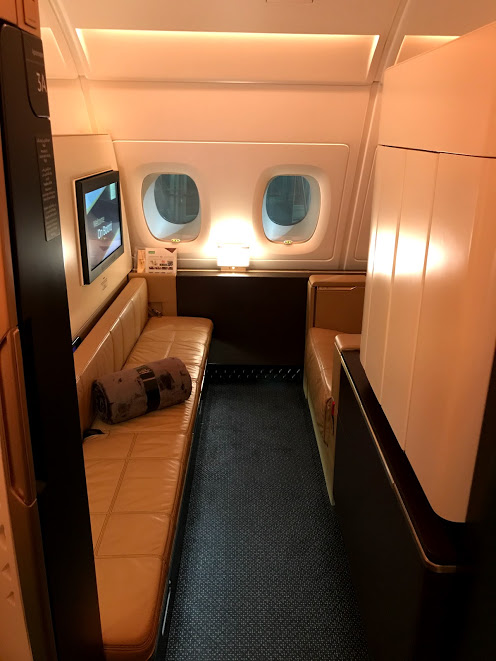 My advice for Parker's flights was that he should strongly invest in Amex Membership Rewards points. I gave him that advice because he is looking to fly in luxury on his overwater flights and Membership Rewards gives him many of the best options to do so:
Transfer partner Air Canada Aeroplan would enable him to book one way in Etihad apartments first class between the US and Australia for 110K points each way
Transfer partner Flying Blue will likely be his best bet to book a flight to Tahiti if he decides to go to Bora Bora (Air France from LAX-PPT)
Transfer partner Virgin Atlantic could be a solid option for Delta flights between Australia and the US, particularly if he is able to take advantage of a transfer bonus
Transfer partner Cathay Pacific Asia Miles would provide another solid option for business class between Australia and the US at 85K one-way and very good availability in business class
Transfer partner Emirates Skywards may be a good option for flying between the Maldives and Australia in first class if he wants to be extra fancy now that Emirates has dropped its high fuel surcharges
Transfer partner British Airways Avios could be useful for flights within Australia
In terms of earning Membership Rewards points, our advice was very similar to that given to Jen in Episode 2. There are many different cards that offer Membership Rewards points and since each is a different product, it's theoretically possible for one person to sign up for each and every one.  This means that a single person could pull in many hundreds of thousands of points on their own.
Interestingly, a couple working together can pull in more points than two people working alone.  This is true because you can get points for referring each other.  For example, Parker can sign up for the Business Platinum card and then refer his girlfriend, and then his girlfriend can refer him to another Amex card.  With each referral, the person who sends the referral earns a referral bonus (sometimes as high as 20,000 points) and the person who receives it is eligible for a full welcome bonus.  For details, see: Maximizing value from Amex multi-referrals.
In general, Parler and his girlfriend should concentrate mostly on signing up for business cards since those won't add to their 5/24 count.  That said, my first recommendation for Parker was to see if he was targeted for the recent 125K offer on the Amex Platinum card as that would be a great jump-start. Unfortunately, he wasn't. Greg recommended he then consider the Business Platinum if he can meet the spending requirement and we discussed other Amex cards that may be a good fit. With about a year to collect points, there is plenty of time to pick up a number of welcome bonuses.
Here's the list of currently available Amex Membership Rewards offers (make sure to click "Next" to see more):
Flights: Citibusiness American Airlines card
I additionally recommended that Parker consider the Citibusiness American Airlines AAdvantage credit card because it will not add to his 5/24 status and gives him a cheap points option for business class between Tahiti and Australia at just 30K American Airlines miles one-way for Air Tahiti Nui business class to Auckland (which can then connect to Qantas to Australia on a single award). Alternatively, if they each signed up for this card, they would be in position to use AA miles to fly from the US to Tahiti on Air Tahiti Nui. There is little downside here and it gives them some added flexibility.
Watch the video
Want to see the complete chat with Parker? Watch it here:
How to participate in Card Talk
If you're interested in participating in Card Talk, you need to first be a member of our Frequent Miler Insiders group on Facebook.  Once you're a member, you can find Card Talk application instructions here.